Glacier Nationals sold, relocated to Butte, Montana to become Cobras
May 26, 2017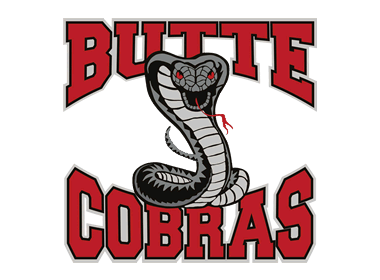 The North American 3 Hockey League (NA3HL) has announced that it has approved the transfer of membership, purchase and relocation of the Glacier Nationals by the Butte Amateur Hockey Association.
The membership will be relocated from Havre, Montana to Butte, Montana for the 2017-18 season and will henceforth be known as the Butte Cobras.
The principals heading up the Butte Cobras in the NA3HL will consist of the leadership of the Butte Amateur Hockey Association, including: Mike Flannick (President), Bill LaVelle (Vice-President), Zanae Bates (Marketing), along with board members Jason Manning, Ryan Nielsen and Guy Quam.
"The board of the Butte Cobras is excited to be members of the NA3HL. The Cobras organization looks forward building a team and expanding on the existing rivalries in the Frontier Division of the NA3HL," said board member Jason Manning.
The Butte Cobras will play out of the Butte Community Ice Center. Built in 2001, the Butte Community Ice Center has seating for 500+, a private team locker room space in team colors, coach's office and on-site open work out space. The Cobras already have systems in place for billet families and game night staff.
In addition, the Butte Cobras have hired Greg Sears as the team's new head coach. He is just coming off of a NA3HL Frontier Division Championship as an assistant coach with the Yellowstone Quake. Sears will be attending Showcases and tryout camps as he builds a team to jump-start the NA3HL season.
"The experience Greg has along with his passion for the game will help in every aspect of what we are trying to accomplish here in Butte with the development of our players. We are very excited for him to be on the bench and continue to build on the success he had last season in Yellowstone," said Manning.
A Webster, Wisconsin native, Sears brings over ten years of coaching experience to the Cobras program. Prior to last season with the Quake, Sears served as the Head Coach for the Atlanta Fire U18 AAA hockey program in Alpharetta, Georgia. Prior to his time in Atlanta, Sears spent the 2013-14 season as an Assistant Coach for the Coulee Region Chill of the North American Hockey League (NAHL).
Along with experience in the NAHL, Sears has spent eight years as a Head Prep hockey coach in Wisconsin, spending four years at both Webster High School, and La Crosse Central High School. In addition Coach Sears has worked with Top Dog Hockey program out of Minneapolis, Minnesota for ten years.