Euless forward Chavez makes college commitment
May 31, 2017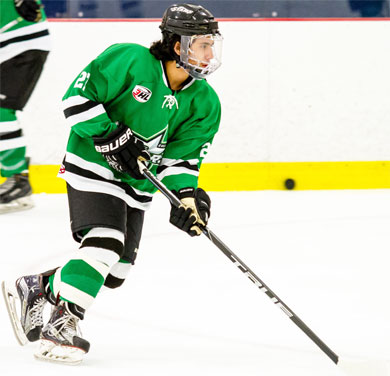 Following two solid seasons in the junior circuit, Anthony Chavez aims to contribute for the Waldorf University hockey team when he makes his debut this year.
Chavez, a 5-foot-7, 160-pound forward who spent the past two seasons with the Euless Jr. Stars in the North American 3 Hockey League (NA3HL), recently signed a letter of intent with the Warriors.
"We are thrilled to add Anthony to our program," Waldorf coach Brett Shelanski said. "He has tremendous speed and plays much bigger than his size."
An Odessa, Texas native, Chavez is a 2015 Permian High School graduate. He was a one-year varsity starter for the Panthers before making the jump to junior hockey in the Lone Star State. Chavez was also named to the New Mexico Interscholastic Hockey League (NMIHL) All-Star team in 2015.
During his first season playing for Euless in the NA3HL, Chavez, 21, tallied 12 points as he scored five goals and turned in seven assists while appearing in 35 games. He followed up his rookie season with a strong showing during the 2016-17 campaign, delivering 15 points behind four goals and 11 assists in 41 games. The Jr. Stars reached the South Division semifinals in the NA3HL Playoffs last season and closed out the year with a 23-26 record.
Chavez is ready to make the most of the chance to compete at the next level when he takes to the ice for Waldorf this season.
"It means a great deal to me to be given the opportunity to further my career at the collegiate level and I am very excited for the things to come," Chavez said. "To be given an opportunity to receive an education while playing is the one thing I'm most grateful for."
Chavez is the son of Patricia Medina and plans to pursue a sport management degree at Waldorf. Discussions with his junior hockey coach and Waldorf's coaching staff led him to signing with the Warriors.
"It was the advice from my coach in juniors that this is the place to go," Chavez said. "Plus, talking with the coaches at Waldorf made me certain that I wanted to be there and the [coaching staff] wanted me there as well, which my decision much easier."