Breezy Point names Vold as new head coach
June 28, 2017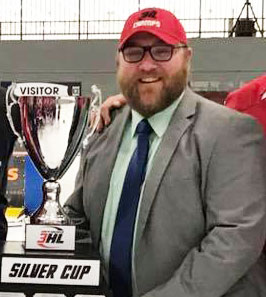 The Breezy Point North Stars, proud members of the North American 3 Hockey League, are excited to announce the hiring of DJ Vold as head coach.
Vold comes to the North Stars from the Granite City Lumberjacks as an assistant coach and recruiting director.
Vold played two years of AAA hockey for the Madison Capitols program who are now members of the NAPHL. He then moved on to play for the Granite City Lumberjacks for three years, winning a Silver Cup during the 2011-2012 season.
Due to a season ending injury during his last year with the Lumberjacks, he hopped on the bench with Head Coach Brad Willner as his assistant, a role he's held for the last four years, also taking on the role of Recruiting Coordinator during the 2015-16 season. While on the bench for Granite City, he helped the Lumberjacks to two more Silver Cup Championships, one in 2015 and one this past season in 2017.
Vold comes in to replace Coach Jon Jonasson, who moved on to other Junior Hockey endeavors.
"We are very pleased, with the direction the North Stars are headed and we appreciate Jon Jonasson's role, with that process and we wish him the best," said North Stars' General Manager Craig Larson.
"I've followed coach DJ Vold as a player and coach, for as long as he's been involved in Junior hockey, I even tried to recruit him. He's been a captain of a championship team and has held an important role as an assistant, in the recruiting for a championship team, as well as have an active role in placing kids in college. It's an area where the North Stars are getting more involved and we believe DJ is a great fit, for our long term plan," continued Larson.
"I want to thank the entire Granite City Lumberjacks organization for allowing me the opportunity to start my coaching career. It was an honor to be a part of something so special," said Vold. "I am excited to join the Breezy Point organization and hope to continue the success they have in recent seasons. This league is here to advance players to the next level and that is the opportunity I have been given with my coaching career," continued Vold.
The Breezy Point North Stars finished the 2016-2017 season, with a record of 25-19-3-0, good for their second trip to the Western Division playoffs.
"With eleven commitments this past season, we feel we have the right ingredients for players to grow and develop, in Breezy Point," said Craig Larson. "Having DJ Vold begin his head coaching experience with us, makes this an exciting time, for our program. Needless to say, we're looking forward to the up coming season," added Larson.