Austin forward Kothenbeutel makes NCAA DI commitment
July 17, 2017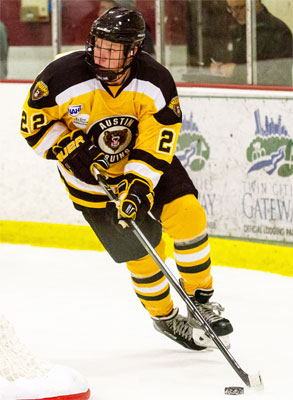 By Michael Keeley, Austin Bruins
Austin Bruins and North American Hockey League (NAHL) forward Travis Kothenbeutel is 40 points shy of the all-time Bruins scoring record entering his final season of Junior hockey. Now he has his college commitment. The forward and NA3HL alum announced his commitment to play NCAA Division I hockey for the University of Nebraska-Omaha for the 2018-19 season.
For the 20-year-old Sauk Rapids, Minnesota native, it was a fairly quick process: UNO first reached out to Kothenbeutel at the end of June. After a campus visit, everything fell into place.
"I really like the campus," said Kothenbeutel. "it's beautiful out there. The rink is wonderful. I kinda fell in love with it as soon as I got there."
The Mavericks play at Baxter Arena, an $88.1 million facility that opened in 2015. Launching in 1997, the program has made three NCAA Tournament appearances – all since 2006. Under new head coach Mike Gabinet, Kothenbeutel expects to bring his well-rounded forward play to college.
"I think they're looking for a 200-foot center that can put pucks in the net and that's kinda my role on the team," Kothenbeutel said.
Kothenbeutel, 20, saw a huge jump in production from 2015-16 to this past season, averaging nearly a point-per-game in 2016-17 and finishing second on the team with 23 goals and 34 assists in 58 games. That was a 40 point increase from his total of 17 the previous year. Kothenbeutel also led the team in powerplay and shorthanded points.
He was also selected to and played in the 2017 NAHL Top Prospects Tournament for the Central Division squad, where he had one point in two games played.
Travis attributes his growth to the ladder of development through Junior hockey. Parts of two seasons with the NA3HL's Granite City Lumberjacks led Kothenbeutel to Austin.
"They always say it's a process and it really is; just kind of growing up and becoming the player I am now has all happened through Austin and my Junior career."
Already the longest tenured Bruin, Kothenbeutel will play in Austin one last season, but his understanding of the life-long relationships from Juniors already runs deep.
"Everyone says Junior hockey is a family and it really Is," said Kothenbeutel. "I'd like to thank everyone in this organization – especially my billets, for everything they've done for me. It can't happen without all the people involved."