NA3HL 47 teams in 24 days debuts on August 15th
July 27, 2017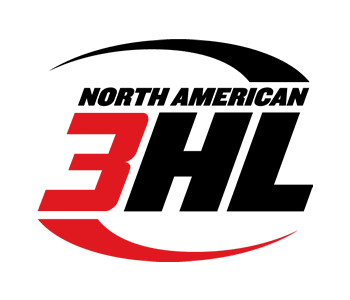 The North American 3 Hockey League (NA3HL) is pleased to continue their season preview series, '47 teams in 24 days' exclusively on na3hl.com and NA3HL Twitter and Facebook pages.
Beginning on Tuesday, August 15th, the league will spend the next month highlighting all 47 teams leading up to the first NA3HL regular season game on September 8th.
The 47 in 24 series will feature an in-depth look into all 47 teams in the NA3HL for the 2017-18 season, with two teams being highlighted daily, leading all the way up until the start of the regular season on Friday, September 8th as the Lansing Wolves face the Metro Jets in the season opener.
The NA3HL is entering its eighth season and serves as one of the top training grounds in the country by providing the best coaching, exposure and developmental vehicles available for student-athletes in Tier III junior hockey. It is one of only three USA Hockey-sanctioned Tier III junior leagues.
The player advancement of NA3HL players last season to the NAHL and beyond again set a new standard for player movement. During the 2016-17 season, more than three-dozen NA3HL players got the call up to the NAHL. In addition, 25 NA3HL players were either tendered or drafted for the upcoming 2017-18 season. Over the course of the past two years, over 80 NA3HL players have been called up to the NAHL, while close to 60 have been tendered or drafted. Over 120 NA3HL players made college commitments during the 2016-17 season, with more than half of those being NCAA commitments.
47 in 24 goes in-depth into each NA3HL team and will include interviews with all 47 head coaches in the NA3HL, as they provide fans with their expectations and outlook for the 2017-18 season, including taking a look at their potential roster and their strengths as a team for the upcoming season.
It will also take a look back on the 2016-17 season and how each team fared and what they accomplished. Best of all, 47 in 24 will provide the fans of the NA3HL with an inside look at their favorite team and what to expect.
The NA3HL season is a month and a half away and the majority of NA3HL rosters and camps are close to being completed. 47 in 24 will also provide fans with insight on key returning players and players that will be new to each team's roster.
The planned schedule of featured teams for the 47 in 24 series will be as follows (alphabetical order):
August 15: Alexandria Blizzard
August 16: Atlanta Capitals, Billings Bulls
August 17: Binghamton Junior Senators, Bozeman Icedogs
August 18: Breezy Point North Stars, Butte Cobras
August 19: Cape Cod Islanders, Cincinnati Thunder
August 20: College Station Spirit, Evansville Jr. Thunderbolts
August 21: Gillette Wild, Granite City Lumberjacks
August 22: Great Falls Americans, Helena Bighorns
August 23: Jersey Shore Wildcats, L/A Nordiques
August 24: La Crosse Freeze, Lansing Wolves
August 25: Long Beach Sharks, Louisiana Drillers
August 26: Maine Wild, Metro Jets
August 27: Mid Cities Jr. Stars, Missoula Junior Bruins
August 28: Nashville Jr. Predators, New England Stars
August 29: New Ulm Steel, Niagara Falls PowerHawks
August 30: North Iowa Bulls, Northeast Generals
August 31: Oswego Stampede, Peoria Mustangs
September 1: Pittsburgh Vengeance, Point Mallard Ducks
September 2: Roc City Royals, Rochester Ice Hawks
September 3: Skylands Kings, Southern Tier Xpress
September 4: St. Louis Jr. Blues, Texas Brahmas
September 5: Toledo Cherokee, Wausau RiverWolves
September 6: Willmar WarHawks, Wisconsin Whalers
September 7: Wooster Oilers, Yellowstone Quake