Vaughn to continue as official goaltending equipment partner
August 2, 2017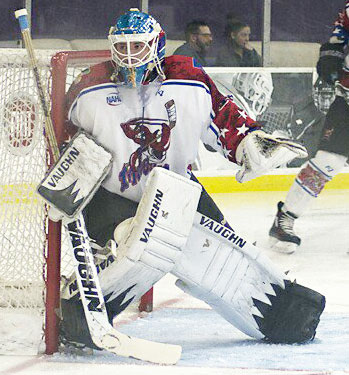 The North American Hockey League (NAHL) has announced that Vaughn Custom Sports (Vaughn) has renewed their agreement to continue as the official Goaltending Equipment Partner to the NAHL. Vaughn will also serve as the Preferred Goaltending Equipment Supplier of the North American 3 Hockey League (NA3HL) and the North American Prospects Hockey League (NAPHL).
As part of the two-year extension, Vaughn will continue as the exclusive provider of goalie sticks to the NAHL and will have the ability to promote, sell and outfit its full line of products that include leg pads, catching/blocker gloves, pants and arm/body protection along with its full selection of accessory items to all NAHL, NA3HL and NAPHL member teams and goaltenders.
"We are happy to be continuing our partnership with Vaughn, who are one of the industry's best and most recognizable names in hockey," said NAHL Commissioner and President Mark Frankenfeld. "This partnership is a commitment by the league and our owners to provide our goalies with the best equipment possible in order to maximize their performance. With their proven track record of NHL clients along with their 33-year history, we believe Vaughn continues to be perfect fit and partner for the next generations of goalies coming through our family of leagues."
Founded in 1982, Vaughn became one of the first major hockey production companies to use multiple foam layers in equipment. As strictly a goalie equipment company, the main focus for Vaughn is the innovation and quality of their product. Vaughn has a great understanding of their goalies and also provides a customer service and experience that is unmatched. With two manufacturing facilities (Oxford, Michigan and London, Ontario), Vaughn is unmatched in its ability to service both the North American and European markets. In 2017, 82% of pro goalies used at least one piece of Vaughn equipment on the ice.
"We are very excited and proud to continue our partnership with the NAHL, NA3HL, and NAPHL," said Vaughn Pro Service Representative Scott Hughes. "Over the course of the past three years, we have outfitted hundreds of goalies in the NAHL, NA3HL and NAPHL with Vaughn equipment and we look forward to continuing that growth."
The list of goalies in the NHL who use Vaughn reads like a who's who in the hockey industry and includes such names as: Stanley Cup Champion and Pittsburgh Penguins goalie Matt Murray, Los Angeles Kings goalie Jonathan Quick, San Jose Sharks Martin Jones, Boston Bruins goalie Tuuka Rask and NAHL goaltending graduates Jimmy Howard (Detroit Red Wings) and Ryan Miller (Anaheim Ducks).
As part of the agreement, Vaughn will continue to sponsor the NAHL and NA3HL Goaltender of the Month and Goaltender of the Year awards, as well as, the NAPHL Goaltender of the Year awards.