47 in 24 series: Breezy Point North Stars
August 18, 2017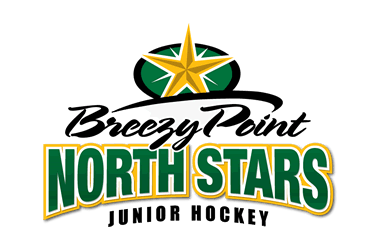 The 47 in 24 series will feature an in-depth look into all 47 teams in the NA3HL for the 2017-18 season, with new teams being highlighted daily, leading all the way up until the start of the regular season. 47 in 24 goes in-depth into each NA3HL team and will include interviews with all 47 head coaches in the NA3HL, as they provide fans with their expectations and outlook for the 2017-18 season, including taking a look at their potential roster and their strengths as a team for the upcoming season. It will also take a look back on the 2016-17 season and how each team fared and what they accomplished. Best of all, 47 in 24 will provide the fans of the NA3HL with an inside look at their favorite team and what to expect.
Breezy Point North Stars
2016-17 Record: 25-19-3, 53 pts. (4th in the West Division)
2017 Playoffs: Lost in West Division semi-finals to the Granite City Lumberjacks
Head Coach: DJ Vold
2017-18 Division: West
When looking around the NA3HL, it is hard to find a team that has improved more, year after year, than the Breezy Point North Stars. With each passing season, the North Stars continue their climb up the standings and place more players into college.
In 2017-18, Breezy Point will be led by first time Head Coach DJ Vold. However, don't let his inexperience fool you, Vold is a proven winner.
He has been apart of three Silver Cup championship teams, once as a player in 2012 and two more as an assistant coach in 2015 and this past season with the Granite City Lumberjacks. Now he'll take an 80-mile trip north to coach one of the Jacks' division rivals.
"They're happy for me, obviously they hate to see me go but they are happy for me. They wish me the best of luck," Vold explained. "But at the same time were going to have to go there numerous times to play them and it should be fun."
Being in the West division for the last few years, Vold is well aware of the North Stars development as a franchise and insists he has no intention of slowing down their progress.
"I don't want to take any steps backwards, I'd like to keep building it. The guys that have been here before me have done a good job of building up this program," said Vold. "With the core group that is coming back and adding some of the kids that were protected before I got here and adding some kids that I like, I think we should be just fine. I hope to continue to build the organization and keep making moves forward."
In the hockey hotbed that is Minnesota, there are plenty of good players to choose from, but Vold is looking for the right players in Breezy Point.
"I'm a big believer in doing things the right way and that starts with bringing in players that are not only good hockey players but good kids. You want to bring in kids that you don't have to worry about away from the rink so it starts with bringing in kids with high character and then you go from there."
The North Stars placed 11 players in college last season and will look to reload for the daunting West Division schedule. Following in the footsteps of their division rival, Breezy Point will look to bring a blue-collar mentality to the ice.
"I believe that defense wins championships. I don't shy away from playing physical, but at the same time there's a skill element to the game that helps you put pucks in the back of the net."
No stranger to the Breezy Point community, Vold is eager to get involved in his new home.
"The community is great, we are associated with the Breezy Point Resort which is awesome. They have everything you could need for summer fun as well as winter fun. It brings a lot of people to the area, we encourage the kids to wear their team jackets or anything with a logo on it. People see it, they recognize it and they know wear to find us."
Returning a veteran core group and the addition of a young enthusiastic coach, the North Stars are hopeful the Breezy Point faithful will find them in the playoffs.
Next up in the 47 in 24 series: Butte Cobras