47 in 24 series: Evansville Jr. Thunderbolts
August 20, 2017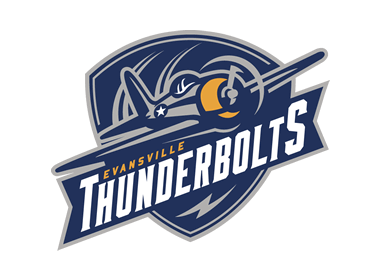 The 47 in 24 series will feature an in-depth look into all 47 teams in the NA3HL for the 2017-18 season, with new teams being highlighted daily, leading all the way up until the start of the regular season. 47 in 24 goes in-depth into each NA3HL team and will include interviews with all 47 head coaches in the NA3HL, as they provide fans with their expectations and outlook for the 2017-18 season, including taking a look at their potential roster and their strengths as a team for the upcoming season. It will also take a look back on the 2016-17 season and how each team fared and what they accomplished. Best of all, 47 in 24 will provide the fans of the NA3HL with an inside look at their favorite team and what to expect.
Evansville Jr. Thunderbolts
2016-17 Record: 14-31-2, 30 pts. (5th in Midwest Division)
2016-17 Playoffs: Did not qualify
Head Coach: Mark Cody
2017-18 Division: Midwest
Last season the Evansville Jr. Thunderbolts season didn't go the way as planned, finishing with a 14-31-2 record and 5th in the Midwest Division, but Head Coach Mark Cody believes it will make his team better for this upcoming season.
"Last season I thought the league was very competitive, although we didn't make the playoffs our team learned that you have to compete every night. That is only going to make us better for this upcoming season."
In his second year as Head Coach, Cody expects more for his team next season. "We not only expect to make the playoffs this season, but we are looking to compete for one of the top two spots in our division," said Cody. "I feel that we have learned as an organization over our first two years, and have brought in the right pieces to strongly contend at the top of our division."
To create success on the ice, Cody puts an emphasis on building his team with youth and speed. "We have gotten better each of our first two seasons and have high expectations for this season and the future. By adding young talent we feel that it will put us in a good spot for years to come."
While success on the ice is important, Cody says Evansville prides themselves on moving players to the next level. "Everyone wants to win a championship, but our approach is also how can we get our players seen and move up to college or higher level junior hockey," said Cody.
To get to the next level, Cody believes the league showcase events are what makes this league a step above the rest. "I know all of our players love having the opportunity to be seen by coaches at the next level and really look forward to those opportunities."
Next in the 47 in 24 series: Gillette Wild