47 in 24 series: Gillette Wild
August 21, 2017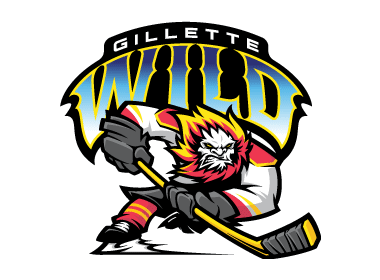 The 47 in 24 series will feature an in-depth look into all 47 teams in the NA3HL for the 2017-18 season, with new teams being highlighted daily, leading all the way up until the start of the regular season. 47 in 24 goes in-depth into each NA3HL team and will include interviews with all 47 head coaches in the NA3HL, as they provide fans with their expectations and outlook for the 2017-18 season, including taking a look at their potential roster and their strengths as a team for the upcoming season. It will also take a look back on the 2016-17 season and how each team fared and what they accomplished. Best of all, 47 in 24 will provide the fans of the NA3HL with an inside look at their favorite team and what to expect.
Gillette Wild
2016-17 Record: 35-11-1, 71 pts. (3rd in the Frontier Division)
2017 Playoffs: Lost Frontier Division semi-finals to Great Falls Americans, 2 games to 0
Head Coach: Brendon Hodge
2017-18 Division: Frontier
A simple look at the standings would show you the Gillette Wild were one of the best teams to not make the Silver Cup tournament last season. Their 35 wins were equal to division winners, Long Beach and North Iowa. They even had three more wins than the eventual Silver Cup champions Granite City.
"We had a great year last year, set a franchise record for wins in a season for our team," said Head Coach Brendon Hodge. "We got by Helena in the first round then we ended up playing Great Falls in the second round and ran into a hot goalie and a hot team right there."
Despite their record setting year they still finished behind Yellowstone and Great Falls in the Frontier Division standings. The key to dethroning those two starts with building up the depth chart in Gillette.
"I don't believe you can play one or two lines. I have a belief that you've got to play four lines, especially in our division, especially with the travel that we have," explained Hodge. "You can't rely on two lines so the one thing I'm looking for is depth. Get your goal scorers and all that on your first two lines hopefully, and the third and fourth lines are character guys that are going to help you win games."
Coach Hodge will be fortunate enough to be returning some of his top scorers from a year ago. Nick Stockert tied for the team lead in goals last season with 32 and he will return to lead the Wild offense. His 60 total points were good for third on the team in 2016-17.
The Wild will also be returning Brooks Mitzel, who Hodge said would be his captain for the upcoming campaign. Mitzel finished last season with 17 goals and 35 assists in 43 games. Jack Oberg brings his 21 goals and 54 points back to Gillette as well. The 18-year old from Rapid City, South Dakota was also a NA3HL top prospect last year.
"It's going to be an exciting year, hoping to improve on last year's success and try to get these kids moved on to college. At the end of the day, that's the most important thing, getting these kids on to college, I know we play for a league championship and all that but if we can get our guys moved on to college that's the biggest goal for our season."
Hodge has been impressed by the number of scouts that have been attending the NA3HL Showcase over the last couple of seasons and has been told by his players that the "sea of scouts" at the top prospects tournament is an incredible sight.
Kyle Truax (Aqunias College), Riley Holwegner (Minot State), Cade Boreing (University of Northern Colorado) and Lincon Riley (Grand Canyon University) will be playing college hockey in the fall in addition to four others.
Gillette is one of the top NA3HL markets, boasting an average of 500 fans per game. Coach Hodge knows that without the community, none of what they do is possible.
"Junior hockey doesn't survive without a fanbase. The kids get a true junior experience playing in front of a large crowd and not 20 people where they know all of their names."
The Wild typically wear 3-4 specialty jerseys per season, benefitting breast cancer awareness and honoring the military. The standout from last season was their Captain America jerseys. Worn in February, the proceeds from these jerseys went to Young Life of Gillette which is an interfaith group for local students.
Hodge has truly appreciated his time in the hockey town of Gillette and is ready to give the community more reasons to go wild.
Next up in the 47 in 24 series: Granite City Lumberjacks