47 in 24 series: L/A Nordiques
August 23, 2017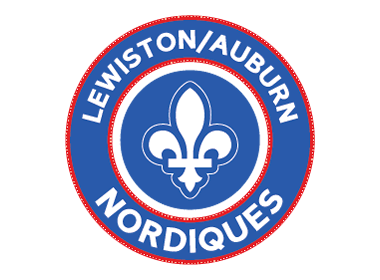 The 47 in 24 series will feature an in-depth look into all 47 teams in the NA3HL for the 2017-18 season, with new teams being highlighted daily, leading all the way up until the start of the regular season. 47 in 24 goes in-depth into each NA3HL team and will include interviews with all 47 head coaches in the NA3HL, as they provide fans with their expectations and outlook for the 2017-18 season, including taking a look at their potential roster and their strengths as a team for the upcoming season. It will also take a look back on the 2016-17 season and how each team fared and what they accomplished. Best of all, 47 in 24 will provide the fans of the NA3HL with an inside look at their favorite team and what to expect.
L/A Nordiques
2016-17 Record: 23-21-3, 49 pts. (5th in Coastal Division)
2017 Playoffs: Did not qualify
Head Coach: Cameron Robichaud
2017-18 Division: Coastal
The L/A Nordiques, previously the L/A Fighting Spirit, finished the season with a 23-21-3 record and did not qualify for the playoffs. Head Coach Cam Robichaud looks to the future and has high expectations for the upcoming season.
"My expectation for this season is to gain the reputation of being a strong, highly competitive and disciplined team to play against. Our staff will be committed to individual development and advancement; as an overall team, our goal is to make playoffs in our first season as the Nordiques," said Robichaud.
Back in early May, the L/A Fighting Spirit to the Androscoggin Bank Colisee. The Fighting Spirit franchise became the L/A Nordiques Hockey Club for the 2017-18 season and beyond. The Nordiques will call the Androscoggin Bank Colisee home for the upcoming 2017-18 season. The Colisee is a 67,000 square foot multipurpose facility with a seating capacity of 3,682 for hockey and 4,500+ for concerts.
"Lewiston has a rich hockey history; the facility, community, and fans are top notch and provide an ideal environment for junior hockey. I look forward to building a strong program here in Lewiston, that will be an attractive destination for student-athletes to grow and develop for the higher levels of hockey."
This season marks Robichaud's his second year with the Nordiques, his first as head coach, and hopes to help student athletes reach their full potential both on and off the ice.
"The main point of emphasis for this seasons team will be character. We are looking for a team and roster that is full of quality people. The individuals that play for the Nordiques will be dedicated hard working student- athletes, who will be extremely focused on development and taking their game to the next level," said Robichaud.
In addition to creating success on the ice, Robichaud is committed to creating success in the community, too.
"The staff and I have been working hard this off season and look forward to creating a culture in the Lewiston-Auburn community that is successful both on and off the ice."
Next up in the 47 in 24 series: La Crosse Freeze