NA3HL seeks support for former Jets coach Cirone
August 24, 2017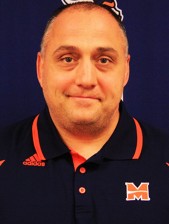 When Jason Cirone coached the Metro Jets, he regularly found his teams in battles each night in the North American 3 Hockey League (NA3HL).
Now, Cirone is in a battle of his own, but he is hardly alone.
Earlier this summer, Cirone, 46, was diagnosed with cancer.
He recently completed his fourth season coaching Midland University's hockey team in Fremont, Neb.
On May 18, a tumor in Jason's calf was diagnosed as myxoid liposarcoma, a rare, aggressive soft tissue cancer. He was ordered (and completed) five weeks of daily radiation to mitigate the tumor growth prior to surgical removal. Upon pre-op monitoring, two new tumors were discovered, another in his calf and one higher in his chest, just under his throat.
Both of these tumors tested malignant and the one in his chest was removed during the surgical biopsy.
Due to the rate, speed, distance and means (blood) the metastasis has occurred, the doctors have categorized the status of his cancer as an aggressive stage 4. Myxoid liposarcoma is a chronic, recurring cancer that may go into remission.
Cirone's wife, Kristen, and children Brooke, 19, and Mason, 17, have been his biggest supporters and are asking for financial assistance for Jason's escalating medical expenses.
Cirone coached the Jets from 2010-13 and prior to that, coached in the North American Hockey League for two seasons with the Motor City Metal Jackets.
As a player, Cirone skated three games with the NHL's Winnipeg Jets in 1991-92.
On Oct. 28 for the Metro Jets-Wooster Oilers game at Fraser Hockeyland, also the team's annual Pink In The Rink night for cancer awareness, the game and all proceeds will be dedicated to Jason and his family as they fight this battle with cancer.