August 26, 2017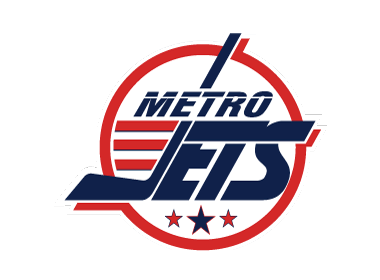 The 47 in 24 series will feature an in-depth look into all 47 teams in the NA3HL for the 2017-18 season, with new teams being highlighted daily, leading all the way up until the start of the regular season. 47 in 24 goes in-depth into each NA3HL team and will include interviews with all 47 head coaches in the NA3HL, as they provide fans with their expectations and outlook for the 2017-18 season, including taking a look at their potential roster and their strengths as a team for the upcoming season. It will also take a look back on the 2016-17 season and how each team fared and what they accomplished. Best of all, 47 in 24 will provide the fans of the NA3HL with an inside look at their favorite team and what to expect.
Metro Jets
2016-17 Record: 47-0-0, 94 pts. (1st in East Division)
2017 Playoffs: Won the East Dvision, Lost in Silver Cup Championship Game to Granite City, 3-1
Head Coach: Justin Quenneville
2017-18 Division: East
Last season the Metro Jets 47 game-winning streak broke the all-time USA Hockey tier III junior winning streak record. It was one of the more remarkable seasons to date for any team at any level.
It was also the second straight season that the Jets lost in the Silver Cup Final. With their record-breaking season behind them, Head Coach Justin Quenneville is looking forward to creating the same success for the 2017-18 season.
"We are very grateful to have the opportunity to make it to the final championship again last year. We had many college commitments and NAHL advancements and we look to continue to provide a platform for young players to develop," said Quenneville.
Last season the Jets had four players commit to play NCAA college hockey and Quenneville knows the importance of getting his players to advance.
"We take pride in focusing on the players development. We look to continue to give them the most amount of opportunity available to succeed on and off the ice," said Quenneivlle.
Quenneville believes that in order to develop and promote players, he needs them to be excited about how they play.
"We want to make sure we play a style that is difficult for opponents to keep up with. We continue to find hungry hockey players who are willing to be challenged and play at this level with a culture that will challenge them every week," said Quenneville.
A winning culture is something that Quenneville make sure he provides. Last season the Jets record was a NA3HL and USA hockey best, and Quennevile knows what he has to do to create the same success this season.
"It's arguably difficult to exceed our 47-0 record from last season, but it is a new year and we will look to build on the little things we take pride in," said Quenneville. "I don't believe in expectations or goals, rather in results of what you can control, so lets control today and get better for tomorrow."
The Jets kick off their season on the road on September 8th when they face off against the Lansing Wolves at the Summit Sports & Ice Complex.
Next up in the 47 in 24 series: Mid-Cities Jr. Stars