47 in 24 series: New England Stars
August 28, 2017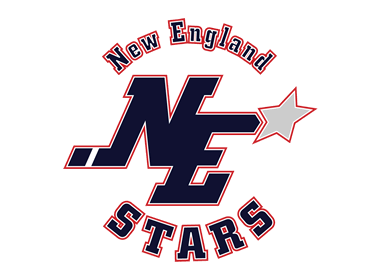 The 47 in 24 series will feature an in-depth look into all 47 teams in the NA3HL for the 2017-18 season, with new teams being highlighted daily, leading all the way up until the start of the regular season. 47 in 24 goes in-depth into each NA3HL team and will include interviews with all 47 head coaches in the NA3HL, as they provide fans with their expectations and outlook for the 2017-18 season, including taking a look at their potential roster and their strengths as a team for the upcoming season. It will also take a look back on the 2016-17 season and how each team fared and what they accomplished. Best of all, 47 in 24 will provide the fans of the NA3HL with an inside look at their favorite team and what to expect.
New England Stars
2016-17 Record: 29-7-11, 69 pts.
2017 Playoffs: Lost in the Coastal Division Finals to Long Beach Sharks, 2 games to 1
Head Coach: Darryl Green
2017-18 Division: Coastal
Originally members of the International Junior Hockey League (IJHL), the New England Stars helped create the Northern States Junior Hockey League (NSJHL) in 2012. The NSJHL became the North American 3 Eastern Hockey League in 2014 – attaining USA Hockey Sanction in 2015. In 2016, the Stars became part of the NA3HL when it merged with the NA3EHL.
In his seventh season coaching the New England Stars, head coach Darryl Green has roots in the organization since 1999. Originally from Ontario, Green played hockey at UMass Lowell. While there, he coached and worked with The Hockey Academy – the organization that owns the Stars, and also runs a youth organization with the same name. Green worked with both adult and youth hockey clinics, and took over as a youth coach when he graduated school.
With only seven regulation loses in the regular season, narrowly missing first place in their division, and placing six players in college, the coaching staff for the Stars were impressed with the way last season worked out.
Keeping last season in mind, Green and his staff are looking forward to this season. Since The Hockey Academy hosts a youth organization by the same name, it's not uncommon for junior players to come up, having played with them for years.
"We recruit players that want to get better. [They are] ready to learn and work hard each day at practice. We want good teammates, first and foremost. We want good hockey players. You got to be a good person and a team guy. It's a team game, and you need contributions from everyone."
When it comes to advancement, Coach Green takes advancement and individual development very seriously.
"Being the coach, I'm responsible for the systems that we play. You always want to be adding things to our game. As individuals, you want guys doing things they haven't done in the past. Our main goal is developing players. If we do that, winning games comes with that. As far as reaching out to teams, we do our best to reach out and talk with coaches and get players where they need to be."
Last season, the New England Stars had multiple players move on to the college level. Nolan Arbuckle (Trine University), Brian Glover (Fitchburg State), Brandon Hammner, Peter Menzies, and Ryan Paul (Framingham State), and Dom Lamanno (Waldorf University) will all advance to play hockey at the college level.
The Stars heavy focus on advancement and individual development make league wide events, such as the NA3HL Showcase and Top Prospect Tournament, big events during the season for the team.
"There are a good amount of scouts there, and it's nice to have all the teams together."
With such a large focus on development from the youth level, it's no surprise that the junior players are heavily involved in the events organized for the younger teams. For example, during weekly skills nights, six to ten junior players can often be found on the ice, working with the kids. Additionally, players from out of town usually live with parents inside the youth organization.
"We work hard to create a family type organization."
Described as "hard working, disciplined, and committed," the New England Stars open their season at home, against the Cape Cod Islanders, on September 16, 2017.
Next up in the 47 in 24 series: New Ulm Steel