47 in 24 series: Niagara Falls PowerHawks
August 29, 2017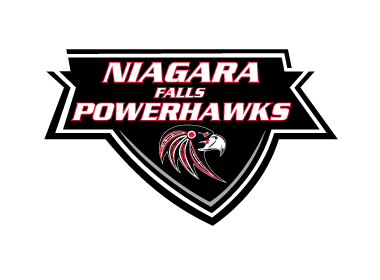 The 47 in 24 series will feature an in-depth look into all 47 teams in the NA3HL for the 2017-18 season, with new teams being highlighted daily, leading all the way up until the start of the regular season. 47 in 24 goes in-depth into each NA3HL team and will include interviews with all 47 head coaches in the NA3HL, as they provide fans with their expectations and outlook for the 2017-18 season, including taking a look at their potential roster and their strengths as a team for the upcoming season. It will also take a look back on the 2016-17 season and how each team fared and what they accomplished. Best of all, 47 in 24 will provide the fans of the NA3HL with an inside look at their favorite team and what to expect.
Niagara Falls PowerHawks
2016-17 Record: 18-29-0, 36 pts (5th in Northeast Division)
2017 Playoffs: Did not qualify
Head Coach: Jason Hill
2017-18 Division: Northeast
This past summer, the Lockport Express moved from Lockport, NY to Niagara Falls, NY, the first time junior hockey has been in the area since the 1980's. Last season as the Lockport Express, the team struggled to find consistency and finished the season with an 18-29-0 record and did not qualify for the playoffs.
After a rocky start to the season, Niagara Falls made some coaching changes and brought in Jason Hill, who is the current coach for the newly formed Powerhawks. General Manager Frank Vecchio believes the new coaching changes brought a positive outlook to last season, but the team just barely missed the playoffs.
"Jason instilled the discipline that the players were lacking under the previous coach and we climbed the standings, but missed the playoffs by a point," said Vecchio.
With last season behind them, Vecchio believes they have the right players and the motivation to become the hardest working team in the league.
"We are a pretty young team but our goal is to develop the young players to be able to advance them to the NAHL. We will be very skilled and will no doubt be the hardest working team on and off the ice this year," said Vecchio.
Developing players on and off the ice and having a successful season is very important to Vecchio. In fact, if he doesn't consider his season successful if he doesn't achieve both.
"We fully expect to compete for our divisional title and make a strong run in the playoffs. We also expect to move several players on to higher levels of hockey. If we do not accomplish those 2 goals, we will consider the season a disappointment," said Vecchio.
The Powerhawks will begin their season in their new arena at the Hyde Park Ice Pavilion on September 9th against the Pittsburgh Vengeance.
Next up in the 47 in 24 series: North Iowa Bulls