47 in 24: Peoria Mustangs
August 31, 2017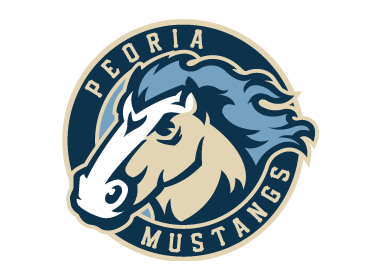 The 47 in 24 series will feature an in-depth look into all 47 teams in the NA3HL for the 2017-18 season, with new teams being highlighted daily, leading all the way up until the start of the regular season. 47 in 24 goes in-depth into each NA3HL team and will include interviews with all 47 head coaches in the NA3HL, as they provide fans with their expectations and outlook for the 2017-18 season, including taking a look at their potential roster and their strengths as a team for the upcoming season. It will also take a look back on the 2016-17 season and how each team fared and what they accomplished. Best of all, 47 in 24 will provide the fans of the NA3HL with an inside look at their favorite team and what to expect.
Peoria Mustangs
2016-17 Record: 28-16-3, 59 pts. (2nd in the Midwest Division)
2017 Playoffs: Lost in Midwest Divison finals to the St Louis Jr Blues, 2 games to 1
Head Coach: Steve Ortman
2017-18 Division: Midwest
With Head Coach Steve Ortman behind the bench once again, the Peoria Mustangs hope to build on their long standing success, and make a run for the Silver Cup. Armed with a young team, they start the 2017 season with a focus on development and success.
Coach Steve Ortman has been a member of the Peoria Mustang family since its inception in the early 1990s. Prior to being the head coach, Ortman spent 12 years as the assistant coach, and in 2009 became part owner of the Mustangs. He headed the team in 2013, and after a brief hiatus to coach the Peoria Rivermen in the Southern Professional Hockey League, plans to pick up where he left off in building a successful team this season.
Last year, Mustangs earned a 28-16-3 record – finishing second place in their division - and advanced to the Division finals, where they lost to the St Louis Jr Blues.
They also saw one college commitment - Austin Wisely will play at Hamline University.
Every year, the Peoria Mustangs focus is development. This season, with so many young players, is no exception. Entering their eighteenth season of play, the Mustangs know how to build a successful squad. Between the coaching experience of Coach Ortman and his eleven returning players, there is little doubt that the new junior players will adapt quickly to their new playing environment.
"This year, we're going to have a lot of young kids. Our goal is to work on development. We're going to do a lot of teaching in the first month, while they're getting used to playing at the junior level."
Playing in a division as competitive as the Midwest poses a challenge, but the Peoria coaching staff is confident in their ability to compete.
"We have a lot of good, talented young kids coming in. If we can get them used to playing at this level, I think we'll have some success."
Coach Ortman is also excited to be a part of all the NA3HL has to offer, such as the Top Prospects Tournament and NA3HL Showcase. During his previous stint as head coach in 2013, Ortman was named one of the coaches of the Top Prospect team.
"Top Prospects and the Showcase are unbelievable. They are a great experience and opportunity for exposure for the players, and the league does a great job putting together those events."
With such a long team history, the Peoria Mustangs are committed to giving back to their community. Through events such as food drives and school readings, the players often find themselves to be integral parts of the community.
"To young kids, these junior players are professional guys – they look up to them."
Players also volunteer their time to assist in youth programs and on ice skill sessions.
The city of Peoria is proud to host such a "fast paced and disciplined" set of players, and Steve Ortman and his staff look forward to another successful season.
The Mustangs open their season at home, against the St Louis Jr Blues, on September 9, 2017.
Next up in the 47 in 24 series: Pittsburgh Vengeance