47 in 24 series: Skylands Kings
September 3, 2017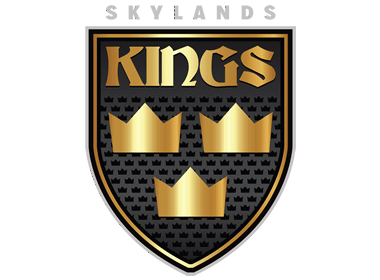 The 47 in 24 series will feature an in-depth look into all 47 teams in the NA3HL for the 2017-18 season, with new teams being highlighted daily, leading all the way up until the start of the regular season. 47 in 24 goes in-depth into each NA3HL team and will include interviews with all 47 head coaches in the NA3HL, as they provide fans with their expectations and outlook for the 2017-18 season, including taking a look at their potential roster and their strengths as a team for the upcoming season. It will also take a look back on the 2016-17 season and how each team fared and what they accomplished. Best of all, 47 in 24 will provide the fans of the NA3HL with an inside look at their favorite team and what to expect.
Skylands Kings
2016-17 Record: 13-31-3, 29 pts. (6th in the Northeast Division)
2017 Playoffs: Did not qualify
Head Coach: Adam Mitchell
2017-18 Division: Northeast
With two seasons behind them, the Skylands Kings look to improve and make a playoff run in the 2017-18 season.
The Skylands Kings, who share a rink with a youth organization of the same name, began play in 2015 in the North American 3 Eastern Hockey League, where they lost in the Division Semifinals. The team did not qualify for playoffs this past season, and are planning a return to the Silver Cup with Head Coach Adam Mitchell behind the bench.
An NAHL alum, Coach Mitchell enters his first year as head coach at the junior level. After playing for Rochester Institute of Technology, Mitchell worked with players on ice, as well as with youth programs. He is also an athletic trainer, and will work closely with his team in strength and conditioning on and off the ice.
Although last season may not have given the Kings the outcome that they wanted, Coach Mitchell is happy with the way his team progressed, and is relying on returners to set the pace for the upcoming season.
"We lacked in our defensive zone – we had a young team and it showed. However, we had a lot of positives to finish out the year, and have a solid group of returners coming back this season."
This season, the Kings are going to work even harder, both on and off the ice, to make a push for the playoffs.
"We want to be a top contender in our division and make a strong push in the playoffs."
In addition to being strong competitors on the ice, Mitchell wants to develop his players and get them ready for the next level, regardless of what that level is.
"I want my players to have the time management skills and work ethic to make it in their next endeavors in life."
Head Coach Mitchell recognizes the importance of connections when it comes to getting players where they want to go, and makes it a point to reach out to as many coaches and scouts as possible.
"I do my best to get them to check out our games, where they are home games or away if we are in the area."
It's also important that a player is interested in a college for reasons beyond their hockey program. Coach Mitchell encourages his team to do their own research, and to provide him with lists of colleges and other junior teams that a player may be interested in.
Last season, the Skylands Kings saw two college commitments. Evan Barghout will play at William Paterson University, while Darrin Bruce will attend Waldorf University.
In junction with NA3HL beliefs, Coach Mitchell understands the importance of participating in league-wide events such as the Showcase and Top Prospects Tournament.
"I am happy to see that the showcase will be Sunday-Tuesday this year, and will have a greater opportunity for players to be seen and show what they can do" Mitchell said.
The Skylands Kings often participate in community service programs to give back to the city of Stockholm, New Jersey. In addition to volunteering their time bagging groceries, the Kings also spend time in local hospitals, reading and bringing stuffed animals to children.
With a new head coach, new players in new roles, and a new season about to begin, the Skylands Kings are excited for what this year can bring.
The Kings start their season at home against the Binghamton Junior Senators on September 9, 2017.
Next up in the 47 in 24 series: Southern Tier Xpress