47 in 24 series: Southern Tier Xpress
September 3, 2017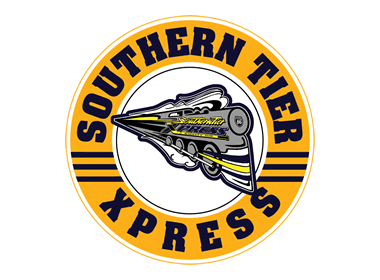 The 47 in 24 series will feature an in-depth look into all 47 teams in the NA3HL for the 2017-18 season, with new teams being highlighted daily, leading all the way up until the start of the regular season. 47 in 24 goes in-depth into each NA3HL team and will include interviews with all 47 head coaches in the NA3HL, as they provide fans with their expectations and outlook for the 2017-18 season, including taking a look at their potential roster and their strengths as a team for the upcoming season. It will also take a look back on the 2016-17 season and how each team fared and what they accomplished. Best of all, 47 in 24 will provide the fans of the NA3HL with an inside look at their favorite team and what to expect.
Southern Tier Xpress
2016-17 Record: 15-28-4, 34 pts. (6th in the East Division
2017 Playoffs: Did not qualify
Head Coach: Lou Santini
2017-18 Division: East
After missing the playoffs in the 2016 season, new Head Coach Louis Santini and the Southern Tier Xpress look to new beginnings as they start the 2017 season.
Santini began his coaching career as a volunteer assistant coach at Iona College. Since then, he has coached at various levels, including at Sacred Heart University and in the USHL. Coach Louis joins the Southern Tier Xpress in his first year in the NA3HL.
The Xpress are using their new coaching staff as an opportunity to start the season with a clean slate.
"[We are] focusing on this year; giving everyone a clean slate. Hopefully we can uphold the traditions that the people around here expect. [We] come in with an open mind."
Southern Tier hopes to improve on the defense part of their game, in addition to maintaining a team of skilled players.
"We're making big improvements on team defense – having everyone be more careful with the defense side of the game. We [also] want to be a good puck handling team."
In order to focus on improvement and dial in a player's skills, Santini plans to break the season into four quarters, with a focus on a certain aspect of the game in each quarter. This will enable his players to perfect smaller parts of their game.
"We want to reach some goals and adjust as the season moves forward."
When it comes to plyer advancement, the Southern Tier Xpress recognize the importance of improving players on and off the ice. This includes having players be proactive in looking at schools and what they want to study, in addition to where they want to play hockey.
In 2017, Harrison Vangellow committed to the Milwaukee School of Engineering.
"We want players to go on trips to colleges and to talk to other coaches. We're promoting this as an important factor – we want to reach out to coaches and give players the opportunity to move on. We want colleges to come and see our team play" said Coach Santini.
Since player development and advancement is such an important part of the NA3HL and the Xpress, it's no surprise that teams highly value the various league-wide events they can participate in each season, such as the NA3HL Showcase, Top Prospects Tournament, and Silver Cup Championship.
"The league does a great job with the Showcase and Top Prospects. There's a lot of colleges that come and see the kids play – it's well attended. The top goal of these players is to play college hockey, and we want to help them get there."
Off the ice, participating in community and volunteer activities can also help players and teams show their support for the people that fill their home rinks. For Southern Tier, they advocate for various programs such as animal welfare and education. The players also help raise money for the Salvation Army around the holidays. To show appreciation for their fans, the Xpress also put on special nights for various groups – such as veterans and schools.
The Southern Tier Xpress start their season at home on September 9, 2017, where they will face off against the Wooster Oilers.
Next up in the 47 in 24 series: St. Louis Jr. Blues