47 in 24 series: Wausau RiverWolves
September 5, 2017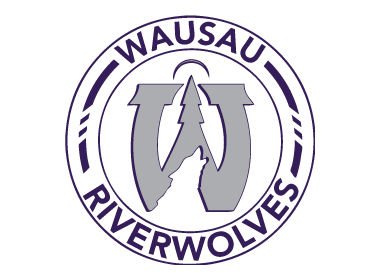 The 47 in 24 series will feature an in-depth look into all 47 teams in the NA3HL for the 2017-18 season, with new teams being highlighted daily, leading all the way up until the start of the regular season. 47 in 24 goes in-depth into each NA3HL team and will include interviews with all 47 head coaches in the NA3HL, as they provide fans with their expectations and outlook for the 2017-18 season, including taking a look at their potential roster and their strengths as a team for the upcoming season. It will also take a look back on the 2016-17 season and how each team fared and what they accomplished. Best of all, 47 in 24 will provide the fans of the NA3HL with an inside look at their favorite team and what to expect.
Wausau RiverWolves
2016-17 Record: 1-45-0-1, 3 pts. (5th in the Central Division) *as Chicago Bulldogs
2017 Playoffs: Did not qualify
Head Coach: Tim Brownell
2017-18 Division: Central
The 2017-18 season will see the first year of RiverWolves hockey as a new hockey adventure begins in Wausau, Wisconsin. On April 26th, the RiverWolves acquired, purchased and relocated the Chicago Jr. Bulldogs membership to Wausau, Wisconsin.
The RiverWolves will be in the Central Division along with the La Crosse Freeze, North Iowa Bulls, Rochester Ice Hawks and Wisconsin Whalers.
Tabbed as the very first coach in RiverWolves history, Tim Brownell has a lot on his plate as the team transitions from Chicago to Wausau.
"The process with the transition has been a lot of work, but a lot of fun at the same time. I feel very honored to be apart of a brand new organization and to help build a team from the ground up," said Brownell.
"The main points for building a team this season is to find those players with excellent character and a high compete level at the same time. Being in a brand new town, it is important that the players not only excel on the ice, but also in the community," Brownell said. "As far as the compete factor goes, I am looking for players who are willing to put the work in. It doesn't matter if they are a veteran or a rookie. With our tough division as well as out of division games, we are looking for players who are ready to compete from day one."
Brownell comes over from the Gillette Wild and learned a lot from his former partner on the bench Brendon Hodge.
"The last two seasons I was lucky enough to coach alongside Brendon Hodge in Gillette and he taught me a lot and helped me network with coaches across the US as well. As the year goes on I look forward to continuing to network and build relationships with coaches in order to help promote players," added Brownell.
Although they are new to the fold, Brownell has the first year bar set very high.
"I believe anything less than a playoff appearance will be a failed season. I know we have an opportunity to make some noise throughout our division and the league itself," exclaimed Brownell. "Myself and the ownership group have set a very high standard for this season and the players we are bringing in will definitely help achieve those goals."
The RiverWolves as a team may be new, but they will be returning some veteran talent who have plenty of experience in the NA3HL.
"I am really focusing in on our veterans like Connor Moore, Jake Harris, Santana Pinkert and Cody Gottfreid to help teach these young kids the in's and out's of junior hockey and the professionalism that comes with it," Brownell continued. "With practices everyday, 47 game season, travel, community aspect, etc. I am really looking to those guys to help lead.
As a community, Wausau is no stranger to hosting kids from afar. The town is also home to the Wisconsin Woodchucks of the Northwoods League, a summer collegiate baseball league that also requires billet families.
"Being new to the community of Wausau, it is integral that we dive in head first. We will be going and doing school visits, working with all local youth hockey associations, participating in food drives and charity drives. Really we are willing to do whatever we can to help the community. Yes we are here for hockey, but at the end of the day, we are here to be successful citizens within the Wausau community," said Brownell.
A new chapter in Wausau hockey history begins on October 13th as the RiverWolves will host the Rochester Ice Hawks.
Next up in the 47 in 24 series: Willmar WarHawks