47 in 24 series: Yellowstone Quake
September 7, 2017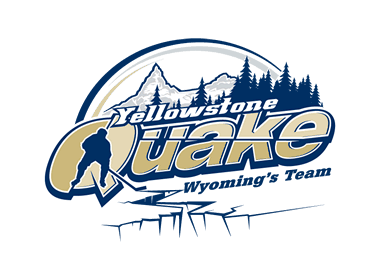 The 47 in 24 series will feature an in-depth look into all 47 teams in the NA3HL for the 2017-18 season, with new teams being highlighted daily, leading all the way up until the start of the regular season. 47 in 24 goes in-depth into each NA3HL team and will include interviews with all 47 head coaches in the NA3HL, as they provide fans with their expectations and outlook for the 2017-18 season, including taking a look at their potential roster and their strengths as a team for the upcoming season. It will also take a look back on the 2016-17 season and how each team fared and what they accomplished. Best of all, 47 in 24 will provide the fans of the NA3HL with an inside look at their favorite team and what to expect.
Yellowstone Quake
2016-17 Season: 40-4-3, 83 pts. (1st in the Frontier Division)
2017 Playoffs: Won the Frontier Division, Lost in Silver Cup Semi-Finals to Metro Jets
Head Coach: Ryan Theros
2017-18 Division: Frontier
Last season was another successful year for the Yellowstone Quake, winning their division and returning to the Silver Cup Championship, both for the second year in a row. Head Coach Ryan Theros is very satisfied with how last season went and how his players developed.
"It was on the guys mind from the beginning to make the Silver Cup again. The team from start to finish gave it their best effort and worked very hard all season long to get that accomplished," said Theros.
Theros said he considers last season one of the best and most cohesive teams he has ever been apart of.
"I was very satisfied how our guys developed as individuals throughout the season to help the team and that is what our league is supposed to be about. It was one of the best and most cohesive teams I have been apart of, these guys truly became best buddies forever and that is important to me to have these guys gain life skills and life experience along this journey of junior hockey for them," said Theros.
Theros is very committed to seeing his players develop and is proud of the success of advancing players throughout the two seasons he has been head coach.
"We are happy to say that all of our players between the age outs and almost all of our guys with eligibility left, has moved up in one way or another, and that is what it should be about. I was very proud of all of them and look forward to all their successes going forward," said Theros.
In total, the Quake had five players move onto play college hockey from last year's team, including two to the NCAA in Max Doner (Wisconsin-River Falls) and Jesse Lawman (St. Olaf).
The Quake are very active in the community, volunteering time at schools and assisted living homes, the team really appreciates the support from the community.
"Our community of Cody, Wyoming right on the East gate of Yellowstone National Park is an absolute great place for these guys to get the opportunity to play at. The community support over the last two years has been something we thrive on as an organization, through sponsorship support, with fans packing our rink every game, and the over all acceptance of these players in town," said Theros.
The Quake start their season on September 16th when they take on the Billings Bulls on home ice.
This concludes the 47 in 24 series. The 2017-18 NA3HL regular season begins Friday, September 8th