Sunday Wrap-Up: Junior Sens complete sweep
September 11, 2017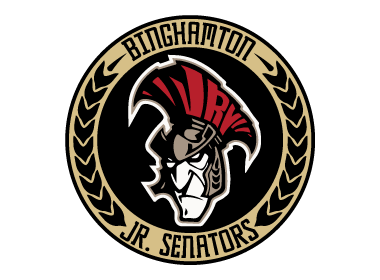 Binghamton Junior Senators 9 @ Skylands Kings 3 - A strong offensive third period helped push the Binghamton Junior Senators to a 9-3 win against the Skylands Kings. Gregory Simmons, Eric Melso, Hunter Kepple (2), Ryan Reifler, Donovan Wichowski, Brad Becker (2), and Ryan Flanagan each scored for the Junior Senators, while Sergei O'Sullivan and Eric Vanderhoff each notched one for the Kings. In net, Thomas Sullivan made 18 saves for Binghamton, and Skylands' Taylor Zink stopped 47 shots.
Maine Wild 2 @ Jersey Shore Wildcats 7 - Four answered goals for the Jersey Shore Wildcats secured a 7-2 victory over the Maine Wild. Antonio Filippello, Tim O'Connor, and Adam Colclough found the back of the net twice for the Wildcats, and Nick Ventura scored once. For Maine, Mason Ledbetter and Jayce Dorman put up one point each. In net, Nicholas Sesock made 21 saves, and Reilly Sean and Marcus Mitchell made 9 and 13 stops, respectively, for the Wild.
Toledo Cherokee 9 @ Cincinnati Thunder 2 - The Toledo Cherokee scored eight unanswered goals on their way to a 9-2 victory over the Cincinnati Thunder. Perry Zachary, Adam Felser (2), Anthony Weinrich, Ben Farley (2), Perry Zachary, and Spencer Sandberg (2) each found the back of the net for the Cherokee. Brody Nielsen and Brandon Holt scored one each for the Thunder. Toledo goaltenders Ricardo Gonzalez and Devon Bobak made 12 and 2 saves each, while Danny Miller and Kyle Bavis stopped 18 and 21 shots for Cincinnati.
Pittsburgh Vengeance 8 @ Niagara Falls PowerHawks 4 - The Pittsburgh Vengeance's strong offensive presence carried them to an 8-4 victory over the Niagara Falls PowerHawks. Lucas Kirk notched four goals, Dominick Glavach scored twice, and Marks Mezsargs and Justin Bioni put up one goal each for the Vengeance. For Niagara Falls, Andrew Logar, Michael Olszewski (2), and Justin King earned goals. Defensively, Caden Shell stopped 27 shots for Pittsburgh, while Jerah Siegel and Theo Heropoulas made 27 and 21 saves, respectively, for Niagara Falls.
St Louis Jr Blues 5 @ Peoria Mustangs 2 - The St Louis Jr Blues grabbed an early lead to secure a 5-2 win over the Peoria Mustangs. Matthew Monreal, Ben Jones, Jack Hazelton, Regnars Udris, and Mark Capkovic each scored for the Jr Blues, and Jack Radley and Jack Power-Wayvon grabbed points for the Mustangs. St Louis goaltender Blake Bjella made 17 stops, while Dakota Meyer and Zack Freiburger made 12 and 13 saves – respectively – for Peoria.
Northeast Generals 6 @ Cape Cod Islanders 2 - The Northeast Generals scored five early goals to secure a 6-2 victory over the Cape Cod Islanders. Marc Faia (2), Tommy Bellew, Dylan Figueroa, Kenny Lockhead, and Jacob Kelly scored for the Generals, while Cam St. Amand and Leevi Kervinen found the back of the net for the Islanders. In net, Lucas Souza made 28 saves for Northeast, while Esa Maki stopped 27 shots for Cape Cod.