Jersey Shore forward Vaysberg signs to play in the QMJHL
September 12, 2017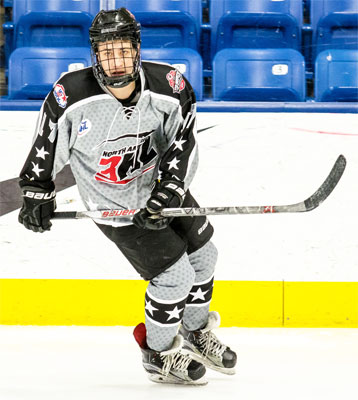 The Jersey Shore Wildcats, proud members of the NA3HL, are pleased to announce that forward David Vaysberg has signed to play major junior hockey in the Canadian Hockey League (CHL) for the Cataractes of Shawinigan member of the QMJHL for this incoming season 2017-18.
Vayberg, 16, is a native of Matawan, New Jersey. The 5'10/170 left wing played 46 games scoring 11 goals, 31 assists for a total of 42 points last season for the Wildcats in the NA3HL.
Vaysberg was tendered by the NAHL's Minnesota Wilderness and was selected on the 2017 NA3HL Top Prospects tournament last season with 4 points in 3 games to be the point leader on the Silver team. He was also a very import part of the great run during the 2017 Playoffs with the Wildcats scoring 2 goals, 5 assists in 4 games for a total of 7 points.
"Without the guidance and mentoring of coach Brule and the Jersey Shore Wildcats organization, I wouldn't be where I am today. My first season with the Wildcats taught me a lot and helped me so much with my transition to the next level. I am very grateful to Coach Brule for helping me be a better player and a better person today," said Vaysberg.
"David has come a long way, dating back all the way to when he was around 8 years old starting with private lessons, clinics, and being on the ice virtually every day until I brought him in on the team as a practice player on his 1st year during the 2015-16 season and on his 2nd year to become a full time last season. His timing of development could not of been better, to be on a team of virtually all rookies with a brand new coach and facing very good level of competition in our division such as Binghamton, that forced him indirectly to keep raising his game execution and timing with and without the puck in combination with our help ultimately getting his game where is at today. It certainly did not come easy, as there were a lot of sacrifices were made from him, going the extra mile with coach Leivermann, extra on the ice, in the gym, and his family made a lot of sacrifices as well. I am proud of him and I am sure not only he will continue to growth at very fast pace under the great coaching staff that I know well in Shawinigan, but also he will be doing great," said Eric Brule, Director of Hockey Operations for the Wildcats.