NA3HL alumni abundant on NAHL rosters to start season
September 15, 2017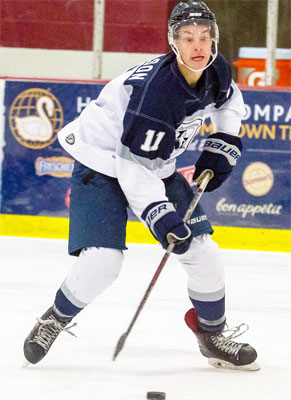 As the North American Hockey League (NAHL) released their 25-man rosters to begin the 2017-18 season, the NA3HL remains a step above the rest in terms of advancement. 51 NA3HL alumni are listed on NAHL rosters to start the season. Once again the numbers show no other Tier III league sends more players to the NAHL than the NA3HL.
In addition to the number of players starting the year in the NAHL, the NA3HL saw over 35 players earn call-ups to the NAHL throughout the season in 2016-17. The NAHL wasn't the only place where the NA3HL saw advancement as over 130 players made college commitments last season.
The NA3HL is also the only league whose players are eligible to participate in the NAHL's roster expansion program. This program allows NAHL to add two additional players to their roster in February for the playoff push. The NA3HL is also the only Tier III junior league with the exclusive NAHL tendering system available only to NA3HL players.
Another benefit of the NA3HL's direct relationship with the NAHL is the presence of NAHL Central Scouting. The team of scouts are dedicated to evaluating NA3HL players in a true unbiased manner. Information on all players is organized and provided to NAHL teams and college coaches. In a system that no other junior league in the United States has, individual player scouting profiles are then uploaded into the Rink Net database, the same service used by NCAA and NHL teams.
The events held by the NA3HL offer incredible exposure for players and teams. The NA3HL Showcase in December brings every NA3HL team under one roof, which allows scouts to see all the great talent the league has to offer. Not only does the showcase see a large presence of NCAA scouts but NAHL Central Scouting is also in attendance, furthering the chances for players to earn a call up to the NAHL.
Each February, the NA3HL Top Prospects Tournament is held in conjunction with the NAHL Top Prospect Tournament. This event allows NAHL coaches on the bench to coach NA3HL players. There are over 230 NCAA and NHL scouts in the building, providing an atmosphere that is unlike any other in Tier III junior hockey.
To finish off the year, the top eight teams compete in the NA3HL Fraser Cup Championship. Dozens of NCAA and NAHL scouts are in attendance to witness the best and most competitive NA3HL action of the year.
Aberdeen Wings
Colton Fletcher - Great Falls Americans 2015-16
Amarillo Bulls
Devin Panzeca - Great Falls Americans, Bozeman Ice Dogs 2014-15
Austin Bruins
George Hansen - Texas Jr. Brahams 2015-16, Metro Jets 2016-17
Travis Kothenbeutel - Granite City Lumberjacks 2013-15
Arturas Laukaitis - Atlanta Capitals 2015-16
Jake Peterson - Texas Jr. Brahamas 2016-17
Benito Posa - West Michigan Wolves 2016-17
Toby Sengvongxay - La Crosse Freeze 2015-16
Bismarck Bobcats
Tommy Altounian - Chicago Bulldogs 2016-17
Sawyer Schmidt - Rochester Ice Haws, St. Louis Jr. Blues 2016-17
Brookings Blizzard
Nick Althaus - Willmar Warhawks 2016-17
Corpus Christi IceRays
Trevor Wilhelm - St. Louis Jr. Blues 2016-17
Coulee Region Chill
Kevin Bryant - La Crosse Freeze 2016-17
Sam Dabrowski - La Crosse Freeze 2015-17
Ty Ebner - La Crosse Freeze 2014-15
Andy McGlynn - St. Louis Jr. Blues 2013-15
Trey Rooney - Euless Jr. Stars 2016-17
Fairbanks Ice Dogs
Josh Benson - North Iowa Bulls 2016-17
Brady Dahl - Granite City Lumberjacks 2016-17
Noah Wilson - Chicago Bulldogs 2016-17
Janesville Jets
Wyatt Mathews - Missoula Junior Bruins 2016-17
Kenai River Brown Bears
Artur Pavliukov - La Crosse Freeze 2016-17
Cole Stewart - Yellowstone Quake 2016-17
Lone Star Brahmas
Frankie Trazzera - Atlanta Capitals 2015-16
Minnesota Magicians
Zak Albers - Texas Jr. Brahmas 2016-17
Connor Clemons - North Iowa Bulls 2016-17
Kyle Klatt - Bozeman Ice Dogs 2015-16, Breezy Point North Stars 2015-17, Atlanta Capitals 2016-17
Minnesota Wilderness
Nick Altmann - Alexandria Blizzard 2015-16
Cory Dennis - Breezy Point North Stars 2015-16
Zach Heiser - Billings Bulls 2015-17
Isaac Kobiena - Granite City Lumberjacks 2015-16
Minot Minotauros
Fritz Belisle - Twin City Steel 2015-17
Ian Doner - Yellowstone Quake 2015-17
Keenan Lund - Granite City Lumberjacks 2015-17
New Jersey Titans
Brandon Perrone - Texas Jr. Brahmas 2015-16
Northeast Generals
Louis Boudon - Metro Jets 2016-17
Luke Perunovich - Twin City Steel 2015-16
Philadelphia Rebels
Andrew Bellant - Flint Jr. Generals 2013-14
Reid Miller - Pittsburgh Vengeance 2016-17
Justin Smith - Pittsburgh Vengeance 2016-17
Carter Woolley - Metro Jets 2015-16
Shreveport Mudbugs
Jake Cox - Point Mallard Ducks 2016-17
Jack Hatton - St. Louis Jr. Blues 2016-17
Logan Orem - Nashville Jr. Predaotrs 2015-17
Springfield Jr. Blues
Connor Poczos - Cincinnati Thunder 2016-17
Topeka RoadRunners
Mike Klintworth - Atlanta Capitals 2016-17
Joey Lajcaj - Atlanta Capitals 2016-17
Nigel Nelson - Granite City Lumberjacks 2015-16
Wilkes-Barre/Scranton Knights
Dominyk Bogdziul - Rochester Ice Hawks 2015-16, Binghamton Jr. Senators 2016-17
Curtis Carlson - Souther Tier Xpress 2014-16
Kevin Lake - St. Louis Jr. Blues, Louisiana Drillers 2016-17