Sunday Wrap-Up: General stay perfect with sweep
September 18, 2017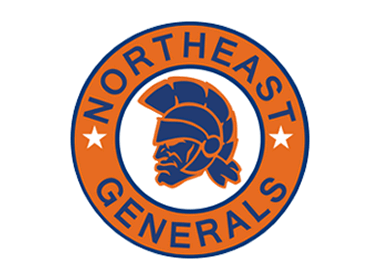 Northeast Generals 5 @ Oswego Stampede 1 - A hat trick from Fedor Lopaev helped carry the Northeast Generals to a 5-1 win over the Oswego Stampede. Dylan Figueroa and Bransen Mackey also scored for the Generals, while Josh Wallace notched the only Oswego goal. In net, Lucas Souza made 33 saves for Northeast, while Ben White stopped 32 shots for the Stampede.
Toledo Cherokee 1 @ Pittsburgh Vengeance 3 - The Pittsburgh Vengeance grabbed an early lead to win 3-1 over the Toledo Cherokee. Nathaniel Schwartz (2), and Dominick Glavach scored for the Vengeance, while Anthony Weinrich notched one for the Cherokee. In net, Pittsburgh's Caden Shell made 21 stops, while Alan Brouilette made 45 saves for Toledo.
Long Beach Sharks 5 @ Maine Wild 4 (SO) - The Long Beach Sharks came back from a two goal deficit to beat the Maine Wild in a shootout, 5-4. CJ Smith (2), Lucas Kranacher, and Ben Bergman scored in regulation for the Sharks, while Jeffrey Gratz, Josef Mehall, Tyler Webb, and Jayce Dorman scored for the Wild in regulation. In the shootout, both Noah Carlock and Try Stober scored for the Sharks, while Mason Ledbetter put one up for the Wild.
Dayton Falcons 3 @ Metro Jets 7 - The Metro Jets scored five unanswered goals on their way to a 7-3 victory over the Dayton Falcons. Jaylen Dziegelewski, Joey Bruce, Connor Inger, Kyle Gierman, Mathieu LaForest, Anthony Cinato, and Zack Kippe each scored for the Jets, while Brandon Holt (2) and Brody Neilsen put up goals for the Falcons. In net, Metro's Nick Barret and Brian Tallieu made 5 and 1 save each, while Danny Miller stopped 79 shots for Dayton.
Lansing Wolves 1 @ Wooster Oilers 4 - An early pair of goals from Wooster Oilers forward Hunter Hillebrecht helped push them to a 4-1 win over the Lansing Wolves. Matthew Crosby and Daniel Critzer also scored for the Oilers, while Mac Diver scored the lone Wolves goal.
Jersey Shore Wildcats 2 @ Niagara Falls PowerHawks 0 - A pair of third period goals resulted in a 2-1 win for the Jersey Shore Wildcats over the Niagara Falls PowerHawks. Antonio Filippello and Hunter Johnson scored for the Wildcats, and goaltender saved all 32 shots he faced for the shutout. Niagara Falls' netminder Hunter Norris made 26 saves on the night.
Mid Cities Jr Stars 2 @ Texas Brahmas 4 - After two periods of back and forth, the Texas Brahmas notched a late third period goal to secure their victory, 4-2, over the Mid Cities Jr Stars. Joseph Trazzera, Cole Tiedemann, Adam Shimamoto, and Cameron Bickford each scored one for the Brahmas, while Riley Smith and Travis Brain each found the back of the net for the Jr Stars. Texas goaltender Carson Murison made 23 saves, while Jake Ange stopped 21 shots for Mid Cities.
L/A Nordiques 1 @ New England Stars 4 - A busy first period helped the New England Stars to a 4-1 win over the L/A Nordiques. Connor Barter, Tyson Gudaitis (2), and Cole Archambeault each scored for the Stars, and Shayne Plummer found the back of the net for the Nordiques. Defensively, Andrew Ghimpeteanu made 25 saves for New England, while L/A's Jason St. Pierre stopped 38 shots.
La Crosse Freeze 1 @ Peoria Mustangs 4 - The Peoria Mustangs grabbed an early lead on their way to a 4-1 victory over the La Crosse Freeze. Ian McHenrey scored twice for the Mustangs, while Blake Finley and Jack Radley each scored one. Marcus Tilmon scored the lone La Crosse goal. In net, Peoria's Jaden Gardner made 31 saves, while William Graves and Jacob Silberstein made 22 and 12 saves – respectively – for the Freeze.