Friday Finals: Nordiques get first win
September 23, 2017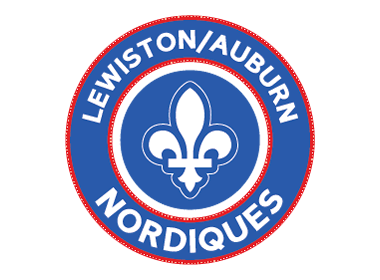 Bozeman Icedogs 0 @ Yellowstone Quake 13 - Yellowstone Quake goaltender Reid Waszczenko stopped all 25 shots he faced in the Quake's 13-0 win over the Bozeman Icedogs. Ian Doner (2), Iniaz Steyaert (2), Jack Moore (5), Timo Pelto (2), Jack Harris, and Carter Johnson all scored for Yellowstone. Parker Orchard made 36 saves for the Icedogs and Jimmy Engan stopped 34 shots on net.
Pittsburgh Vengeance 2 @ Southern Tier Xpress 1 - After two scoreless periods, a busy third brought a 2-1 victory to the Pittsburgh Vengeance over the Southern Tier Xpress. Dominick Glavach and Thomas Polster each scored for the Vengeance, while Harry Payne notched one for the Xpress. Pittsburgh goaltender Tyler Hawk made 32 saves on the night, and Ryan Pascarella stopped 24 shots for Southern Tier.
L/A Nordiques 3 @ Long Beach Sharks 1 - The L/A Nordiques scored three unanswered goals after a scoreless first to go on to win, 3-1, over the Long Beach Sharks. JP Chauvin, Sam Frechette, and Joshua Malone each scored for the Nordiques, while Nick Ferrucci notched the lone Sharks goal. L/A's Michael Errico made 33 saves on the night, while Ryan Cortez stopped 51 shots for Long Beach.
Toledo Cherokee 5 @ Lansing Wolves 2 - The Toledo Cherokee grabbed an early lead on their way to a 5-2 win over the Lansing Wolves. Blake Mullins, Tristin Snyder, EJ Gilbert, and Adam Felser (2) scored for the Cherokee, while Noah Pipper and Brendan Smith each found the back of the net for Lansing. In net, Toledo's Ricardo Gonzalez made 54 saves, while Will Ignatovich stopped 20 shots for the Wolves.
Roc City Royals 1 @ Oswego Stampede 6 - The Oswego Stampede showed a strong offensive process on their way to a 6-1 win over the Roc City Royals. Josh Wallace, Will Walker, Josh Watterson (2), Dylan Gulick, and Malik Lamotte Stokes all scored for the Stampede, and Spencer Norris notched the lone Roc City goal. Defensively, Steven Kozikoski made 29 saves for Oswego, while Royals netminder Josh Martinez made 42 stops.
North Iowa Bulls 6 @ La Crosse Freeze 2 - The North Iowa Bulls scored four unanswered goals to defeat the La Crosse Freeze, 6-2. Cameron Fagerlee, Alex Timm, Tyler Bump, and Dominic Skrelja (3) scored for the Bulls, while Caleb Beversdof and Laudon Poellinger found the back of the net for the Freeze. In net, North Iowa's Colin Cain made 23 stops, while William Graves stopped 38 shots for La Crosse.
Rochester Ice Hawks 3 @ Breezy Point North Stars 4 - Tied at 1 after two periods of play, a late goal from Alex Flicek pushed the Breezy Point North Stars to a 4-3 victory over the Rochester Ice Hawks. Josh Maucieri (2), and Larsen Tubbs also scored for the North Stars, while Michael Smits, Austyn Renn, and Sylvain Rooney each notched one for Rochester. Defensively, Breezy Point's Micah Hershey made 24 saves, while Drew Schenkenberg stopped 33 shots for the Ice Hawks.
New Ulm Steel 5 @ Granite City Lumberjacks 6 (OT) - After almost 64 minutes of back and forth, Granite City Cole Buhl scored the OT goal, giving the 6-5 OT win to the Lumberjacks over the New Ulm Steel. Owen Sikich (3), Ryan Pearson, and Noah Krueger also scored for the Lumberjacks, while Jimmy Miller, Alex Nagel, Kirk Coppock (2), and Nickolas Wieben found the back of the net for the Steel. In net, Granite City's Kaden Ericson made 19 saves, while Ryan Beilenberg stopped 22 shots for New Ulm.
Helena Bighorns 0 @ Great Falls Americans 2 - A pair of second period goals led the Great Falls Americans to a 2-0 victory over the Helena Bighorns. Payton McSharry and Kody Thomas each scored for the Americans. In net, Great Falls' Mack Willey stopped all 25 shots he faced, while Eric Berglund made 30 saves for Helena.
Gillette Wild 5 @ Missoula Junior Bruins 4 (OT) - Two regulation goals and the OT winner from Brooks Mitzel pushed the Gillette Wild to a 5-4 OT victory over the Missoula Junior Bruins. Garret Conroy and Cody Walters also scored for the Wild, while Cameron Cunningham notched a hat trick and Misha Akatnov found the back of the net for the Junior Bruins. In net, Wild goaltender Aaron LaChance and Missoulas' Duncan Wiest each made 41 saves.
Louisiana Drillers 3 @ Mid Cities Jr Stars 6 - The Mid Cities Jr Stars grabbed three quick goals at the end of the first to come out 6-3 over the Louisiana Drillers. Remy Kesling, Nick Sheridan (2), Matt Greco, Tristan Matthews, and Riley Smith each scored for the Jr Stars, while Tucker Alspaugh, Cole Bloemer, and Brandon Morgan each notched one for the Drillers. In net, Mid Cities' Jake Ange made 15 saves, while Griffin Varricchio stopped 27 shots for Louisiana.
Point Mallard Ducks 2 @ Atlanta Capitals 7 – No game report