Sunday Wrap-Up: Kings back on track with sweep
September 25, 2017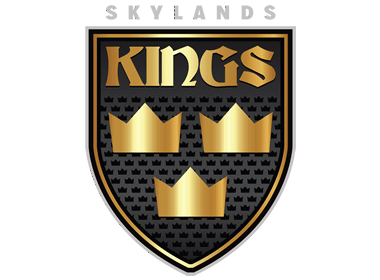 Niagara Falls PowerHawks 4 @ Skylands Kings 10 - A strong third period pushed the Skylands Kings to a 10-4 victory over the Niagara Falls PowerHawks. Craig Garrigan (4), Eric Vanderhoff (4), Steven Gay, and Mike King scored for the Kings, while Brandon Schweickert and Justin King scored two goals each for the PowerHawks. In net, Skylands' Mathias Ytterng made 48 saves, while Jerah Siegel and Hunter Norris made 25 and 3 saves, respectively, for Niagara Falls.
Northeast Generals 7 @ Cape Cod Islanders 3 - The Northeast Generals started off strong with four goals in the first to finish 7-3 over the Cape Cod Islanders. Austin Braley (2), Marc Faia (2), Jacob Kelly, Bransen Mackey, and John Lockhead each scored for the Generals, while Cole Therrien (2) and Tanner Little each notched goals for the Islanders. In net, Kyle Wagner made 30 stops for the Northeast, while Joseph Wilson and Esa Maki made 23 and 17 saves, respectively, for Cape Cod.
Metro Jets 4 @ Pittsburgh Vengeance 3 - The Metro Jets scored three goals in the second period to come out on top, 4-3, over the Pittsburgh Vengeance. Kyle Gierman, Griffin Sawyer (2), and Aaron Shahin scored for the Jets, while Nathaniel Schwartz, Dominick Glavach, and Simon Soderberg notched goals for the Vengeance. In net, Metro's Jacob McClelland stopped 18 shots, while Jacob Zab made 42 saves for Pittsburgh.
Southern Tier Xpress 6 @ Wooster Oilers 3 - After being down by three after twenty minutes, the Southern Tier Xpress came back and defeated the Wooster Oilers, 6-3. Michael Lamison, Harry Payne, Mickenzie Restle, Nick Wilcox (2), and Stuart Pearson all scored for the Xpress, while Turner Banyasz, Dennia Lekarev, and Zac Steele found the back of the net for the Oilers. Southern Tier's Brandon Heacocok made 29 saves, while Joseph Ackley stopped 40 shots for Wooster.
Jersey Shore Wildcats 4 @ Oswego Stampede 2- The Jersey Shore Wildcats grabbed an early lead on their way to a 4-2 win over the Oswego Stampede. Brenden Henzie, Adam Colclough, and Hunter Johnson (2) scored for the Wildcats, while Noah Cauchi and Tommy Kilway each notched one for the Stampede. Jersey Shore netminder Nicholas Vardon made 23 saves, while Steven Kozikoski stopped 43 shots for Oswego.
Binghamton Junior Senators 5 @ New England Stars 2 - The Binghamton Junior Senators started strong, resulting in a 5-2 win over the New England Stars. Brad Becker, Ryan Reifler, Ryan Flanagan (2), and Jeremy Wilbur scored for the Junior Senators, and Michael Lempiainen and Nate Lapointe each notched one for the Stars. In net, Binghamton's Jeffrey Zero made 34 stops, while Andrew Ghimpeteanu stopped 27 shots for New England.
St Louis Jr Blues 10 @ Wisconsin Whalers 1 - The St Louis Jr Blues grabbed a commanding lead on their way to a 10-1 win over the Wisconsin Whalers. Ethan Dabbs, Tom Yurisich (2), Matthew Monreal, Cameron McAtee, Daniel Dunaway (2), Dylan Carroll, Matthew Hohl, and Dante Jones each scored for the Jr Blues, while Hunter Huson notched the lone Whalers goal. In net, St Louis' Blake Bjella made 29 saves, while Alex Hufford stopped 49 shots for Wisconsin.
Dayton Falcons 2 @ Nashville Jr Predators 5 - An early pair of goals helped set the pace for the Nashville Jr Predators 5-2 win over the Dayton Falcons. Michael Redmon (2), Jamie Chasles, Jack Tirey, and Ryan Meagher scored for the Jr Predators, while Brandon Holt notched both goals for the Falcons. Nashville's Alex Silver stopped 35 shots, while Nick Vanwinkle stopped 31 shots for Dayton.
Evansville Jr Thunderbolts 1 @ Peoria Mustangs 6 - The Peoria Mustangs grabbed an early lead to defeat the Evansville Jr Thunderbolts, 6-1. Brady Jackson, Braden Stewart, Rhett McDonald, Austin Keil, Jack Healy, and Blake Finley each scored for the Mustangs, and Kody Kifer notched the only goal for the Jr Thunderbolts. In net, Peoria's Zack Freiburger made 29 saves, while Bryson Linenburg and Sam Tucker stopped 27 and 7 shots, respectively, for Evansville.
College Station Spirit 2 @ Texas Brahmas 5 - The Texas Brahmas grabbed an early lead on their way to a 5-2 win over the College Station Spirit. Ashton Norris (2), Kellen Ireland, Jake Casto, and Cameron Tobey scored for the Brahmas, while Preston Palamara and Mark Strazisar each found the back of the net for the Spirit. In net, Texas goaltender Carson Murison made 19 saves, while Rasmus Pilely stopped 46 shots for College Station.