Bulls try to end Jets streak this weekend
September 28, 2017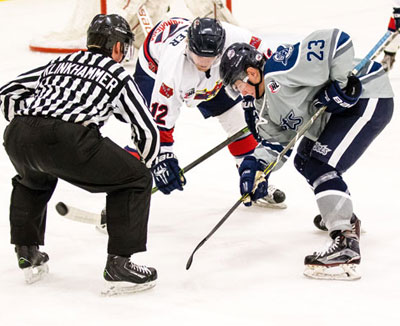 At times during the regular season, the Metro Jets play teams that are not in the NA3HL's East Division.
This upcoming weekend is one of those instances, and everyone will be paying extra attention to this showdown.
When the schedule was released this past summer, everyone circled Sept. 30 and Oct. 1 on the calendar.
The North Iowa Bulls come to Fraser Hockeyland for a two-game set Saturday and Sunday – 7 p.m. Saturday night and then 12:15 p.m. Sunday afternoon.
The two teams are perennial powerhouse contenders in all of junior hockey and met in the Fraser Cup (then Silver Cup) National Championship game in 2016 with the Bulls coming out on top. The pair met again at the NA3HL Showcase last December in Blaine, Minn., with the Jets picking up the two points.
"Both organizations are proud programs and have had success providing many opportunities to players through NAHL advancements and NCAA commitments," Jets coach-GM Justin Quenneville said. "Both teams hold high standards of operations and on the ice, we've built a unique rivalry as well. We know to expect a tough series against the Bulls and we look forward to the challenge.
"At the end of the day, scouts, coaches and players alike want games like this weekend."
Metro and North Iowa are also two teams that do things the right way in all facets of the game, including player development and advancement and both have shown consistency, both on and off the ice.
Needless to say, this weekend is certainly must-see hockey at Fraser Hockeyland.
"Obviously, we are happy to be playing Metro as part of our out of division games," said Bulls coach-GM Todd Sanden. "The history of myself with the Metro organization dates back to the late 1980s when I first started coaching in the Minnesota Junior Hockey League. We would often face Metro at the Gateway Tournament in St. Louis or the USA Hockey Junior National Championships. For the NA3HL, Metro has proven themselves as a developer and promoter of players. In North Iowa, our goal is to provide opportunities for as many players as possible to advance to the NAHL or college opportunities.
"There is a parallel between the two programs in the regard that each team has excelled at player development, promotion of players and still keeping high standards of operation."
Jets players are also amped up for the North Iowa tilts.
"We know who we have up next, but we're a confident bunch and we try to worry about ourselves and make them adjust to us," said Jets forward Connor Inger.
"Big weekend coming up, for sure," added Metro defenseman Robby Flannery. "I think our guys are going to be maybe a little bit more focused and excited. At the end of the day, it's four points up for grabs."
The Jets will visit North Iowa for a series in Mason City from January 26-27.
"We look forward to hosting the Jets in January for a weekend set of games in North Iowa," added Sanden. "It will be fun for the Jets players to take part in the atmosphere that is North Iowa Bulls hockey."
Both games this weekend and in January will be available on
HockeyTV