Friday Finals: OT win by Wild caps off tight night in Frontier
September 30, 2017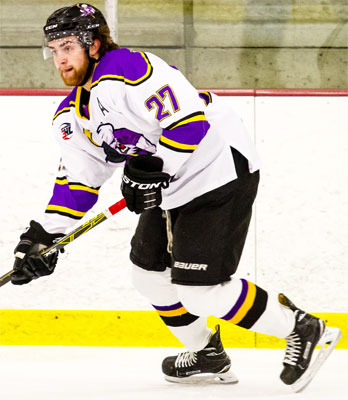 Great Falls Americans 5 @ Gillette Wild 6 (OT) - Brooks Mitzel notched an early OT winner to give the Gillette Wild a 6-5 win over the Great Falls Americans. Mitzel also scored in regulation, alongside Jack Oberg, Nick Stockert, Gage Thompson, and Russell Conti. For the Americans, Braxton Lorenz, Garrett Peters, Matt Janke, Payton McSharry, and Jens Juliussen each got on the scoreboard. For Gillette, Aaron LaChance made 31 saves, and Mack Willey stopped 32 shots for Great Falls.
Yellowstone Quake 3 @ Helena Bighorns 4 - The Helena Bighorns grabbed an early lead on their way to a 4-3 win over the Yellowstone Quake. Hayden Sietz, Gavin Cline, Ben Kottmeier, and Jarett Scheibel each scored for the Bighorns, while Jack Moore, Timo Pelto, and Riley Buller notched one goal each for the Quake. Helena's Nick Battaglia stopped 50 shots, while Reid Waszczenko made 43 saves for Yellowstone.
Bozeman Icedogs 2 @ Missoula Junior Bruins 4 - The Missoula Junior Bruins had a strong second period to secure a 4-2 win over the Bozeman Icedogs. Cameron Cunningham, Valeriy Chinikaylo, Austin Dennison, and Misha Akatnov each scored for one for Missoula, and Austin Charnholm and Ryan Stokes found the back of the net for Bozeman. Junior Bruin goalie Brian Thomas stopped 36 shots, while Jimmy Engen made 63 saves for the Icedogs.
Jersey Shore Wildcats 4 @ L/A Nordiques 2 - A pair of third period goals from Tim O'Connor helped push the Jersey Shore Wildcats to a 4-2 win over the L/A Nordiques. Adam Colclough and Dinmukhamed Dzhangarashev also scored for the Wildcats, while Shayne Plummer and Crewz Berry each notched one for the Nordiques. Both Nick Anastasia (Jersey Shore) and Michael Errico (L/A) made 20 saves on the night.
Toledo Cherokee 2 @ Wooster Oilers 4 - The Wooster Oilers grabbed an early lead on their way to a 4-2 victory over the Toledo Cherokee. Justin Malinak, Shane Malinak, Zach Zwierecki, and Turner Banyasz each scored one for the Oilers, while Adam Felser and Tristin Snyder found the back of the net for the Cherokee. Wooster's Justyn Gillis made 33 saves, while Alan Brouillette and Ricardo Gonzalez stopped 11 and 41 saves, respectively, for Toledo.
Skylands Kings 1 @ Binghamton Junior Senators 13 – No Report Available
Wisconsin Whalers 5 @ La Crosse Freeze 6 - The La Crosse Freeze came back from a four goal deficit to defeat the Wisconsin Whalers, 6-5. Brock Zukowski, Alec Seeger (3), Marcus Tilmon, and Connor Duncan each scored for the Freeze, while Anthony Fortin (2), Hunter Huson, Nick Rogers, and Alex Gille notched goals for the Whalers. In net, La Crosse netminders Koby Lukehart and William Graves made 3 and 28 saves, respectively, while Alex Hufford stopped 35 shots for Wisconsin.
Breezy Point North Stars 0 @ Granite City Lumberjacks 4 - Granite City Lumberjack Ridge Gerards stopped 11 shots for a shutout, helping his team to a 4-0 win over the Breezy Point North Stars. Chase DiBari, Ryan Pearson, Grant Troumbly, and Bailey Sommers each notched one for the Lumberjacks. Breezy Point's Lucas Ehrlich stopped 24 shots.