Friday Finals: Jr. Blues hand Bulls first loss of season
October 7, 2017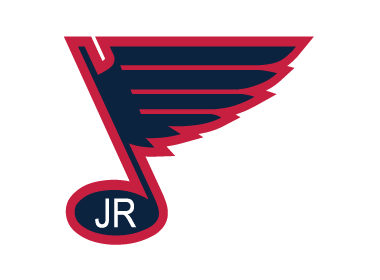 North Iowa Bulls 4 @ St Louis Jr Blues 5 (OT) - St Louis Jr Blue Mark Capkovic scored twice on the night, with one being the OT winner, to help his team to a 5-4 win over the North Iowa Bulls. Dante Jones, Jack Hatton, and Matthew Hohl also scored for the Jr Blues, while Brendan Studioso (2), Mitch Dolter, and Cameron Fagerlee scored for North Iowa. St Louis' Hunter Smith made 29 stops, while Colin Cain stopped 26 shots for North Iowa.
L/A Nordiques 3 @ Jersey Shore Wildcats 2 - The L/A Nordiques went up 3-1 after two periods to finish the game 3-2 over the Jersey Shore Wildcats. Kyle Secor, Warren Karlberg, and Shayne Plummer each scored for the Nordiques, while James Lowry and Hunter Johnson each notched one for the Wildcats. In net, L/A's Jason St Pierre made 31 saves, while Nick Sesock stopped 20 shots for Jersey Shore.
Northeast Generals 5 @ Long Beach Sharks 2 - Three unanswered goals from the Northeast Generals helped them secure a 5-2 win over the Long Beach Sharks. Luke Whalen, Marc Faia, Stephen Toal, John Lockhead, and Austin Braley each scored for the Generals, while Mike Walsh and Jackson Wellmeyer notched goals for the Sharks.
Wooster Oilers 4 @ Lansing Wolves 3 (OT) - Zach Zwierecki scored twice – including an OT winner – to push the Wooster Oilers to a 4-3 win over the Lansing Wolves. Turner Banyasz and Hunter Hillebrecht also scored for the Oilers, while Cameron Zucker and Garrison Weyh (2) found the back of the net for the Wolves. In net, Michael Hubbard and Justyn Gillis made 34 and 2 saves, respectively, for Wooster, while Will Ignatovich stopped 30 shots for Lansing.
Skylands Kings 7 @ Oswego Stampede 3 – no report available
Rochester Ice Hawks 4 @ La Crosse Freeze 8 - A dominant third period helped the La Crosse Freeze to an 8-4 win over the Rochester Ice Hawks. Alec Seeger (2), Clayton Lackey, Laudon Poellinger, Ben Beversdorf, Caleb Beversdof, Jacob Garman, and Matthew Francois each scored for the Freeze, while Jake Beal (2) and Austyn Renn (2) notched goals for the Ice Hawks. In net, La Crosse's Koby Lukehart made 26 saves on the night, while Tait Carlson stopped 36 shots for Rochester.
Alexandria Blizzard 2 @ New Ulm Steel 5-The New Ulm Steel scored three goals in the third on their way to a 5-2 win over the Alexandria Blizzard. Ryan Smith (2), Jack Parks, Alex Nagel, and Kirk Coppock scored for the Steel, while Brenden Payne and Josiah Roen found the back of the net for Alexandria. New Ulm's Ryan Beilenberg made 25 saves in net, while Kyle Hayden stopped 36 shots for the Blizzard.
Willmar WarHawks 2 @ Breezy Point North Stars 3 - A pair from Josh Maucieri in the third period secured the 3-2 victory for the Breezy Point North Stars over the Willmar WarHawks. Garrett Westlund also scored for the North Stars, while Jacob Berkowitz and Wyatt Toll each notched one for the WarHawks. Breezy Point's Bronson Moore made 23 saves, while Luke Fry stopped 24 shots for Willmar.
Wisconsin Whalers 0 @ Granite City Lumberjacks 10 - Granite City Lumberjack David Mulligan made 15 saves for a 10-0 shutout win over the Wisconsin Whalers. Matt Moran, Hunter Schwehr, Brandon Bissett (3), Bailey Sommers (2), Ryan Pearson, Tom Nagle, and Reid Morin scored for Granite City. Brendan Earls and Kyle Larsen made 25 and 2 saves each for the Whalers.
Bozeman Icedogs 1 @ Helena Bighorns 11 - The Helena Bighorns maintained a steady offensive presence on their way to an 11-1 victory over the Bozeman Icedogs. Kaden Lindberg (3), Ben Kottmeier, Shawn Mitchell, Luc Cross (2), Gavin Cline, Nick Noel, Justin Cunningham, and Henry Kipper scored for the Bighorns, while Sandis Cook notched one for the Icedogs. Defensively, Helena's Cody Brewer made 12 saves on the night, while Jimmy Engen stopped 59 saves for Bozeman.
Missoula Junior Bruins 2 @ Great Falls Americans 4 - The Great Falls Americans scored three unanswered goals on their way to a 4-2 win over the Missoula Junior Bruins. Matt Larson, Kyler Mack, Matt Janke, and Payton McSharry each scored for the Americans, while Misha Akatnov scored both Bruins' goals. In net, Great Falls' Mack Willey made 26 saves, while Brian Thomas stopped 48 shots for Missoula.
Gillette Wild 3 @ Yellowstone Quake 8 - The Yellowstone Quake came out strong, grabbing an early lead on their way to an 8-3 win over the Gillette Wild. Timo Pelto (2), Riley Buller (2), Cole Stewart, Justin Dumont, Ethan Sievek, and Carter Johnson scored for the Quake, while Brooks Mitzel, Gage Thompson, and Nick Stockert each grabbed one for the Wild. In net, Yellowstone's Reid Waszczenko made 41 saves, hile Gabriel Lepper and Aaron LaChance made 25 and 17 saves each for Gillette.