Saturday Scores: Oilers get back on track with sweep
October 8, 2017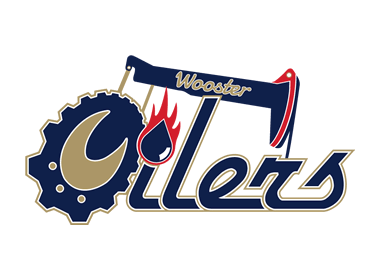 Wooster Oilers 5 @ Lansing Wolves 1-The Wooster Oilers grabbed an early lead on their way to a 5-1 win over the Lansing Wolves. Matthew Crosby, Shane Malinak, Bobby Frieson, Cole Barney, and Daniel Critzer each notched one for the Oilers, while Brenden Fehlig scored the lone Wolves goal. In net, Wooster's Justyn Gillis made 23 saves, while Sean Finstrom stopped 24 shots for Lansing.
L/A Nordiques 1 @ Jersey Shore Wildcats 2-The Jersey Shore Wildcats nudged out the L/A Nordiques, 2-1. Hunter Johnson and Adam Colclough scored for the Wildcats, while Shayne Plummer notched one for the Nordiques. Jersey Shore's Nick Anastasia made 19 saves, and L/A's Michael Errico stopped 22 shots.
North Iowa Bulls 4 @ St Louis Jr Blues 5 (SO)-After notching a goal with less than 30 seconds left in regulation, the North Iowa Bulls lost in a shootout, 5-4, to the St Louis Jr Blues. Mitch Dolter scored for the Blues in the shootout, and Melwin Nilsson, Tom Yurisich, and Ivan Galaguzov (2) notched goals in regulation. For the Bulls, Jason Miner, Cameron Fagerlee, Josh Arnold, and Ryan Kranz got on the scoreboard. St Louis' Blake Bjella made 22 saves, while Colin Cain stopped 33 shots for North Iowa.
New England Stars 4 @ Cape Cod Islanders 3 (OT)-A pair of goals from Connor Barter – including an overtime winner – helped the New England Stars to a 4-3 win over the Cape Cod Islanders. Michael Lempiainen and Cole Archambeault also scored for the Stars, while Cole Therrien (2), and Cam St Armand notched goals for the Islanders. In net, New England's Sage Broda made 24 saves, while Leo Lake stopped 43 shots for Cape Cod.
Atlanta Capitals 5 @ Louisiana Drillers 3-The Atlanta Capitals grabbed two goals in the third period to secure a 5-3 victory over the Louisiana Drillers. Christopher Linde, Cameron Smith (2), Dillon Steh, and Jason Ladzinki scored for the Capitals, while Tucker Alspaugh, Timothy Zittel, and Cole Bloemer notched ones for the Drillers. Atlanta's Kyle Konin and Elijah Gibbons made 15 and 8 saves, while Christian Kazoleas stopped 37 shots on the night.
Mid Cities Jr Stars 9 @ College Station Spirit 2-The Mid Cities Jr Stars maintained a solid lead over the College Station Spirit, to secure a 9-2 win. Matt Hutton, Remy Kesling (2), Tristan Matthews (2), Riley Smith, Dalton Caesar (2), and Tristan Allen scored for the Jr Stars, while Taner Byrd and Blake Elliot each notched one for the Spirit. In net, Mid Cities' Ravi Khatri made 25 saves, while Rasmus Pilely stopped 59 shots for College Station.
Pittsburgh Vengeance 1 @ Metro Jets 3-A busy third period led to a 3-1 win for the Metro Jets over the Pittsburgh Vengeance. Kyle Gierman, Aaron Shahin, and Joey Bruce scored for the Jets, while Austen Zimmerman notched one for the Vengeance. In net, Andrew Kormos made 18 saves for Metro, while Joel De Simone made 29 stops for Pittsburgh.
Skylands Kings 3 @ Oswego Stampede 7-The Oswego Stampede had a strong third period to secure a 7-3 win over the Skylands Kings. Rich Hart (2), Ryan Gunther (2), Dylan Gulick, and Eddie Cannon (2) scored for the Stampede, while Craig Garrigan (2) and Eric Vanderhoff found the back of the net for the Kings. Oswego's Steven Kozikoski made 37 saves, while Taylor Zink stopped 38 shots for Skylands.
Willmar WarHawks 2 @ La Crosse Freeze 5-A hat trick from Clayton Lackey helped the La Crosse Freeze to a 5-2 victory over the Willmar WarHawks. Brandon Ratzloff and Jacob Garman also scored for the Freeze, while Keegan Bauman and Wyatt Toll notched goals for the WarHawks. La Crosse's Will Graves made 30 saves, and Logan Larock and Brady Anderson made 8 and 22 saves, respectively, for Willmar.
Point Mallard Ducks 3 @ Dayton Falcons 1-The Point Mallard Ducks grabbed an early lead on their way to a 3-1 win over the Dayton Falcons. Fletcher Chun, Kevin LaPlante, and Matt Goodman scored for the Ducks, while Brandon Holt notched the only Falcons goal. Point Mallard's Chris O'Shaughnessy made 16 saves, while Nick Vanwinkle stopped 34 shots for Dayton.
Nashville Jr Predators 0 @ Evansville Jr Thunderbolts 7-Evansville Jr Thunderbolt made 35 saves for a 10-0 shutout victory over the Nashville Jr Predators. Christian Alvegran, Brandon Rozema (2), Frankie Cardinale III, Mitchell Hoon (2), and Oliver Joensson scored for Evansville. Nashville's Devin Naidow and Alex Silver made 10 and 5 saves, respectively.
Northeast Generals 11 @ Long Beach Sharks 5-The Northeast Generals maintained a steady lead to finish with a 11-5 win over the Long Beach Sharks. Luke Whalen, Alex O'Dowd (2), Marc Faia (2), Brian Shea, Fedor Lopaev, Kenny Lockhead, Austin Braley, Brian Shea, and Stephen Toal each scored for the Generals. Adrian Edery, CJ Smith (3), and Trey Stober made it on the scoreboard for the Sharks. In net, Northeast's Lucas Souza made 18 saves, while Ben Vutchi and Ryan Cortez made 35 and 20 saves, respectively, for Long Beach.
Niagara Falls PowerHawks 11 @ Roc City Royals 4-The Niagara Falls PowerHawks demonstrated a consistent offense to defeat the Roc City Royals, 11-4. Justin King, Brandon Schweickert (4), Andrew Logar (3), Brandon Snyder, Michael Olszewski, and Stephen Minichiello scored for the PowerHawks, and Brandon Corey (3) and John Onufryk notched goals for the Royals. In net, Niagara Falls' Kris Augustine made 24 saves, while Frederick Peters and Shane Phillips stopped 42 and 4 shots, respectively, for Roc City.
Alexandria Blizzard 1 @ Breezy Point North Stars 3-The Breezy Point North Stars scored one goal in each period to defeat the Alexandria Blizzard, 3-1. Dawson Kram, Andrew Heckaman, and Austin Langworthy each scored for the North Stars, and Logan Nelson scored the lone Blizzard goal. Breezy Point's Lucas Ehrlich made 35 saves, while Jake Levinski made 25 saves for Alexandria.
Wisconsin Whalers 2 @ Granite City Lumberjacks 5-The Granite City Lumberjacks scored four goals in the first period to secure a 5-2 win over the Wisconsin Whalers. Sean Salz, Chase DiBari, Seth Towers, Ryan Pearson, and Braden Altena scored for the Lumberjacks, and Carter Grobstick and Jimmy McDermott each notched one for the Whalers. Granite City's Ridge Gerards made 20 stops, and Brendan Earls made 28 saves for Wisconsin.
Yellowstone Quake 11 @ Gillette Wild 0-Yellowstone Quake's Reid Waszczenko made 43 saves for an 11-0 shutout victory over the Gillette Wild. Riley Buller (3), Ian Doner (3), Jack Moore (2), Cole Stewart (2), and Timo Pelto all got on the scoreboard for the Quake. Gillette's Cody Grogan made 48 saves on the night.
Missoula Junior Bruins 2 @ Helena Bighorns 3-A pair of third period goals led the Helena Bighorns to a 3-2 victory over the Missoula Junior Bruins. Shawn Mitchell, Jarett Scheibel, and Nick Noel scored for Helena, while Misha Akatnov notched the lone Bruins goal. In net, Bighorn Nick Battaglia made 28 saves, while Billy Yoder stopped 54 shots for Missoula.
Great Falls Americans 9 @ Bozeman Icedogs 1-The Great Falls Americans held onto an early lead for a 9-1 victory over the Bozeman Icedogs. Cody Dearing, Jens Juliussen, Payton McSharry (2), Matt Janke (2), Kyler Mack, Michael Fary (2), and Tanner Rath all found the back of the net for Great Falls, and Luke Steele scored one for Bozeman. Americans' goaltender Bryan Sharp made 27 saves, while Parker Orchard stopped 70 shots for Bozeman.