Friday Finals: Brahmas take down South-leading Jr. Stars
October 14, 2017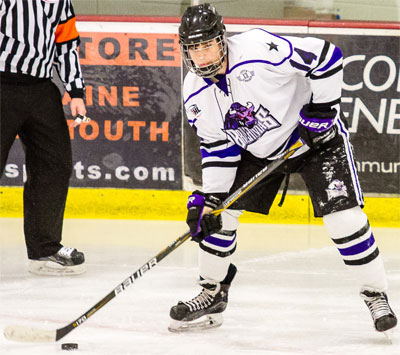 Texas Brahmas 5 @ Mid Cities Jr Stars 2 - After a quiet first period, the Texas Brahmas scored 3 goals in the second to drive them to a 5-2 victory over the Mid Cities Jr Stars. Sam Sykes, Hunter Bersani (2), Robert Seger, and Luke Bombardir notched goals for the Brahmas, and Remy Kesling and Brandon Speights scored for the Jr Stars. Texas' Tyler Myers made 25 saves, while Jake Ange stopped 23 shots for Mid Cities.
Point Mallard Ducks 3 @ Atlanta Capitals 2 (OT) - Jake Cox scored early in overtime to hand the 3-2 win to the Point Mallard Ducks over the Atlanta Capitals. Cox also scored in regulation, along with Jesse Stepp for the Ducks, and Joey Lajcaj and Cameron Smith each notched one for the Capitals.
Cape Cod Islanders 2 @ L/A Nordiques 7 - The L/A Nordiques maintained a strong lead on their way to a 7-2 win over the Cape Cod Islanders. Caleb Labrie (2), Colby Audette, Connor Kennedy, Keagan Crawley, Clifford Ogle, and JP Chauvin scored for the Nordiques, and Cody Lappas and Nate Jeffreys found the back of the net for the Islanders. Jason St Pierre stopped 22 shots for L/A, while Esa Maki and Leo Lake made 9 saves each for Cape Cod.
Wooster Oilers 7 @ Toledo Cherokee 3 - A strong third period helped push the Wooster Oilers to a 7-3 win over the Toledo Cherokee. Devin Kelly, Dennis Lekarev, Shane Malinak, Grant Dickinson, Matthew Crosby, Zach Zwierecki, and Cole Barney scored for the Islanders, while EJ Gilbert, Adam Felser, and Tristin Snyder notched goals for the Cherokee. Wooster's Justyn Gillis made 28 saves, while Ricardo Gonzalez and Alan Brouillette made 25 and 2 saves, respectively, for Toledo.
Wisconsin Whalers 3 @ La Crosse Freeze 4 - With two goals in each of the first two periods, the La Crosse Freeze was able to pull out a 4-3 victory over the Wisconsin Whalers. Matthew Francois, Marcus Tilmon (2), and Laudon Poellinger scored for the Freeze, while Carter Grobstick, Nick Rogers, and Jimmy McDermott got on the scoreboard for the Whalers. In net, La Crosse's William Graves made 25 stops, while Alex Hufford and Brendan Earls stopped 3 and 24 shots, respectively, for Wisconsin.
Rochester Ice Hawks 5 @ Wausau RiverWolves 2 - Tied after two, a third period push helped the Rochester Ice Hawks to a 5-2 win over the Wausau RiverWolves. Colby Decarlo, Josh Hoffman, Austyn Renn, Zach Curry, and Cort Buck scored for the Ice Hawks, while Matt Irwin and Sean Johnston notched goals for Wausau. In net, Rochester's Drew Schenkenberg made 32 saves, while Henry Baribeau made 45 stops for the RiverWolves.
Alexandria Blizzard 3 @ Breezy Point North Stars 4 - The Breezy Point North Stars grabbed an early lead on their way to a 4-3 win over the Alexandria Blizzard. Austin Langworthy and AJ Hoyt scored two goals each for the North Stars, while Luke Benson, Jack Westlund, and Peter Johnson found the back of the net for Alexandria. Breezy Point's Lucas Ehrlich made 35 saves on the night, while Kyle Hayden and Brady Meyers made 12 and 20 saves, respectively, for the Blizzard.
Willmar WarHawks 4 @ Granite City Lumberjacks 6 - A strong third period comeback granted the Granite City Lumberjacks a 6-4 win over the Willmar WarHawks. Jake Van Halbeck (2), Logan Neu, Bailey Sommers, Brandon Bissett, and Braden Altena scored for Granite City, while Keegan Bauman, Jacob Berkowitz (2), and Riley Dixon got on the scoreboard for Willmar. Lumberjack goaltender David Mulligan made 20 saves, while Brady Anderson stopped 34 shots for Willmar.
Missoula Junior Bruins 10 @ Gillette Wild 4 - The Missoula Junior Bruins' steady offense helped them to a 10-4 victory over the Gillette Wild. CJ Odin, Misha Akatnov (4), Josh Kirk, Cameron Cunningham, Parker Todd, Isaac Vincent, and Zach Jaffe scored for the Junior Bruins, and Brooks Mitzel (3) and Gage Thompson got on the board for the Wild. Missoula's Brian Thomas made 41 saves, while Aaron LaChance and Gabriel Lepper stopped 18 shots each for Gillette.
Great Falls Americans 1 @ Yellowstone Quake 3 - A pair of first period goals set the pace for the Yellowstone Quake to defeat the Great Falls Americans, 3-1. Jack Moore, Riley Buller, and Ian Doner scored for the Quake, and Adam Vandenbos notched one for the Americans. In net, Yellowstone's Reid Waszczenko made 38 saves, while Mack Willey stopped 36 shots for Great Falls.
Helena Bighorns 7 @ Bozeman Icedogs 2 - The Helena Bighorns scored five unanswered goals on their way to a 7-2 win over the Bozeman Icedogs. Kaden Lindberg, Luc Cross (2), Ben Kottmeier, Hayden Sietz (2), and Gavin Cline scored for the Bighorns, while Jacob Boje and Danie Davis found the back of the net for Bozeman. Helena goaltender Eric Berglund made 31 saves, while Parker Orchard stopped 61 shots for the Icedogs.
Southern Tier Xpress 4 @ Niagara Falls PowerHawks 3 (OT) – no report available