Saturday Scores: WarHawks hand defending champs first loss
October 15, 2017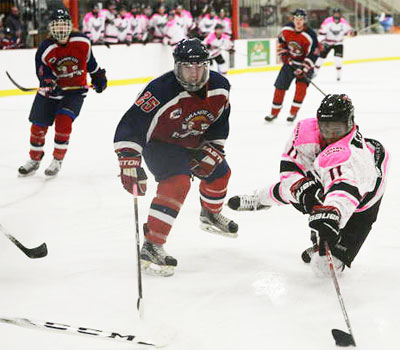 Granite City Lumberjacks 1 @ Willmar WarHawks 2 – Luke Fry made 34 saves as the Willmar WarHawks handed the defending Fraser Cup Champion Granite City Lumberjacks their first loss of the season in a 2-1 home win on Saturday. Granite City was the last unbeaten team remaining in the NA3HL. After a scoreless 1st period, the WarHawks took a 2-0 lead in the 2nd period with goals from Jacob Berkowitz and Keegan Bauman. In the 3rd period, Granite City found their lone goal from Chase DiBari. Ridge Gerads made 26 saves in the loss.
L/A Nordiques 6 @ Cape Cod Islanders 1-After a quiet first period, the L/A Nordiques scored five unanswered goals to defeat the Cape Cod Islanders, 6-1. Sam Frechette, Andrew McCormick, Caleb Labrie (2), Colby Audette, and JP Chauvin scored for L/A, while Cam St Amand notched the lone Cape Cod goal. In net, Michael Errico made 30 saves for the Nordiques, while Noah Bird made 43 stops for the Islanders.
College Station Spirit 0 @ Louisiana Drillers 5-Louisiana Driller Griffin Varricchio made 19 saves for a 5-0 shutout win over the College Station Spirit. Timothy Zittel, Cole Bloemer, Brandon Vukasin, Alex Regino, and Gunner Morgan each scored for the Drillers. College Station's Ryan O'Toole made 33 saves.
Long Beach Sharks 2 @ Maine Wild 6-The Maine Wild had a busy second period on their way to a 6-2 win over the Long Beach Sharks. Brady Bannon (2), Josef Mehall, Jeffrey Gratz, Tyler Webb, and Mason Ledbetter scored for the Wild, while Mike Walsh and Ben Bergman each notched one for the Sharks. Maine's Ben Jenkins stopped 18 shots, while Ryan Cortez stopped 17 shots for Long Beach.
Toledo Cherokee 2 @ Pittsburgh Vengeance 3-A late third period goal helped the Pittsburgh Vengeance to a 3-2 win over the Toledo Cherokee. Austin Martz, Thomas Polster, and James Unger each scored for the Vengeance, while Spencer Sandberg and Nick Nappi notched goals for the Cherokee. Pittsburgh's Joel De Simone stopped 19 shots, and Alan Brouillette stopped 32 shots for Toledo.
Lansing Wolves 5 @ Southern Tier Xpress 2-The Lansing Wolves grabbed an early lead on their way to a 5-2 win over the Southern Tier Xpress. Brendan Smith, Garrett Daum, Bear Ross, Noah Pipper, and Ryan Weaver each scored for the Wolves, and Michael Lamison and Nick Wilcox found the back of the net for Southern Tier. Lansing's Will Ignatovich made 23 saves, and Ryan Pascarella stopped 38 shots for the Xpress.
Point Mallard Ducks 1 @ Atlanta Capitals 4-Jason Ladzinski scored two goals to help the Atlanta Capitals to a 4-1 win over the Point Mallard Ducks. Joey Lajcaj and Cameron Smith also scored for the Capitals, while Mason Evans notched the lone Ducks goal.
New England Stars 3 @ Binghamton Junior Senators 4-Jeremy Wilber notched a pair of goals to help the Binghamton Junior Senators to a 4-3 win over the New England Stars. Eric Melso and Hunter Kepple also scored for the Junior Senators, and Ryan Gauvin, Cole Archambeault, and Derek Lovejoy found the back of the net for the Stars.
Dayton Falcons 0 @ Wooster Oilers 7-Wooster Oiler Michael Hubbard made 17 saves for a 7-0 shutout win over the Dayton Falcons. Grant Dickinson, Zach King, Daniel Critzer, Cole Barney, Nicholas Smith, Matthew Kesto, and Matthew Crosby found the back of the net for Wooster. Danny Miller made 50 stops for Dayton.
Metro Jets 4 @ Peoria Mustangs 3-A busy first period resulted in the Metro Jets 4-3 victory over the Peoria Mustangs. Devlin Macaulay, Anthony Cinato, Jhuwon Davis, and Griffin Sawyer scored for the Jets, and Braden Stewart, Ian McHenrey, and Austin Keil each notched one for the Mustangs. In net, Metro's Andrew Kormos made 25 saves, while Dakota Meyer and Jaden Gardner stopped 14 and 22 shots, respectively, for Peoria.
La Crosse Freeze 12 @ Wisconsin Whalers 1-After a high scoring match, the result is 12-1 in favor of the La Crosse Freeze. Jacob Garman (2), Clayton Lackey (3), Caleb Beversdorf (3), Brady Lindbauer, Jake Ziegelbein (2), and Will Bryant all scored for the Freeze, while Jimmy McDermott notched the lone Whalers goal. La Crosse's Jacob Silverstein made 33 saves on the night, while Brendan Earls stopped 36 shots for Wisconsin.
St Louis Jr Blues 6 @ Evansville Jr Thunderbolts 3-The St Louis Jr Blues grabbed an early lead on the way to a 6-3 win over the Evansville Jr Thunderbolts. Ivan Galaguzov, Daniel Dunaway, Tom Yurisich, Matthew Hohl, Regnars Udris, and Dawson Marshall all scored for the Jr Blues, and Christian Alvegran, Kody Kifer, and Frankie Cardinale III found the back of the net for the Thunderbolts. In net, St Louis' Hunter Smith made 25 saves, while Bryson Linenburg stopped 51 shots for Evansville.
Rochester Ice Hawks 5 @ Wausau RiverWolves 2-The Rochester Ice Hawks maintained a steady lead to carry them to a 5-2 win over the Wausau RiverWolves. Skylar Watt (2), Zach Curry, Austyn Renn, and Conor Parker scored for the Ice Hawks, while Matt Irwin and Sean Johnston got on the scoreboard for Wausau. Rochester's Drew Schenkenberg made 25 saves, while Henry Baribeau stopped 46 shots for the RIverWolves.
New Ulm Steel 0 @ Alexandria Blizzard 6-Alexandria Blizzard goaltender Brady Meyers made 21 saves for a 6-0 shutout win over the New Ulm Steel. Luke Benson, Logan Nelson (2), Matt Dahlseide, Connor Beltz, and Tanner Frerichs each scored for the Blizzard. New Ulm's Ryan Beilenberg made 31 saves.
Northeast Generals 3 @ Roc City Royals 2-The Northeast Generals grabbed an early lead on their way to a 3-2 victory over the Roc City Royals. Austin Braley, Alex O'Dowd, and Fedor Lopaev scored for the Generals, while Brandon Corey and Ryan Webster found the back of the net for the Royals. Northeast goaltender Lucas Souza made 18 saves, while Josh Martinez stopped 46 shots for Roc City.
Texas Brahmas 6 @ Mid Cities Jr Stars 4-The Texas Brahmas scored four unanswered goals to come from behind and defeat the Mid Cities Jr Stars, 6-4. Hunter Bersani (2), Cameron Bickford, Kyle Cote (2), and Cameron Tobey scored for the Brahmas, and Nick Sheridan, Tristan Matthres, Matt Hutton, and Brandon Speights notched goals for the Jr Stars. In net, Carson Murison stopped 18 shots, while Jake Ange made 19 saves for Mid Cities.
Missoula Junior Bruins 6 @ Gillette Wild 2-The Missoula Junior Bruins maintained a steady lead on their way to a 6-2 win over the Gillette Wild. Rhys Cottle (2), Austin Dennison, Misha Akatnov (2), and Isaac Vincent got on the scoreboard for the Junior Bruins, while Jack Oberg and Hunter Feagins scored for the Wild. Missoula's Brian Thomas made 29 saves, while Gabriel Lepper stopped 30 shots for Gillette.
Bozeman Icedogs 3 @ Helena Bighorns 6-The Helena Bighorns came out strong, resulting in a 6-3 victory over the Bozeman Icedogs. Josh Smith, Hayden Sietz, Richard Groskops, Ben Kottmeier, and Luc Cross (2) found the back of the net for the Bighorns, while Sandis Cook, Luke Steele, and Jacob Boje notched goals for the Icedogs. Helena's Cody Brewer made 30 saves, while Jimmy Engen stopped 49 shots for Bozeman.
Great Falls Americans 4 @ Yellowstone Quake 3 (OT)-A pair of goals from Adam Vanderbos, including an OT winner, led to the 4-3 win for the Great Falls Americans over the Yellowstone Quake. Kody Thomas and Matt Janke also scored for the Americans, while Kobe Kitagawa, Riley Buller, and Ian Doner scored for the Quake. In net, Bryan Stop made 38 saves for Great Falls, and Reid Waszczenko stopped 34 shots for Yellowstone.
Oswego Stampede 6 @ Niagara Falls PowerHawks 4 – no report available