Heimel named new head coach for University of Providence
October 19, 2017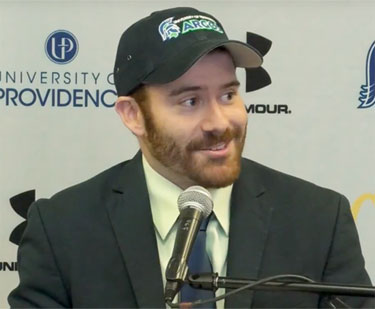 The University of Providence's (Great Falls, Montana) plans for its newly announced men's ice hockey team are moving fast. Less than a week after announcing the addition of the varsity program for the 2018-19 academic year, Argo athletics has hired Great Falls Americans Head Coach Jeff Heimel to be the first men's ice hockey coach in the school's history.
Heimel will finish out the current season with the American's, a junior hockey team that competes in the North American 3 Hockey League, while simultaneously beginning the recruiting process for the Argo program.
"We started talking to Jeff just to get a better understanding of what it would time to put a hockey program together, and then when we talked about the intangibles that we look for in our coaches, we realized that all of those things describe Jeff Heimel," UP Vice President for Athletics Dave Gantt said. "So we got serious about talking to him about being the head coach. It just makes sense, because the success he's had has really come with the age group of the kids he's going to be coaching at the University of Providence."
In his six years as Head Coach and General Manager for the Americans, Heimel has built a consistent winner with a combined record of 174-73-13. Under his leadership the team has won two Frontier Divisional Playoff Championships and as the 2013-14 AWHL League Finals Runner-Up. He has earned the respect of his peers, being selected to coach the NA3HL Top Prospects Divisional Team in 2014-15 and 2015-16 and the U18 Prospects team in 2016-17. He was also named AWHL Coach of the Year in 2014.
Not only has Heimel consistently won with the Americans, but the job has also given him a wealth of experience managing schedules, budgets, travel, and other administrative duties as well as experience recruiting, coaching, and mentoring college age athletes.
The junior hockey system provides a number of unique similarities to collegiate athletics beyond a shared age range for the participating athletes. Just like collegiate coaches, junior hockey coaches have the pressure of bringing in recruiting numbers to drive revenue. Coaches at that level also have to deal with young players who are living away from home for the first time.
Heimel's abilities to handle all of those systems, but particularly mentor the young men are a big reason for both his decision to transition to college athletes and UP's desire to bring him into the fold.
"I've always wanted to coach college hockey. It's been a longtime dream of mine. We always assumed that in order to do that we would have to move, which was problematic because we were married here, our two kids were born here, and this is a special place for us," Heimel said. "By God's will, these green signs started appearing in Great Falls, and there is an aura about the things that are going on around here. Dave and I started having some conversations and it became very, very clear that this was a good fit."
For many junior hockey players, the next career step is to play college hockey, and a large percentage of ACHA come from the junior hockey ranks, so Heimel will be able to recruit both his own players and his opponents during the American's current season. He'll also be able to tap into his knowledge of local and regional youth hockey as the owner and operator of the Junior Hockey Academy – a small, privately run hockey school and online hockey academy.