Friday Finals: Rochester scores big win on the road
October 21, 2017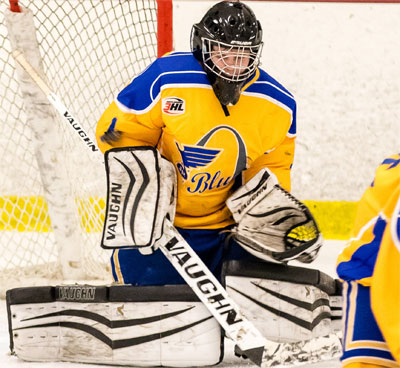 Rochester Ice Hawks 9 @ Breezy Point North Stars 5-The Rochester Ice Hawks scored 5 goals in the second period on their way to a 9-5 victory over the Breezy Point North Stars. Drew Westphal, Noah Roach, Zach Curry, Matthew Shupert, Josh Hoffman (2), Jake Beal, Aaron Moots, and Austyn Renn scored for the Ice Hawks, while Larsen Tubbs, Dawson Kram, Austin Langworthy, AJ Hoyt, and Jared Fladebo scored for the North Stars. In net, Drew Schenkenberg made 38 saves for Rochester, and Micah Hershey and Lucas Ehrlich stopped 7 and 12 shots, respectively, for Breezy Point.
Evansville Jr Thunderbolts 1 @ Atlanta Capitals 3-A pair of goals from Brody Neilsen helped the Atlanta Capitals to a 3-1 victory against the Evansville Jr Thunderbolts. Vito Carlo also scored for the Capitals, and Brandon Rozema found the back of the net for the Jr Thunderbolts.
Granite City Lumberjacks 1 @ St Louis Jr Blues 3-Two late third period goals put the St Louis Jr Blues up by two, ending the game in a 3-1 victory over the Granite City Lumberjacks. St Louis' Cameron McAtee, Ethan Dabbs, and Ivan Galaguzov got on the scoreboard, while Braden Altena notched the lone Granite City goal. Jr Blues' goaltender Hunter Smith made 24 saves, while David Mulligan stopped 31 shots for the Lumberjacks.
Texas Brahmas 10 @ College Station Spirit 0-Texas Brahma goaltender Carson Murison made 27 saves for a 10-0 shutout win over the College Station Spirit. Adam Shimamoto, Sam Sykes, Kyle Cote, Robert Seger, Bennett Weycker, Jarrod Croswell, Dreydan Ripley, Jake Casto, Michael Walsh, and Hunter Bersani all scored one for the Brahmas. Trace Parker and Ryan O'Toole made 4 and 28 saves, respectively, for the Spirit.
Metro Jets 5 @ Toledo Cherokee 3-A hat trick from Metro Jet defenseman Robby Flannery pushed his team to a 5-3 win over the Toledo Cherokee. Rhett Limback and Anthony Cinato also scored for the Jets, while Adam Felser, Caleb Williams, and Michael Papaioannou found the back of the net for Toledo. Metro's Jacob McClelland made 17 saves, and Ricardo Gonzalez stopped 54 shots for the Cherokee.
Binghamton Junior Senators 5 @ Long Beach Sharks 0-Binghamton Junior Senator Kaden Ericson made 33 saves for a 5-0 shutout victory against the Long Beach Sharks. Ryan Flanagan (2), Brad Becker, and Hunter Kepple (2) scored for the Junior Senators. Ryan Cortez stopped 42 shots for the Sharks.
Pittsburgh Vengeance 3 @ Wooster Oilers 0-Pittsburgh Vengeance goaltender Joel De Simone made 26 saves for a 3-0 shutout win over the Wooster Oilers. Thomas Polster, Simon Soderberg, and James Unger scored for the Vengeance. Jusytn Gillis stopped 32 shots for the Oilers.
Wausau RiverWolves 1 @ La Crosse Freeze 10-Four goals from La Crosse Freeze's Clayton Lackey helped push them to a 10-1 win against the Wausau RiverWolves. Brady Lindauer, Brandan Ratzloff, Benjamin Beversdorf, Jacob Garman, Marcus Tilmon, and Alec Seeger also scored for the Freeze, and Owen Routheut notched the lone RiverWolves goal. In net, La Crosse's Gunner Snyder made 15 saves, while Spencer Gill and Henry Baribeau made 19 and 27 stops each for Wausau.
Willmar WarHawks 0 @ New Ulm Steel 1-Tom Reilly notched the only goal of the game, giving the New Ulm Steel a 1-0 win over the Willmar WarHawks. New Ulm's Ryan Kenny made 20 saves for the shutout, while Luke Fry stopped 24 out of 25 shots he faced for the WarHawks.
Wisconsin Whalers 5 @ North Iowa Bulls 8-The North Iowa Bulls maintained a steady offensive presence in their 8-5 victory against the Wisconsin Whalers. Brendan Studioso (3), Tyler Bump, Josh Arnold, Alex Timm, Cameron Fagerlee, and Dominic Skrelja scored for the Bulls, and Nick Rogers (2), Hunter Huson, Dan Lienemann, and Anthony Fortin found the back of the net for the Whalers. North Iowa's Drew Scites made 21 saves, while Alex Hufford stopped 36 shots for Wisconsin.
Gillette Wild 4 @ Great Fall Americans 8-The Great Falls Americans owe their 8-4 win over the Gillette Wild to a strong offense in the second period. Trent Cowden, Payton McSharry, Kody Thomas, Adam Vandenbos, Michael Fary, Cody Dearing, Matt Janke, and Goodman Weston scored for the Americans, while Cody Walters, Brooks Mitzel (2), and Nick Stockert found the back of the net for the Wild. Great Falls netminder Mack Willey made 33 saves, while Gillete's Aaron LaChance made 35 stops.
Yellowstone Quake 7 @ Missoula Junior Bruins 2-The Yellowstone Quake dominated the second period to come out on top, 7-2, against the Missoula Junior Bruins. Ian Doner (2), Riley Buller, Kobe Kitagawa, Cole Stewart (2), and Jake Ford got on the scoreboard for the Quake, while Ryley Cook and Hunter Stewart scored for the Junior Bruins. Yellowstone's Jonatan Persson made 31 saves, while Duncan Wiest and Billy Yoder made 26 and 17 saves, respectively, for Missoula.
Louisiana Drillers 2 @ Mid Cities Jr Stars 6-The Mid Cities Jr Stars grabbed an early 6-point lead on their way to a 6-2 victory over the Louisiana Drillers. Johnathan Krause, Riley Smith (2), Matt Hutton, Nick Sheridan, and Remy Kesling scored for the Jr Stars, while Alex Regino and Hayden Watzka netted goals for the Drillers. Mid Cities' Jake Ange made 13 saves, while Ian Clifford made 52 stops for Louisiana.
Helena Bighorns 4 @ Bozeman Icedogs 2-The Helena Bighorns notched a pair of goals in the second & third to grab a 4-2 win over the Bozeman Icedogs. Hayden Sietz (2), Ben Kottmeier, and Nick Noel scored for the Bighorns, while Duncan McGarrah and Nick DuLong found the back of the net for the Icedogs. Helena's Eric Berglund made 16 saves, while Jimmy Engen stopped 41 shots for Bozeman.