Saturday Scores: Vengeance winning streak continues with sweep
October 22, 2017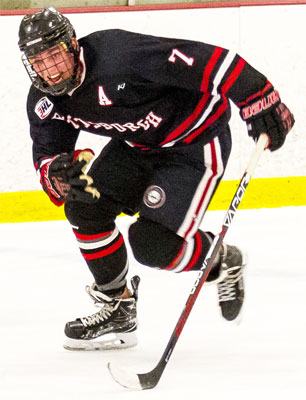 Wooster Oilers 2 @ Pittsburgh Vengeance 4-The Pittsburgh Vengeance grabbed an early lead on their way to a 4-2 win over the Wooster Oilers. Justin Bioni, Nathaniel Schwartz (2), and Austin Martz scored for Pittsburgh, and Matthew Kesto and Hunter Hillebrecht found the back of the net for Wooster. Vengeance goaltender Tyler Hawk made 18 saves for the win, while Tim Carpenter stopped 28 shots for the Oilers.
Granite City Lumberjacks 2 @ St Louis Jr Blues 4-Three third period goals pushed the St Louis Jr Blues to a 4-2 win over the Granite City Lumberjacks. Joe Papa (2), Mark Capkovic, and Ivan Galaguzov each scored for the Jr Blues, while Owen Sikich and Sam Ohmes found the back of the net for the Lumberjacks. St Louis goaltender Blake Bjella made 17 saves, while Ridge Gerards stopped 22 shots for Granite City.
New England Stars 5 @ Cape Cod Islanders 3 – Derek Lovejoy scored twice and Derek Flynn had two assists as the Stars beat the Islanders, 5-3. Zack Burnham, Cole Archambeault and Connor Barter also scored for the Stars, while Nate Jefferys, Cam St. Amand and Jack Conway had the goals for the Islanders. Tim Pesek made 12 saves in the win.
Oswego Stampede 1 @ Northeast Generals 0-A one goal game was decided by Eddie Cannon, who notched one for the Oswego Stampede to bring them to victory, 1-0, over the Northeast Generals. Oswego's Steven Kozikoski made 49 saves for the shutout, while Lucas Souza stopped 34 shots for the Generals.
Texas Brahmas 8 vs. College Station Spirit 0-Texas Brahma Tyler Meyers made 26 saves for an 8-0 shutout win over the College Station Spirit. Kellen Ireland, Kyle Cote (2), Adam Shimamoto, Cameron Tobey (2), Fuma Kasai, and Jarrod Croswell scored for Texas. Ryan O'Toole stopped 68 shots for the Spirit.
Roc City Royals 0 @ L/A Nordiques 10-L/A Nordique goaltender Michael Errico made 25 saves for a 10-0 shutout win over the Roc City Royals. Connor Kennedy, Crewz Berry, Sam Frechette, Colby Audette (3), Caleb Labrie, Shayne Plummer (2), Frederick Peters, and Sam Frechette scored for the Nordiques. Josh Martinez made 25 and 21 stops for Roc City.
Lansing Wolves 4 @ Toledo Cherokee 3 -The Lansing Wolves grabbed an early lead on their way to a 4-3 win over the Toledo Cherokee. Jacob Deratany, Mac Diver, Cameron Zucker, and Michael Schramm each notched one for the Wolves, while Adam Felser, Tristin Snyder, and Anthony Weinrich found the back of the net for the Cherokee. Lansing's Sean Finstrom stopped 28 shots, while Ricardo Gonzalez made 35 saves for Toledo.
Nashville Jr Predators 3 @ Point Mallard Ducks 4-The Point Mallard Ducks came back from a two goal deficit to defeat the Nashville Jr Predators, 4-3. Kevin LaPlante, Charlie Scherberger, Eli Kendall, and Mason Evans scored for the Ducks, and Declan O'Neal, Ilja Grekovs, and Michael Redmon found the back of the net for the Jr Predators. Point Mallard's Terran Mohr and Chris O'Shaughnessy made 13 and 7 saves, respectively, while Alex Silver stopped 26 shots for Nashville.
Evansville Jr Thunderbolts 3 @ Atlanta Capitals 2-One goal in each period delivered a 3-2 victory to the Evansville Jr Thunderbolts against the Atlanta Capitals. Braden Rowe, Matt McElroy, and Brandon Rozema scored for the Jr Thunderbolts, and Talon Medure and Jason Ladzinski found the back of the net for the Capitals.
Skylands Kings 4 @ Jersey Shore Wildcats 3-A hat trick from Skyland King Craig Garrigan helped them to a 4-3 win over the Jersey Shore Wildcats. Lionel Landry also scored for the Kings, while Adam Colclough, Hunter Johnson, and Tim O'Connor each scored one for the Wildcats.
Binghamton Junior Senators 10 @ Long Beach Sharks 2-The Binghamton Junior Senators held a steady offensive presence on the way to a 10-2 win over the Long Beach Sharks. Brad Becker (2), Geoffrey LaMorre, Eric Melso (2), Michael Padgeon, Flavien Fondadouze, Ryan Gridley, Ryan Reifler, and Gregory Simmons scored for the Junior Senators, while CJ Smith and Trey Stober found the back of the net for the Sharks. Binghamton's Colin Burgess made 21 saves, while Long Beach's Ben Vutci stopped 72 shots.
La Crosse Freeze 7 @ Wausau RiverWolves 3-The La Crosse Freeze scored six unanswered goals on their way to a 7-3 win over the Wausau RiverWolves. Marcus Tilmon, Toon De Schepper, Brady Lindauer (2), Alec Seeger, Connor Duncan, and Clayton Lackey scored for the Freeze, while Owen Routheut, Garrett Alton, and Michael Alfonso found the back of the net for the RiverWolves. La Crosse's Koby Lukehart made 10 stops, while Henry Baribeau stopped 18 shots for Wausau.
Breezy Point North Stars 2 @ Alexandria Blizzard 5-The Alexandria Blizzard scored two late goals to lock in a 5-2 victory over the Breezy Point North Stars. Brett Meister (2), Riley Scanlon (2), and Michael Behl scored for the Blizzard, and Danny Wieber and Jared Fladebo found the back of the net for the North Stars. Alexandria's Jake Levinski made 27 saves, while Lucas Ehlrich stopped 37 shots for Breezy Point.
Wisconsin Whalers 3 @ North Iowa Bulls 7-The North Iowa Bulls had a busy second period to extend their lead and secure a 7-3 win over the Wisconsin Whalers. Mitch Dolter (2), Brendan Studioso, Josh Arnold (2), Tyler Bump, and Jason Miner scored for the Bulls, and Carter Grobstick, Jimmy McDermott, and Dan Lienemann found the back of the net for the Whalers. North Iowa's Colin Cain made 18 saves, while Alex Hufford stopped 34 shots for Wisconsin.
Louisiana Drillers 0 @ Mid Cities Jr Stars 4-Mid Cities Jake Ange made 24 saves for a 4-0 shutout victory for the Jr Stars against the Louisiana Drillers. Riley Smith, Matt Hutton, Mason Martin, and Dalton Caesar scored for Mid Cities. Christian Kazoleas stopped 37 shots for Louisiana.
New Ulm Steel 1 @ Willmar WarHawks 4-The Willmar WarHawks maintained a steady lead to grab a 4-1 win over the New Ulm Steel. Wyatt Toll, Max Oelkers, Zach Martin, and Keegan Bauman scored for the WarHawks, and Tom Reilly notched the lone Steel goal. Both Luke Fry of Willmar and New Ulm's Ryan Kenny made 19 saves.
Bozeman Icedogs 2 @ Helena Bighorns 8-The Helena Bighorns scored five goals in the third to finish with an 8-2 win over the Bozeman Icedogs. Ben Kottmeier, Ty Niskanen, Luc Cross, Gavin Cline (3), Hayden Sietz, and Dane Rieger scored for Helena, while Jacob Boje and Brandon Onstott scored for Bozeman. In net, Bighorn netminder Eric Berglund made 26 saves, and Jimmy Engen and Carver Thompson made 52 and 3 saves, respectively, for the Icedogs.
Gillette Wild 1 @ Great Falls Americans 6-The Great Falls Americans scored four unanswered goals to defeat the Gillette Wild, 6-1. Cody Dearing, Michael Fary (3), Payton McSharry, and Adam Vandenbos scored for the Americans, and Brooks Mitzel notched the lone Wild goal. Great Falls goaltender Bryan Sharp made 30 saves, while Gabriel Lepper and Cody Grogan made 13 and 22 stops, respectively, for Gillette.
Yellowstone Quake 4 @ Missoula Junior Bruins 0-Yellowstone Quake goaltender Reid Waszczenko made 28 saves for a 4-0 shutout win over the Missoula Junior Bruins. Cole Stewart (2), Ian Doner, and Timo Pelto scored for the Quake. Billy Yoder made 41 saves for the Junior Bruins.