October 27, 2017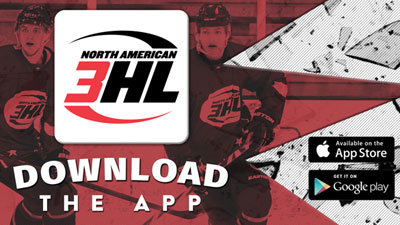 It is another busy weekend in the NA3HL with 43 games on the slate for Friday-Sunday.
The countdown is on for the 2017 NA3HL Showcase, which is just 50 days away at the Schwan Super Rink in Blaine, MN, from December 17-19. A NA3HL Showcase schedule will be released the week of November 27th.
Many of the division leaders will be put to the test this weekend. The La Crosse Freeze (Central) will host a hungry Wausau RiverWolves team looking for their first win. The L/A Nordiques (Coastal) will host the Long Beach Sharks for two games. The Metro Jets (East) face two important games with Lansing and Wooster. The Helena Bighorns (Frontier) will be put to the test with a road series in Yellowstone, who are just a point behind for 1st place. The St. Louis Jr. Blues (Midwest) are in Nashville, while the Binghamton Junior Senators (Northeast), who have won 7 games in a rown, host Pittsburgh from the East Division. The Texas Brahmas (South) will look to build off their shootout win on Thursday in a series against Atlanta. The Granite City Lumberjacks (West) will host Alexandria on Saturday.
The 2017-18 season marks the 8th for the NA3HL, which is one of three USA Hockey-certified Tier III junior leagues. This past season, no other league has had more movement and advanced more players onto play in the NAHL than the NA3HL.
The NA3HL is also the only league that has an exclusive NAHL tendering system available only to NA3HL players. To start the 2017-18 season, 51 NA3HL alumni were listed on NAHL rosters, more than any other Tier III junior hockey league.
This sets the stage for a proven and quantifiable NA3HL-NAHL pipeline with 60+ advancements annually. The NA3HL also had over 130+ college commitments in 2016-17.
Follow the games on the NA3HL App:
Friday, October 27th
Texas at Atlanta - 5:00 PM EDT
Toledo at Southern Tier - 7:00 PM EDT
Oswego at Skylands - 7:20 PM EDT
Metro at Lansing - 7:30 PM EDT
Point Mallard at Evansville - 7:00 PM CDT
Wausau at La Crosse - 7:00 PM CDT
Willmar at Wisconsin - 7:00 PM CDT
Breezy Point at Alexandria - 7:10 PM CDT
New Ulm at North Iowa - 7:30 PM CDT
Jersey Shore at Roc City - 8:30 PM EDT
Missoula at Great Falls - 7:30 PM MDT
Helena at Yellowstone - 7:30 PM MDT
Gillette at Bozeman - 7:35 PM MDT
Saturday, October 28th
College Station at Louisiana - 4:00 PM CDT
New England at Maine - 5:30 PM EDT
Cape Cod at Northeast - 5:30 PM EDT
Oswego at Skylands - 6:40 PM EDT
Texas at Atlanta - 7:00 PM EDT
Long Beach at L/A - 7:00 PM EDT
Evansville at Point Mallard - 6:00 PM CDT
Toledo at Southern Tier - 7:00 PM EDT
Pittsburgh at Binghamton - 7:30 PM EDT
Wooster at Metro - 7:30 PM EDT
Lansing at Peoria - 6:45 PM CDT
Willmar at Wisconsin - 7:00 PM CDT
Breezy Point at Rochester - 7:05 PM CDT
North Iowa at New Ulm - 7:10 PM CDT
La Crosse at Wausau - 7:10 PM CDT
Alexandria at Granite City - 7:30 PM CDT
Jersey Shore at Roc City - 8:30 PM EDT
Missoula at Great Falls - 7:30 PM MDT
Helena at Yellowstone - 7:30 PM MDT
Gillette at Bozeman - 7:35 PM MDT
St. Louis at Nashville - 9:30 PM CDT
Sunday, October 29th
Cape Cod at Maine - 11:30 AM EDT
Jersey Shore at Roc City - 12:00 PM EDT
Oswego at Skylands - 12:00 PM EDT
Pittsburgh at Binghamton - 12:30 PM EDT
Northeast at New England - 1:20 PM EDT
Long Beach at L/A - 2:00 PM EDT
Lansing at Peoria - 1:15 PM CDT
St. Louis at Nashville - 3:30 PM CDT
College Station at Louisiana - 4:00 PM CDT