Saturday Scores: Blizzard streak leaves West wide open
October 29, 2017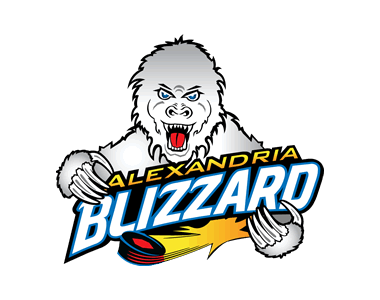 Alexandria 5 @ Granite City 2 - Jack Westlund's two goals helped the Alexandria Blizzard win their fourth straight game, this one over the Granite City Lumberjacks. Tristen Poliseno, Logan Nelson and Ryan Worley all scored in the win for the Blizzard. Brady Meyers picked up his fourth win of the season for Alexandria, making 26 saves. Hunter Schwehr and Grant Troumbly scored in the loss for the Lumberjacks.
College Station 1 @ Louisiana 6 - Brandon Vukasin's hat trick led the Louisiana Drillers to a big over the College Station Spirit. Zach Smith registered a goal and two assists while Hayden Watzka and Evan Hale each scored in the win. Griffin Varricchio picked up his 3rd win of the year, stopping 27 shots. Preston Palamara scored the lone goal for College Station.
New England 5 @ Maine 0 - Five different Stars scored in their 5-0 win over the Maine Wild. Michael Lempiainen led all skaters with four points, a goal and three assists. Derek Lovejoy and Connor Barter each had a goal and two assists. Eric Glover and James Wilson also scored for the Stars. Andrew Ghimpeteanu was perfect on the day, he stopped all 14 shots thrown his way. Benjamin Jenkins made 28 saves in the loss.
Cape Cod 2 @ Northeast 4 - Austin Braley netted a pair and added a helper as the Generals doubled up the Islanders 4-2. Brian Shea and Matt Hamel also scored for Northeast. Marc Faia ended the day with three assists. Kyle Wagner got the win in goal as he denied 27 of 29 Islander shots. Leevi Kervinen and Matthew Hinckley scored for Cape Cod.
Oswego 2 @ Skylands 4 - Eric Vanderhoff's four point game lifted the Skylands Kings over the Oswego Stampede 4-2. Vanderhoff notched his third hat trick of the season in the Skylands win. Steven Ford scored once and assisted on all three of Vanderhoff's goals. Craig Garrigan also finished with three assists. Mathias Yttereng turned aside 40 Oswego shots. Marcos Zarragoitia and Will Walker lit the lamp for the Stampede.
Texas 3 @ Atlanta 0 - The Brahmas finished off a three game sweep of the Atlanta Capitals with a shutout victory on Saturday night. Tyler Myers picked up his second shutout of the season and second win of the weekend. Cameron Tobey notched a goal and an assist. Jarrod Croswell and Cole Tiedemann also scored for the Brahmas. Kyle Konin made 30 saves for Atlanta in the loss.
Long Beach 0 @ L/A Nordiques 6 - Evan Sullivan scored two goals while Caleb Labrie and Clifford Ogle each had a goal and an assist. Shayne Plummer and Colby Audette also got in on the scoring action for the Nordiques. Michael Errico notched his second straight shut out by making 11 saves. Ryan Cortez stopped 38 shots for the Sharks.
St. Louis 7 @ Point Mallard 4 - Six different Jr. Blues found the scoresheet in their 7-4 win over the Ducks. Playing against his former team, Jake Cox scored a goal and had two assists in his first game as Jr. Blue. Jack Hatton tallied a pair of goals while Matthew Monreal, Joe Papa, Dante Jones, and Hunter Muzzillo each had one goal. Hunter Smith improved to 6-1 on the season, making 22 saves. Regnars Udris scored twice while Mason Evans and Kevin LaPlante both had a goal. Joey Bernardini made 30 saves for Point Mallard.
Toledo 1 @ Southern Tier 4 - Stuart Pearson scored two goals while Mickenzie Restle and Michael Keller each lit the lamp once in Southern Tier's 4-1 win. Ryan Pascarella was superb, making 39 saves on 40 shots. Josiah Carter scored the only goal for Toledo and Ricardo Gonzalez turned aside 32 shots.
Pittsburgh 6 @ Binghamton 3 - Jacob Friedman's two goals and assist led the Vengeance offense to a 6-3 win over Binghamton. Thomas Polster also netted two goals while Nick Erker and Dominick Glavach each scored in the win. Jacob Zab got the win in the crease, stopping 21 shots. Ryan Flanagan, Geoffrey La Morre and Gregory Simmons scored for the Senators in the loss. Jeffrey Zero stopped 30 of 34 shots.
Wooster 1 @ Metro 5 - It was a collective offensive effort for the Metro Jets as they won their seventh game in a row. George Hansen, Griffin Sawyer, Joey Bruce, Kristian Alafriz and Aaron Shahin all found the back of the net. Andrew Kormos won his third game of the year, making 22 saves. Daniel Critzer scored the lone goal for the Oilers.
Lansing 1 @ Peoria 6 - A four goal second period propelled the Peoria Mustangs to a 6-1 victory over the Lansing Wolves. Jack Healy notched a pair of goals and added an assist in the win. Blake Finley, Austin Keil, Ian McHenrey and Derek Roberts also scored for the Mustangs. Dakota Meyer picked up the win between the pipes as he made 22 saves. Brendan Smith scored for the Wolves in the loss.
Willmar 2 @ Wisconsin 1 - The Willmar Warhawks picked up their third straight win as Braden Shea scored with just 51 seconds left in regulation. Max Oelkers scored in the first period to give the Warhawks an early lead. Nick Rogers game tying goal came with just over two minutes remaining in the third period. Luke Fry was excellent, making 37 saves on 38 shots for Willmar. Brendan Earls was equally as good for the Whalers as he made 42 saves on the night.
Breezy Point 4 @ Rochester 2 - Austin Langworthy had all the offense the North Stars needed on Saturday night as he scored all four of their goals en route to a 4-2 victory over the Ice Hawks. Langworthy scored two 5 on 5, one on the power play and one shorthanded. Lucas Ehrlich got the win in goal for Breezy Point while Drew Schenkenberg was stuck with the loss in net for Rochester.
North Iowa 4 @ New Ulm 3 (SO) - Cameron Fagerlee's goal in the fourth round of the shootout was the difference as the Bulls escaped New Ulm with two points. Connor Clemons, Peter Verstegen and Alex Timm scored in regulation for the Bulls while Jack Parks, Tom Reilly and Nickolas Wieben found twine for the Steel. Colin Cain scored the win in goal as he made 29 saves as well as three of four Steel players in the shootout.
La Crosse 6 @ Wausau 3 - The La Crosse winning streak has now reached double digits as the Freeze won their 10th in a row with a 6-3 victory over the RiverWolves. Thomas Magnavite scored twice and assisted on three others to lead the La Crosse offense. Brandon Ratzloff, Marcus Tilmon, Ethan Bettis, and Alec Seeger scored in the win as well. Jacob Silverstein picked up the win in net while Matt Irwin, Garrett Alton, and Janne Rukamp scored for Wausau.
Jersey Shore 6 @ Roc City 3 - Dinmukhamed Dzhangarashev led the Wildcats with two goals while Reginald Hunter, Adam Colcough, RC Randall and Zack Mullen each registered a goal and an assist. Nick Anastasia stopped 16 of 19 shots in Jersey Shore's 6-3 win. Spencer Norris scored twice and Hunter Reid scored once for the Royals. Frederick Peters stopped 37 of 43 shots.
Missoula 1 @ Great Falls 3 - Bryan Sharp's 25 save effort led the Americans to a 3-1 win over the Junior Bruins. Goodman Weston, Adam Vandenbos, and Nick Ramstad each scored a goal in the win. Cameron Cunningham notched the only goal for Missoula. Brian Thomas stopped 35 of 38 shots for the Junior Bruins.
Helena 1 @ Yellowstone 4 - Jack Moore led the Quake with three points, two goals and an assist. Cole Stewart and Riley Buller also scored in the win for Yellowstone. Reid Waszczenko was remarkable making 41 saves in the win. Jarett Scheibel was credited with the lone goal for Helena while Nick Battaglia stood on his head, making 58 saves.
Gillette 6 @ Bozeman 1 - The Wild used a three goal first period to jump on the Icedogs early and they never let up. Jack Oberg and Cody Walters netted two goals each while Derek Scoggins and Gage Thompson each scored a goal of their own. Cody Grogan got the win in the crease as he made 22 saves on 23 shots. Austin Charnholm scored for the Icedogs and Carver Thompson stopped 55 shots in the loss.
Evansville 5 @ Nashville 3 - The Jr. Thunderbolts scored two goals in the third period and that would be enough to lift them over the Jr. Predators 5-3. Matt McElroy, Bret Bocianoski, Brett Creekmur, Mickey Zahoran and Louis Luke all scored in the victory. Bryson Linenburg was credited with the win making nine saves in a relief effort. Brenden Biffignani, Matthew Alfieri and Brock Brown all scored for Nashville.