Sunday Wrap-Up: Winning streak moves Wildcats into 1st place
October 30, 2017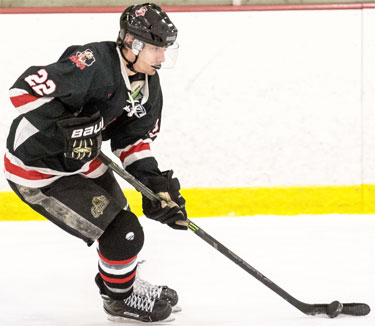 Jersey Shore Wildcats 7 @ Roc City Royals 4 - After a steady back and forth, the Jersey Shore Wildcats came out on top, 7-4, against the Roc City Royals. James Lowry, Hunter Johnson (2), Michael Gulawsky, RC Randall, Brenden Henzie, and Zack Mullen scored for the Wildcats, and Hunter Reid, Corey Lewis, Patrick Nowak, and Tyler Blackburn found the back of the net for the Royals. Jersey Shore's Nick Vardon and Nick Seock made 2 and 9 saves, each, while Josh Martinez and Shane Phillips stopped 25 and 11 shots for Roc City.
Cape Cod Islanders 4 @ Maine Wild 3 - A pair of goals from Cape Cod Islander Leevi Kervinen helped them to a 4-3 win over the Maine Wild. Matthew Hinckley and Cam St Amand also scored for the Islanders, while Mason Ledbetter, Jeffrey Murphy, and Dany Shestaov got on the scoreboard for the Wild. Cape Cod's Leo Lake and Noah Bird made 18 and 13 saves on the night, while Reilly Sean stopped 21 shots for Maine.
Oswego Stampede 1 @ Skylands Kings 3 - The Skylands Kings scored three unanswered goals on their way to a 3-1 win over the Oswego Stampede. Eric Vanderhoff (2) and Craig Garrigan scored for the Kings, while Tommy Kilway notched one for the Stampede. In net, Mathias Yttereng made 39 saves for Skylands, while Steven Kozikoski stopped 27 shots for Oswego.
Pittsburgh Vengeance 4 @ Binghamton Junior Senators 1-The Pittsburgh Vengeance grabbed a three goal lead early on to defeat the Binghamton Junior Senators, 4-1. Austin Martz, Nathaniel Schwartz, and Anthony Bates scored for the Vengeance, while Brad Becker notched one for the Junior Senators. Pittsburgh's Tyler Hawk made 27 saves, while Colin Burgess stopped 30 shots for Binghamton.
Northeast Generals 3 @ New England Stars 6 - The New England Stars scored three unanswered goals to defeat the Northeast Generals, 6-3. Hunter Norris, Connor Barter (2), Eric Glover, Douglas Herling, and Michael Lempiainen scored for the Stars, while Austin Braley, Jacob Kelly, and Marc Faia found the back of the net for the Generals. In net, New England's Tim Pesek stopped 11 shots, while Morgan Kelly made 20 stops for Northeast.
Long Beach Sharks 0 @ L/A Nordiques 5 - Carson Bonk made 21 saves for a 5-0 shutout victory for the L/A Nordiques over the Long Beach Sharks. Cole Ouellette, Keagan Crawley, Clifford Ogle (2), and Colby Audette scored for the Nordiques. Ryan Cortez made 43 stops for Long Beach.
Lansing Wolves 1 @ Peoria Mustangs 2 (OT) - Jack Healy scored in a shootout to bring the victory to the Peoria Mustangs, 2-1, over the Lansing Wolves. Nick Ulrich scored for the Mustangs in regulation, while Ryan Weaver notched one for Lansing. Peoria's Zack Freiburger made 32 saves in net, while Sean Finstrom gathered 13 saves for the Wolves.
St Louis Jr Blues 6 @ Point Mallard Ducks 3 - The St Louis Jr Blues grabbed an early lead to defeat the Point Mallard Ducks, 6-3. Jack Hatton (2), Ivan Galaguzov (2), Joe Papa, and Daniel Dunaway scored for the Jr Blues, while Matt Goodman and Kevin LaPlante (2) found the back of the net for the Ducks. St Louis' Blake Bjella made 24 saves, while Joey Bernardini stopped 32 shots for St Louis.
College Station Spirit 1 @ Louisiana Drillers 11 - The Louisiana Drillers came out strong, grabbing a nine goal lead early on to defeat the College Station Spirit, 11-1. Brandon Morgan, Tucker Alspaugh, Brent Wroblewski (3), Kevin Hamilton (2), Kyle Harden, Brandon Morgan, Zach Smith, and Drew Wotta scored for the Drillers, while Chandler Murphy notched one for College Station. In net, Louisiana's Christian Kazoleas made 21 saves, while Trace Parker and Ryan O'Toole made 9 and 39 saves, respectively, for the Spirit.