Watch: Proven Pathway, Louis Boudon
November 2, 2017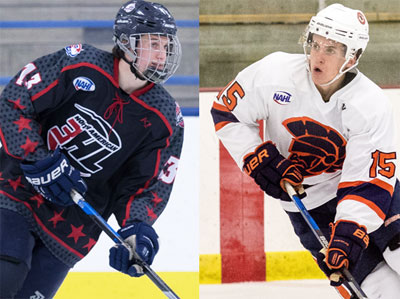 In continuing the positive message and success stories that more and more NA3HL players are becoming a part of, the league recently sat down with former Metro Jets forward and NA3HL Top Prospects player, Louis Boudon.
Boudon is the latest NA3HL to NAHL success story, which continues the primary mission of the NA3HL, which is to develop and advance players. Thanks in large part to its direct affiliation with the NAHL no other Tier III junior league advances more players to NAHL.
Boudon, who now plays for the Northeast Generals in the NAHL, recently announced his commitment to play NCAA Division I hockey at Lake Superior State.
"NAHL teams are looking at you when you are playing in the NA3HL, so if you take advantage of the opportunity and continue to improve and play well, you are going to have a chance to get called up and play," said Boudon.
Boudon, 19, came to the Northeast Generals as their NA3HL tender after spending a season with the Metro Jets. In 46 games with the Jets last season, Boudon (5'11/165) put up amazing numbers. Finishing the year with 38 goals and 43 assists for 81 points. The amazing season was good enough for a slew of awards including NA3HL MVP. He additionally was named East Division Forward of the Year and named to the All-NA3HL First Team.
"Last year playing in the NA3HL for the Metro Jets was amazing experience and one of the best years in my hockey career," said Boudon. "I was able to prepare for the NAHL by competing against very good competition. I worked on my speed, my skill, and the other things I needed to prepare for the next level."
This past season, no other league has had more movement and advanced more players onto play in the NAHL than the NA3HL. As one of only three Tier III junior hockey leagues that are certified by USA Hockey, the NA3HL is also the only league that has an exclusive NAHL tendering system available only to NA3HL players. This sets the stage for a proven and quantifiable NA3HL-NAHL pipeline with 60+ advancements annually. The NA3HL also had over 120+ college commitments in 2016-17, with the number still growing.
"Louis is a great example of the opportunities available at the NA3HL and NAHL and how the system is working. Now he gets to play NCAA Division I hockey," said Metro Jets Head Coach Justin Quenneville.