Friday Finals: Whalers break out for big win
November 4, 2017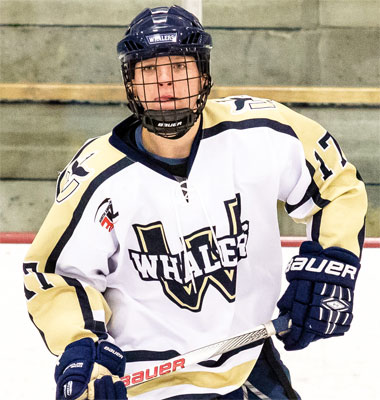 Rochester Ice Hawks 1 @ Wisconsin Whalers 8-The Wisconsin Whalers maintained an early lead on their way to an 8-1 win over the Rochester Ice Hawks. Nick Rogers (2), John Vandervalk, Carter Grobstick (3), Tanner Mros, and Jimmy McDermott scored for the Whalers, while Skylar Watt notched one for the Ice Hawks. Wisconsin's Alex Hufford made 33 stops, while Luke Murphy made 52 saves in net for Rochester.
Point Mallard Ducks 3 @ Louisiana Drillers 0-A pair of goals from Mason Evans helped the Point Mallard Ducks to a 3-0 win over the Louisiana Drillers. Kevin LaPlante also notched one for the Ducks. In net, Point Mallard's Chris O'Shaughnessy made 24 saves for the shutout, and Griffin Varricchio stopped 34 shots for Louisiana.
New England Stars 1 @ L/A Nordiques 2 (OT)-L/A Nordique Colby Audette scored twenty two seconds into overtime to win the game, 2-1, over the New England Stars. Andrew McCormick scored for L/A in regulation, and Eric Glover notched one for the Stars. Nordique goaltender Michael Errico made 28 saves, and Sage Brode stopped 21 shots for New England.
Metro Jets 8 @ Southern Tier Xpress 2-The Metro Jets came out swinging, notching seven unanswered goals for an 8-2 win over the Southern Tier Xpress. Kyle Gierman, Joey Bruce (2), Connor Inger (2), Mathieu LaForest (2), and Jeremy Schwartz scored for the Jets, while Stuart Pearson and Nic Allen found the back of the net for the Xpress. In net, Metro goaltender Brian Tallieu made 29 saves, while Ryan Pascarella stopped 53 shots for Southern Tier.
Pittsburgh Vengeance 5 @ Toledo Cherokee 0-Pittsburgh Vengeance's Jacob Zab made 37 saves for a 5-0 shutout win over the Toledo Cherokee. Justin Shepherd, Justin Bioni, Dominick Glavach, Simon Soderberg, and Marks Mezsargs scored for Pittsburgh. Ricardo Gonzalez made 19 saves for the Cherokee.
Jersey Shore Wildcats 7 @ Skylands Kings 4-Tied after one, the Jersey Shore Wildcats pulled ahead to defeat the Skylands Kings, 7-4. Michael Gulawsky (2), RC Randall (2), Hunter Johnson, Jacob Bennett, and Zack Mullen each scored for the Wildcats, while Craig Garrigan (2), Stephen Finkel, and Dylan Dinzik found the back of the net for the Kings. Jersey Shore's Nicholas Sesock made 21 saves, and Mathias Yttereng stopped 45 shots for Skylands.
Maine Wild 6 @ Long Beach Sharks 3-The Maine Wild scored six goals in the third period on their way to a 6-3 win over the Long Beach Sharks. Tyler Webb, Jeffrey Gratz (2), Jayce Dorman, Jason Gratz, and Brady Bannon scored for the Wild, while Charlie Bedard, Kenny Ferrara, and Gage Chenard found the back of the net for the Sharks. Maine's Anthony Santarosa made 37 saves, while Ryan Cortez stopped 42 shots for Long Beach.
Granite City Lumberjacks 2 @ New Ulm Steel 1-After an early lead, the Granite City Lumberjacks came out, 2-1, over the New Ulm Steel. Jake Van Halbeck and Logan Neu scored for the Lumberjacks, and Kirk Coppock notched one for the Steel. Granite City's Ridge Gerads made 35 saves, while Ryan Kenny stopped 34 shots for New Ulm.
Alexandria Blizzard 2 @ North Iowa Bulls 6-The North Iowa Bulls grabbed an early lead on their way to a 6-2 victory over the Alexandria Blizzard. Bryceton Butkiewicz, Tyler Bump, Tucker Kruse, Mitch Dolter, and Connor Clemons (2) got on the scoreboard for the Bulls, while Jack Westlund and Josiah Roen scored for the Blizzard. North Iowa's Colin Cain made 28 saves, while Brady Meyers and Kyle Hayden made 15 and 12 saves, respectively, for Alexandria.
La Crosse Freeze 2 @ Breezy Point North Stars 4-The Breezy Point North Stars grabbed an early lead on their way to a 4-2 win over the La Crosse Freeze. Josh Maucieri, Alex Flicek, Austin Langworthy, and Kaymen Kitchen each notched one for the North Stars, while Clayton Lackey and Laudon Poellinger found the back of the net for the Freeze. Breey Point's Lucas Ehrlich stopped 22 shots, while Will Graves made 32 saves for La Crosse.
Helena Bighorns 6 @ Gillette Wild 5 (SO)-Gavin Cline and Kaden Lindberg each scored in the shootout to help the Helena Bighorns to a 6-5 win over the Gillette Wild. Gage Thompson scored for the Wild in the shootout. In regulation, Jarett Scheibel, Ben Kottmeier, Nick Noel, and Cline (2), scored for the Bighorns. For the Wild, Brooks Mitzel (3), Coleman Varty, and Austin Eastep got on the scoreboard. Helena's Nick Battaglia stopped 24 shots, while Rasmus Pilely made 23 saves.
Yellowstone Quake 4 @ Great Falls Americans 0-Yellowstone netminder Reid Waszczenko made 39 saves for a 4-0 shutout win for the Quake over the Great Falls Americans. Riley Buller and Cole Stewart each scored twice for the Quake. Bryan Sharp made 35 saves for Great Falls.
Bozeman Icedogs 1 @ Missoula Junior Bruins 3-A pair of goals from Misha Akatnov carried the Missoula Junior Bruins to a 3-1 win over the Bozeman Icedogs. Cameron Cunningham also scored for the Junior Bruins, while Coby Warner found the back of the net for Bozeman. In net, Billy Yoder stopped 25 shots for Missoula, while Icedog goaltender Carver Thompson made 49 saves.
Texas Brahmas 3 @ Mid Cities Jr Stars 1-The Texas Brahmas grabbed two early goals to go on to defeat the Mid Cities Jr Stars, 3-1. Kellen Ireland, Sam Sykes, and Joseph Trazzera each scored for the Brahmas, while Jar Linna notched the lone Jr Stars goals. Texas goaltender Carson Murison made 20 saves, and Jake Ange stopped 31 shots for Mid Cities.