Metro defenseman Gierman signs NAHL tender
November 9, 2017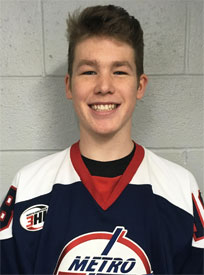 Kyle Gierman joined the NA3HL's Metro Jets this season with hopes of advancing up the hockey ladder.
Two months in and the rookie defenseman is one step closer, signing an NAHL tender agreement today with the Northeast Generals, a franchise in the NAHL's East Division located near Boston.
For Gierman, an 18-year-old Shelby Township, Mich., native, getting this NAHL chance has been the product of hard work and a consistent work ethic.
"Coach Q let me know that they had interest in me and then the Generals invited me out for a few days to practice with them," explained Gierman, who played last season with the Oakland Jr. Grizzlies 18U AAA team. "I know that they have a former Metro Jets player on their team in Louis Boudon (recently committed NCAA Division I with Lake Superior State) and I know he has been doing pretty well with them. My personal goal is to play NCAA college hockey and I am grateful for this opportunity."
"Kyle has transitioned really quickly to the junior level and has seen some immediate success because of it," Jets coach-GM Justin Quenneville added. "He is a cerebral kid who put in the work in the offseason and never looked ahead of the process and work needed to get this opportunity. He is another example of a player who is seeing the exposure and advancement opportunities with the Jets through the NAHL model and we look forward to continue to see his development and successes ahead of him."
So far this season, Gierman has registered seven goals and 15 points in 17 games, playing the majority of time on a blue line pairing with Metro veteran Robby Flannery.
"During the summer, I was working out at the MAT (Michigan Athletic Training) with (Jets assistant coach) Jamie Lovell working on getting stronger and faster and then I was on the ice with Q working on my game," said Gierman. "During the season, being on the ice almost every single day and being able to go up to the MAT at any time has really helped me a lot and improved my game. I have been pretty close to (Jets assistant coach) Randy Wilson, Q and Jamie for the past two years because I worked out and skated with them during the summer, so I have always talked to them about the option of joining the team. I am glad I made the decision and look forward to continuing to work with them.
"'Flanns' has been a great influence on me. He has constantly been pushing me each and every day on the ice and off the ice."
Before the 2017-18 season started, Gierman signed a tender with the Jets and made the roster out of training camp.
Now, with the NAHL tender signed with Northeast, Gierman can be called up at any time, but has his long-term focus on making the team on a full-time basis next year.
"To play in the NA, I have to work even harder, just continue to work out and push myself during practice and excel during games," said Gierman.
A tender is a contract, of sorts, a player signs announcing his intentions to play for that particular NAHL team and that NAHL team only. Once a player signs a tender with an NAHL team, his playing rights belong to that team within the NAHL and he may not be recruited by any other NAHL team. Each team is granted ten (10) tenders, which include one tender exclusively used on players from the NA3HL - plus or minus any trades - which became active on Nov. 1. Tendered players are not eligible for the NAHL draft, which will be held on June 5, 2018.