Saturday Scores: Gillette stays hot with sweep
November 12, 2017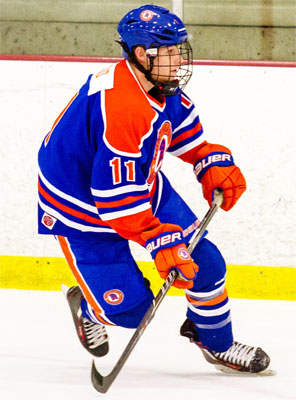 Bozeman Icedogs 2 @ Gillette Wild 9 -The Gillette Wild maintained a strong offensive presence to defeat the Bozeman Icedogs, 9-2. Brooks Mitzel (3), Gage Thompson, Austin Eastep, Russell Conti, Jack Oberg, Braxton Rambo, and Derek Scoggins scored for the Wild, while Jacob Boje and Daniel Liner found the back of the net for the Icedogs. Gillette's Cody Grogan made 31 saves, and Carver Thompson and Parker Orchard stopped 10 and 24 shots, respectively, for Bozeman.
Evansville Jr Thunderbolts 3 @ St Louis Jr Blues 8-Seven unanswered goals for the St Louis Jr Blues lead them to an 8-3 win over the Evansville Jr Thunderbolts. Ivan Galaguzov, Jake Cox (2), Ethan Dabbs (2), Jack Hatton (2), and John Shively found the back of the net for the Jr Blues, and Brett Creekmur, Austin Cody, and Rory Scott notched goals for the Jr Thunderbolts. St Louis goaltender Hunter Smith made 30 saves, and Brendan Barada stopped 67 shots for Evansville.
Long Beach Sharks 0 @ Northeast Generals 6-Northeast General Kyle Wagner made 26 saves for a 6-0 shutout win over the Long Beach Sharks. Brian Shea, Austin Braley (2), Thad Marcola, Jacob Kelly, and Fedor Lopaev found the back of the net for the Generals. Jeremy Haffner stopped 50 shots for Long Beach.
Skylands Kings 3 @ Niagara Falls PowerHawks 7-A hat trick for Andrew Logar helped the Niagara Falls PowerHawks to a 7-3 win over the Skylands Kings. Brandon Snyder (2), Frankie Bodami, and Stephen Minichiello also scored for the PowerHawks, while Lionel Landry, Stephan Sizov, and Dylan Dinzik notched goals for the Kings. Niagara Falls' Kris Augustine made 9 saves on the night, while Mathias Yttereng stopped 45 shots for Skylands.
Southern Tier Xpress 0 @ Pittsburgh Vengeance 5-Pittsburgh Vengeance goaltender Jacob Zab made 16 saves for a 5-0 shutout win over the Southern Tier Xpress. Marks Mezsargs, Nathaniel Schwartz (2), Dominick Glavach, and Austin Martz each scored goals for the Vengeance. Brandon Heacock stopped 41 shots for Southern Tier.
Maine Wild 6 @ L/A Nordiques 5 (SO)-Mason Ledbetter and Josef Mehall each notched goals for the Maine Wild in a shootout, resulting in a 6-5 win over the L/A Nordiques. Clifford Ogle also scored for L/A in the shootout. In regulation, Jayce Dorman (2), Jeffery Gratz, Brady Bannon, and Tyler Webb scored for the Wild, and Cole Oullette, Andrew McCormick, Kyle Secor, Armand O'Keefe, and Evan Sullivan found the back of the net for the Nordiques. Maine goaltender Ben Jenkins made 45 stops, while Jason St Pierre and Michael Errico made 13 and 9 saves, respectively, for L/A.
Atlanta Capitals 4 @ Point Mallard Ducks 1-A pair of third period goals helped the Atlanta Capitals secure their 4-1 win over the Point Mallard Ducks. Keith Gustin, Dillon Steh, Talon Medure, and Cameron Smith scored for the Capitals, while Joe Lopez notched one for the Ducks. In net, Atlanta's Kyle Konin made 26 stops, and Joey Bernardini stopped 28 shots for Point Mallard.
Lansing Wolves 2 @ Metro Jets 6-The Metro Jets grabbed an early lead on their way to a 6-2 win over the Lansing Wolves. Joey Bruce, Robby Flannery, Griffin Sawyer, Mathieu LaForest, Brandon Graham, and Connor Inger scored for the Jets, while Garrison Weyh and Jacob Deratany notched goals for the Wolves. Metro's Andrew Kormos made 27 saves, while Sean Finstrom stopped 37 shots for Lansing.
New England Stars 4 @ Oswego Stampede 2-The New England Stars slid into the lead in the second period to secure a 4-2 win over the Oswego Stampede. For the Stars, Douglas Herling, Hunter Norris, Tyson Gudaitis, and Cole Archambeault scored goals, while Dylan Gulick and Jameson Simmonds found the back of the net for the Stampede. New England's Andrew Ghimpeteanu made 23 stops, and Ben White stopped 37 shots for Oswego.
Wisconsin Whalers 3 @ Peoria Mustangs 2-Two late goals for the Wisconsin Whalers, including the game winner with just 31 seconds left in play, pushed them to a 3-2 win over the Peoria Mustangs. Anthony Fortin, Carter Grobstick, and Jimmy McDermott scored for the Whalers, while Jack Power Wayvon and Jack Radley found the back of the net for the Mustangs. Wisconsin's Brendan Earls made 23 saves, and Dakota Meyer stopped 40 shots for Peoria.
Binghamton Junior Senators 6 @ Jersey Shore Wildcats 2 -The Binghamton Junior Senators scored three goals in the third to secure a 6-2 win over the Jersey Shore Wildcats. Eric Melso, Ryan Reifler, Michael Padgeon (2), Jeremy Wilver, and Dino Mukovoz scored for the Junior Senators, while Adam Colclough and Hunter Johnson found the back of the net for the Wildcats. Binghamton's Colin Burgess stopped 28 shots, while Bryce Uebel made 26 saves for Jersey Shore.
Wausau RiverWolves 0 @ La Crosse Freeze 7 -La Crosse goaltender Jacob Silverstein made 18 saves for a 7-0 shutout win over the Wausau RiverWolves. Clayton Lackey (2), Matthew Francois (2), Ethan Bettis, Laudon Poellinger, and Marcus Tilmon found the back of the net for the Freeze. Wausau's Spencer Gill and Henry Baribeau made 25 and 26 saves, respectively.
New Ulm Steel 6 @ Rochester Ice Hawks 1-The Rochester Ice Hawks scored first, but six subsequent goals for the New Ulm Steel drove them to a 6-1 victory. Alex Nagel, Brandon Mehlhop, Kirk Coppock, Baylor Kraus, and Tom Reilly (2) scored for the Steel, and Drew Westphal notched one for the Ice Hawks. New Ulm's Ryan Kenny made 30 saves, and Drew Schenkenberg stopped 22 shots for Rochester.
Granite City Lumberjacks 4 @ North Iowa Bulls 3 (OT)-Owen Sikich notched an OT winner to help the Granite City Lumberjacks defeat the North Iowa Bulls, 4-3. Sikich, Grant Troumbly, and Seth Towers scored in regulation for the Lumberjacks, and Cameron Fagerlee, Jake Joyaux, and Jarod Blackowiak found the back of the net for North Iowa. Granite City's David Mulligan made 38 saves, while Colin Cain racked up 30 saves for the Bulls.
Breezy Point North Stars 4 @ Willmar WarHawks 2-The Breezy Point North Stars retaliated with four goals in the third to defeat the Willmar WarHawks, 4-2. Austin Langworthy, Jack Petroske, Danny Wieber, and Jared Fladebo scored for the North Stars, while Keegan Bauman and Jordan Cooper found the back of the net for the WarHawks. Breezy Point's Bronson Moore made 25 saves, while Luke Fry stopped 16 shots for Willmar.
College Station Spirit 0 @ Mid Cities Jr Stars 7-Mid Cities Jr Star Matthew Lenz made 18 saves for a 7-0 shutout win against the College Station Spirit. Matt Hutton (2), Brandon Speights, Remy Kesling, Matt Greco (2), and Riley Smith scored for the Jr Stars. Ryan O'Toole stopped 59 shots for College Station.
Helena Bighorns 2 @ Great Falls Americans 3-A busy third period resulted in a 3-2 win for the Great Falls Americans over the Helena Bighorns. Michael Fary and Kyler Mack (2) scored for the Americans, and Nick Noel and Dane Rieger got on the scoresheet for the Bighorns. Great Falls' Bryan Sharp made 36 saves, while Nick Battaglia stopped 39 shots for Helena.
Yellowstone Quake 6 @ Missoula Junior Bruins 2-The Yellowstone Quake scored three goals in the third period to secure a 6-2 win over the Missoula Junior Bruins. Jake Ford, Carter Johnson, Jake Ford, Jack Moore, Mason Stewart, and Ethan Sievek scored for the Quake, while Isaac Vincent notched two goals for the Junior Bruins. Yellowstone's Jonatan Persson made 25 saves, and Billy Yoder stopped 47 shots for Missoula.