Sunday Wrap-Up: Becker leads Junior Sens to three game sweep
November 13, 2017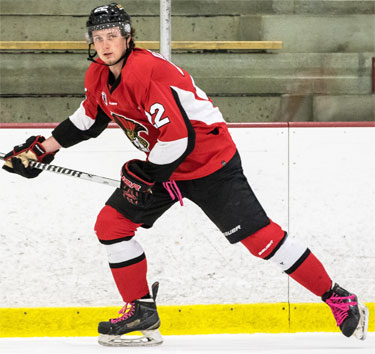 Wooster Oilers 3 @ Pittsburgh Vengeance 2-With scoring isolated to the second period, the Wooster Oilers came out on top, 3-2. Bobby Frieson, Turner Banyasz, and Shane Malinak found the back of the net for the Oilers, while James Unger and Jacob Friedman notched goals for the Vengeance. Wooster's Michael Hubbard made 24 saves, while Joel De Simone stopped 21 shots for Pittsburgh.
Binghamton Junior Senators 6 @ Jersey Shore Wildcats 3-A hat trick from Brad Becker helped the Binghamton Junior Senators to a 6-3 win over the Jersey Shore Wildcats. Jeremy Wilber, Geoffrey LaMorre, and Gregory Simmons also scored for the Senators, while Brenden Henzie and Tim O'Connor (2) found the back of the net for the Wildcats. Binghamton's Brady Anderson made 25 stops, while Nick Sesock and Nick Anastasia made 5 and 8 saves, respectively, for Jersey Shore.
Skylands Kings 1 @ Niagara Falls PowerHawks 9-Four goals from Andrew Logar helped the Niagara Falls PowerHawks to a 9-1 win over the Skylands Kings. Matt Cavanaugh (2), Matthew Minichello, Branden Tripi, and Nathan Walerowicz also found the back of the net for Niagara Falls, and Stephan Sizov notched one for the Kings. In net, Kris Augustine made 24 saves for the PowerHawks, while Josh Sears racked up 27 saves for Skylands.
New England Stars 1 @ Oswego Stampede 3-The Oswego Stampede scored three in a row to finish with a 3-1 win over the New England Stars. Dylan Gulick, Ryan Gunther, and Josh Watterson scored for the Stampede, while Derek Lovejoy notched one for the Stars. Oswego's Steven Kozikoski made 49 saves, while Sage Broda stopped 25 shots for New England.
Evansville Jr Thunderbolts 1 @ St Louis Jr Blues 13-The St Louis Jr Blues maintained a steady offensive presence on their way to a 13-1 win over the Evansville Jr Thunderbolts. Will Baginski, Daniel Dunaway, Ivan Galaguzov, Jack Hatton (3), Jake Cox (3), Cameron McAtee, Dante Jones, and Matthew Monreal (2) found the back of the net for the Jr Blues, while Kody Kifer scored the lone Jr Thunderbolts goal. St Louis goaltender Blake Bjella made 19 saves on the night, while Bryson Linenburg and Sam Tucker made 33 and 11 saves, respectively, for Evansville.
Maine Wild 4 @ Cape Cod Islanders 1-The Maine Wild scored first to help secure a 4-1 win over the Cape Cod Islanders. Tyler Webb, Jayce Dorman (2), and Mason Ledbetter scored for the Wild, while Leevi Kervinen found the back of the net for Cape Cod. Wild goaltender Anthony Santarosa made 35 saves, while Esa Maki stopped 32 shots for the Islanders.
Rochester Ice Hawks 0 @ La Crosse Freeze 7-La Crosse Freeze netminder William Graves made 28 saves for a 7-0 shutout win over the Rochester Ice Hawks. Thomas Magnavite, Marcus Tilmon (3), Matthew Francois, and Clayton Lackey (2) found the back of the net for the Freeze. Drew Schenkenberg and Tait Carlson made 25 and 20 saves each for Rochester.
College Station Spirit 1 @ Mid Cities Jr Stars 15-The Mid Cities Jr Stars started early, racking up an 11-1 win over the College Station Spirit. Riley Smith, Tyler Schulz (2), Tristan Allen, Brandon Speights (3), Riley Smith, Conor Simpson (2), Remy Kesling, Vitaliy Nosov, Jason Koehn, Ben Fugger, and Matt Hutton scored for the Jr Stars, while Zack Grunkemeyer notched one for the Spirit. In net, Nick Vanwinkle stopped 15 shots for Mid Cities, while Trace Parker and Ryan O'Toole stopped 31 and 38 saves, respectively, for College Station.