Jr. Blues to Hold 2nd Annual First Responder's Game
November 16, 2017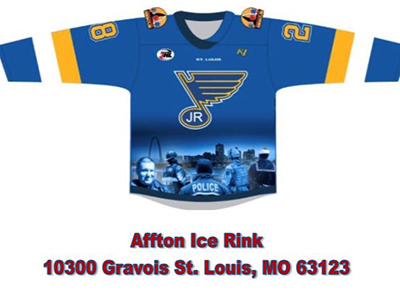 The St Louis Jr. Blues of the North American 3 Hockey League (NA3HL) are pleased to announce that they will be holding their 2nd Annual First Responder's game this Saturday against the Peoria Mustangs.
The Jr. Blues will be wearing special edition jerseys for auction that will benefit Responder Rescue and The Crosby Crew. Responder Rescue provides financial support for First Responders who get severely injured while on the job. The Crosby Crew is a foundation started to help build former Rock Hill Police Officer and former Jr. Blues player Matt Crosby a handicap accessible house. Crosby was shot and paralyzed on the job while responding to a domestic disturbance call.
The jerseys will be auctioned off after the game and there will also be a separate silent auction of various items. St. Louis Blues Alumni Cam Janssen, Jim Campbell, and Larry Patey will be in attendance to sign autographs.
If you have any questions regarding this event, please contact GM/Head Coach Chris Flaugher.