Sunday Wrap-Up: Vengeance now atop the East after sweep of Jets
November 20, 2017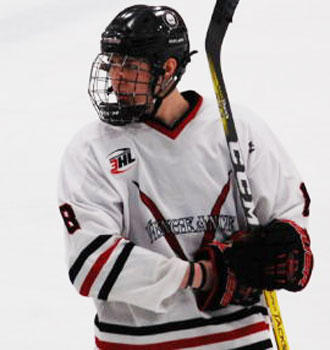 Pittsburgh Vengeance 4 @ Metro Jets 3 (OT)-Justin Bioni scored 2:59 into overtime to bring the Pittsburgh Vengeance to a 4-3 OT win over the Metro Jets. Dominick Glavach, Zachary Servidio, and James Unger scored for the Vengeance in regulation, while Jhuwon Davis, Kyle Germain, and Connor Inger netted goals for the Jets. Pittsburgh's Joel De Simone made 38 saves on the night, while Andrew Kormos stopped 24 shots for Metro.
Roc City Royals 3 @ Jersey Shore Wildcats 14-The Jersey Shore Wildcats scored early and often to defeat the Roc City Royals, 14-3. Michael Gulawsky (2), Nick Ventura (5), Antonio Filippelo, James Lowry, Adam Colclough (2), TJ Albano, Jacob Bennett, and Hunter Johnson all scored for the Wildcats, and Nathanial Nowak (2) and Hunter Reid found the back of the net for the Royals. Jersey Shore's Nick Sesock and Bryce Uebel made 10 and 3 saves, respectively, while Shane Philips and Frederick Peters stopped 5 and 30 shots, respectively, for Roc City.
Northeast Generals 0 @ New England Stars 3-New England Star Greg Moon made 33 saves for a 3-0 shutout win over the Northeast Generals. James Wilson, Aidan Conlon, and Connor Barter each netted one for the Stars. Generals goaltender Morgan Kelly made 34 saves.
Niagara Falls PowerHawks 3 @ Binghamton Junior Senators 9-The Binghamton Junior Senator Brad Becker notched a hat trick to help them to a 9-3 win over the Niagara Falls PowerHawks. Luke Miller, Donovan Wichowski, Geoffrey LaMorre, Clayton Thomas, Hunter Kepple, and Michael Padgeon also scored for the Junior Senators, while Evan Domiano, Brandon Schweickert, and Branden Tripi notched goals for the PowerHawks. In net, Binghamton's Colin Burgess and Jeffrey Zero made 3 and 30 saves respectively, while Kris Augustine and Jerah Siegel stopped 22 and 17 shots each for Niagara Falls.
Louisiana Drillers 4 @ Point Mallard Ducks 1-The Louisiana Drillers grabbed an early lead on the way to a 4-1 win over the Point Mallard Ducks. Josh Jorajuria, Mitch Dolese, Tucker Alspaugh, and Drew Wotta each notched one for the Drillers, while Regnars Udris found the back of the net for the Ducks. In net, Louisiana's Griffin Varricchio made 27 saves, and Terran Mohr and Chris O'Shaughnessy stopped 18 and 8 shots, respectively, for Point Mallard.
Peoria Mustangs 1 @ St Louis Jr Blues 5-A pair of goals from Jack Hatton helped the St Louis Jr Blues to a 5-1 win over the Peoria Mustangs. Cameron McAtee, John Shively, and Ivan Galaguzov scored for the Jr Blues, while Cody Layne notched one for the Mustangs. St Louis goaltender Blake Bjella made 18 saves on the night, while Dakota Meyer stopped 35 shots for Peoria.
College Station Spirit 1 @ Texas Brahmas 18-The Texas Brahmas pulled out a strong second period for an 18-1 win over the College Station Spirit. Kellen Ireland, Dakota Davis, Vincent Dekumbis, Cole Tiedemann, Robert Seger (3), Ashton Norris (2), Adam Shimamoto, Dreydan Ripley, Hunter Bersani (2), Sam Sykes, Bennett Weycker (2), Luke Bombardir, Cameron Tobey scored for the Brahmas, while Jakob Jefferies notched the lone College Station goal. In net, Carson Murison made 5 saves for Texas, and Ryan O'Toole and Trace Parker racked up 45 and 29 saves, respectively, for the Spirit.
L/A Nordiques 4 @ Cape Cod Islanders 1-The L/A Nordiques led the Cape Cod Islanders all afternoon, resulting in a 4-1 victory in their favor. Shayne Plummer, JP Chauvin, Caleb Labrie, and William Fletcher scored for L/A, while Leevi Kervinen notched one for Cape Cod. In net, Jason St Pierre stopped 31 shots for the Nordiques, and Islander netminder Esa Maki made 31 saves.