Saturday Scores: Steel stay hot with shutout of Jacks
November 26, 2017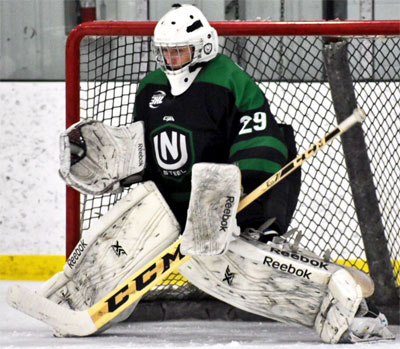 New Ulm Steel 1 @ Granite City Lumberjacks 0-New Ulm Steel's Tom Reilly notched the only goal of the game – resulting in a 1-0 win over the Granite City Lumberjacks. New Ulm's Ryan Kenny stopped 40 shots for the shutout, while David Mulligan stopped 31 shots for the Lumberjacks.
College Station Spirit 1 @ Texas Brahmas 9-Six first period goals helped the Texas Brahmas to a 9-1 win over the College Station Spirit. Hunter Bersani, Kyle Cote (2), Jarrod Croswell, Luke Bombardir, Dakota Davis (2), Bennett Weycker, and Cameron Bickford scored for the Brahmas, while Jakob Jefferies found the back of the net for the Spirit. Texas goaltender Tyler Myers made 3 saves on the night, while Trace Parker and Ryan O'Toole stopped 13 and 57 shots, respectively, for College Station.
North Iowa Bulls 3 @ Wausau RiverWolves 1-The North Iowa Bulls scored early to set the pace, ending with a 3-1 win over the Wausau RiverWolves. Connor Clemons, Dan Sandvig, and Tucker Kruse each scored for the Bulls, while Matt Irwin notched the lone RiverWolves goal.
Southern Tier Xpress 1 @ Lansing Wolves 3-The Lansing Wolves held a steady offensive presence on their way to a 3-1 win over the Southern Tier Xpress. Bear Ross, Michael Schramm, and Mason Fitch scored for the Wolves, and Joey Gerace notched one for the Xpress. Lansing netminder Sean Finstrom made 21 saves, while Southern Tier's Ryan Pascarella stopped 49 shots.
Cape Cod Islanders 3 @ Northeast Generals 7-The Northeast Generals grabbed an early lead on their way to a 7-3 win over the Cape Cod Islanders. Alex O'Dowd, Marc Faia, Dylan Figueroa, Fedor Lopaev (2), and Thad Marcola (2) scored for the Generals, and Cam St Amand, Nick Marston, and Christopher Constable each notched one for the Islanders. Northeast's Kyle Wagner stopped 29 shots, while Esa Maki made 35 saves for Cape Cod.
Niagara Falls PowerHawks 4 @ Oswego Stampede 1-The Niagara Falls PowerHawks scored four unanswered goals to defeat the Oswego Stampede, 4-1. Andrew Logar (2), Stephen Minichiello, and Branden Tripi scored for the PowerHawks, and Dimtri Christou notched one for the Stampede. Niagara Falls' Josh Mitchell made 37 saves, while Steven Kozikoski stopped 57 shots for Oswego.
Evansville Jr Thunderbolts 1 @ Peoria Mustangs 6-A late game surge helped the Peoria Mustangs to a 6-1 win over the Evansville Jr Thunderbolts. Austin Keil, Wes Straker, Braden Stewart, Rhett McDonald, and Jack Radley (2) scored for the Mustangs, and Kyle Kowalski notched one for the Jr Thunderbolts. Peoria's Jaden Gardner stopped 33 shots, while Bryson Linenburg made 39 saves for Evansville.
St Louis Jr Blues 6 @ Rochester Ice Hawks 0-St Louis Jr Blue goaltender Hunter Smith made 12 saves for a 6-0 shutout win over the Rochester Ice Hawks. Daniel Dunaway, Jake Cox, Matthew Monreal, John Shively, Hunter Muzzillo, and Dawson Marshall each scored one for the Jr Blues. Luke Murphy and Tait Carlson made 42 and 5 saves, respectively, for Rochester.
Alexandria Blizzard 2 @ Willmar WarHawks 6-The Willmar WarHawks scored two goals in each period to climb to a 6-2 win over the Alexandria Blizzard. Sam Voss, Max Oelkers, Zach Martin (2), Brandon Holt, and Jacob Berkowitz scored for the WarHawks, and Matt Dahlseide and Breden Payne each found the back of the net for the Blizzard. Willmar's Drake Voell stopped 29 shots, while Brady Meyers and Kyle Hayden made 20 and 5 saves, respectively, for Alexandria.
Gillette Wild 5 @ Yellowstone Quake 7-The Yellowstone Quake scored three goals in the third to secure a 7-5 win over the Gillette Wild. Cole Stewart (3), Iniaz Steyaert, Ethan Sievek, Jake Ford, and Ian Doner scored for the Quake, and Derek Scoggins (2), Gage Thompson, Brandon Prewett, and Jack Oberg found the back of the net for the Wild. Yellowstone's Jonatan Persson made 27 saves, while Rasmus Pilely stopped 61 shots for Gillette.
Great Falls Americans 8 @ Bozeman Icedogs 2-The Great Falls Americans' five unanswered goals helped them secure an 8-2 win over the Bozeman Icedogs. Jens Juliussen (2), Michael Fary (2), Payton McSharry, Tanner Rath, and Michael Houlihan scored for the Americans, and Jacob Boje notched both goals for the Icedogs. In net, Great Falls' Mack Willy and Cam Macintosh made 22 and 1 saves, respectively, and Parker Orchard stopped 42 shots for Bozeman.
Missoula Junior Bruins 4 @ Helena Bighorns 8-The Helena Bighorns dominated the second half of the game, helping them secure an 8-4 win over the Missoula Junior Bruins. Richard Groskops (2), Hayden Seitz (3), and Ben Kottmeier (3) earned points for the Bighorns, and Rhys Cottle, Misha Akatnov (2), and Parker Todd notched goals for the Junior Bruins. Helena's Nick Battaglia and Eric Berglund made 20 and 13 saves each, while Brian Thomas and Duncan Wiest stopped 34 and 17 shots, respectively, for Missoula.