Sunday Wrap-Up: Jr. Blues win 19th straight
November 26, 2017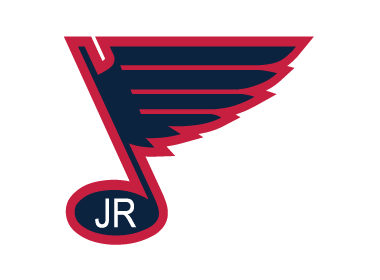 St Louis Jr Blues 11 @ Rochester Ice Hawks 1-The St Louis Jr Blues scored early to set the pace and earn an 11-1 victory over the Rochester Ice Hawks. Jake Cox, Tom Yurisich, Jake Cox, Will Baginski, Hunter Muzzillo, Jack Hatton (2), John Shively, Mark Capkovic, Ivan Galaguzov, and Dominic Caito all got on the scoreboard for the Jr Blues, and Noah Roach found the back of the net for the Ice Hawks. St Louis netminder Blake Bjella made 19 saves, while Drew Schenkenberg and Tait Carlson stopped 23 and 48 shots for Rochester.
College Station Spirit 1 @ Texas Brahmas 10-The Texas Brahmas held a steady offensive to defeat the Texas Brahmas, 10-1. Kyle Cote, Sam Sykes, Bennett Weycker, Dakota Davis (2), Cole Tiedemann, Luke Bombardir, Ashton Norris, Adam Shimamoto, and Hunter Bersani scored for the Brahmas, while Preston Palamara notched the lone Spirit goal. Texas' Carson Murison stopped 13 shots, while Ryan O'Toole stopped 44 shots for College Station.
Northeast Generals 6 @ Maine Wild 3-The Northeast Generals grabbed an early lead on their way to a 6-3 win over the Maine Wild. Stephen Toal, Brian Shea (3), Thad Marcola, and Nicklas Norrefjord scored for the Generals, while Mason Ledbetter and Brady Bannon (2) found the back of the net for the Wild. Northeast's Lucas Souza made 22 saves, while Anthony Santarosa stopped 23 shots for Maine.
Niagara Falls PowerHawks 5 @ Oswego Stampede 1-A pair of goals from Matthew Minichello and Brandon Snyder helped the Niagara Falls PowerHawks to a 5-1 win over the Oswego Stampede. Branden Tripi also scored for the Powerhawks, while Josh Wallace notched one for the Stampede. Niagara Falls netminder Josh Mitchell made 31 saves, and Ben White stopped 49 shots for Oswego.
Southern Tier Xpress 1 @ Lansing Wolves 2-A pair of third period goals decided the game, 2-1, in favor of the Lansing Wolves over the Southern Tier Xpress. Michael Schramm and Brendan Smith scored for the Wolves, while Mickenzie Restle notched one for the Xpress. Lansing's Sean Finstrom made 33 saves on the night, while Ryan Pascarella stopped 37 shots for Southern Tier.
Evansville Jr Thunderbolts 4 @ Peoria Mustangs 5 (OT)-Blake Finley found the back of the net 38 seconds into overtime to give the Peoria Mustangs a 5-4 win over the Evansville Jr Thunderbolts. Braden Stewart (2), Wes Straker, and Jack Power Wayvon also scored for the Mustangs, while Kyle Kowalski (2), Mickey Zahoran, and Brandon Rozema scored for the Jr Thunderbolts. Peoria's Zack Freiburger made 16 saves, while Bryson Linenburg stopped 43 shots for Evansville.