Day 2 of the NA3HL Showcase set to go on Monday
December 18, 2017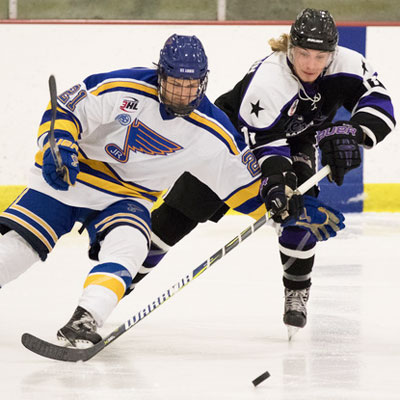 Day 2 of the 2017 North American 3 Hockey League (NA3HL) Showcase is set for Monday, December 18th as all 42 NA3HL try to duplicate what was an exciting Day 1. This season marks the eighth straight year the NA3HL will hold a league-wide Showcase, which features some of the best junior talent in the United States.
Day 2 will feature 21 games beginning at 9:30am at the Schwan Super Rink in Blaine, Minnesota. Day 1 was highlighted by plenty of offense, great crowds and over 80 NAHL and college scouts. The NA3HL Showcase is one of the most well-attended and scouted events of the entire season for the league, attracting college and junior scouts alike. The NA3HL Showcase brings every NA3HL team under one roof, which allows scouts to see all the great talent the league has to offer. Not only does the showcase see a large presence of NCAA scouts but NAHL Central Scouting is also in attendance, furthering the chances for players to earn a call up to the NAHL.
"It was really encouraging because after we got done with our game, I saw a line of scouts waiting to talk with our guys. I heard the same from other NA3HL coaches. It gives and the players real encouragement that events like the NA3HL Showcase are very worthwhile to showcasing our players and giving them an opportunity to advance to the next level," said Pittsburgh Vengeance head coach Dave Dorsey.
Follow the games on the NA3HL App:
Monday is also the day for the
NCAA education and compliance seminar presented to all players, coaches and parents. This will be the same presentation used in NAHL seminars and the focus will be on differences between NCAA Division I, Division III and ACHA, the breakdown of NCAA I conference landscape, NCAA Initial Eligibility information including important new rules going into effect this season and how future players will be affected, the recruiting process and how to market yourself.
Seminar Schedule for Monday, December 18th (Grand Hall next door to arena)
12:30 – 1:15pm ATLANTA / WILLMAR / TEXAS / BINGHAMTON / PEORIA / MID CITIES /
GREAT FALLS / LA CROSSE
2:15 – 3:00pm MISSOULA / ROCHESTER / WOOSTER /NORTHEAST / OSWEGO/ EVANSVILLE/
SOUTHERN TIER / WAUSAU / BOZEMAN / BREEZY POINT
3:30 – 4:15pm NIAGARA FALLS / GRANITE CITY / HELENA / WISCONSIN / YELLOWSTONE /
NORTH IOWA / POINT MALLARD / ALEXANDRIA
5:00 – 5:45pm METRO / L/A / NEW ULM / ST. LOUIS / GILLETTE / CAPE COD / PITTSBURGH /
NEW ENGLAND / TOLEDO / LONG BEACH /