WarHawks name Bowman as new head coach
December 28, 2017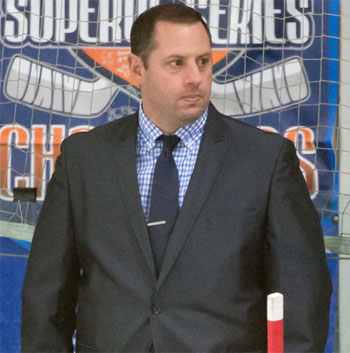 The Willmar WarHawks of the NA3HL are pleased to announce that Mike Bowman has been named the team's new permanent head coach.
Bowman is a level-four USA Hockey certified coach, with over 19 years of coaching experience. He has been successful at the junior, collegiate and amateur level during stints as head coach at Hollidaysburg Area High School, Penn State University, Altoona, and the Mid-State Mustangs U-16 amateur hockey team. He most recently spent time in the Western States league as an Assistant Coach then Head Coach / GM in Casper and Phoenix.
Bowman is excited to get involved in the NA3HL and the community in Willmar, as well as work to develop young men and advance their lives through hockey and character-building. "I'm very grateful for the opportunity Mr. Canavati has provided me. The Warhawks are a strong team, rich with talent and have built a solid reputation, and I hope to continue to build the program while helping advance young men to the next stages of life, education and hockey. Willmar has some of the best amenities offered at this level, and I intend to fully take advantage of all the resources to benefit the players, program and community."
Born and raised in Hollidaysburg, Pennsylvania, Bowman began playing hockey at age 15 and eventually ended up building programs and coaching. He attended Penn State University where he graduated with a BS degree in Business. He furthered his education with a Master's Degree in Technology Management from the University of Phoenix.
He began coaching ice hockey in 1998, as a high school hockey coach in a program he created. Coach Bowman led his team to three league championships and one runner-up finish. In 2003, he took on the duty of Program Director and Head Men's Hockey Coach, at ACHA Penn State University, Altoona. During his stint there, the team was able to capture a South Division title in College Hockey East, and an appearance at the ACHA regional tournament. His teams there were always freshmen and sophomores, facing top competition of rosters filled with juniors and seniors. In 2008, Coach Bowman returned to amateur youth hockey as head coach of the Mid-State Mustangs. In his 5 years with that program, the team won 3 PA State championships, 1 Mid-Am District title, and a USA Hockey National Championship. The team also had a semifinal appearance in the National Championships in 2012. Mike spends his summers helping out at Canadian Professional Hockey and Goaltending Schools. He has also been a USA Hockey Official since 2005.
Players who Coach Bowman has coached have moved on to prep schools, NCAA and ACHA college teams, junior leagues and minor professional hockey.