December 29, 2017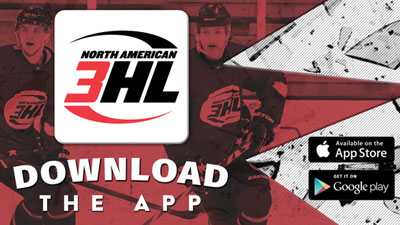 On the heels of an incredible and memorable NA3HL Showcase and the Christmas break, the NA3HL gets back into action this weekend with an abbreviated schedule of just 14 games this weekend from Friday through Sunday.
With just two full months remaining in the 2017-18 NA3HL regular season, the time is now for teams to make a move in the standings as 2017 is closed out this weekend and 2018 looms on the horizon.
The NA3HL continues its tradition of serving as the best training ground of its kind in the country by providing the best exposure and developmental vehicles available for student-athletes at the Tier III junior level. The NA3HL has already seen 20+ call-ups to the NAHL this season.
Two NAHL tenders have already been signed since the conclusion of the NA3HL Showcase.
Follow the games on the NA3HL App:
Friday, December 29
Breezy Point at New Ulm - 7:10 PM CST
Peoria at Wausau - 7:10 PM CST
Bozeman at Helena - 7:05 PM MST
Missoula at Great Falls - 7:30 PM MST
Saturday, December 30
Willmar at Alexandria - 7:10 PM CST
Granite City at New Ulm - 7:10 PM CST
Peoria at Wausau - 7:10 PM CST
Rochester at North Iowa - 7:30 PM CST
Missoula at Helena - 7:05 PM MST
Gillette at Yellowstone - 7:30 PM MST
Great Falls at Bozeman - 7:35 PM MST
Sunday, December 31
North Iowa at Rochester - 7:05 PM CST
Alexandria at Willmar - 7:30 PM CST
Gillette at Yellowstone - 7:30 PM MST