Saturday Scores: Steel take over 1st place in West
December 31, 2017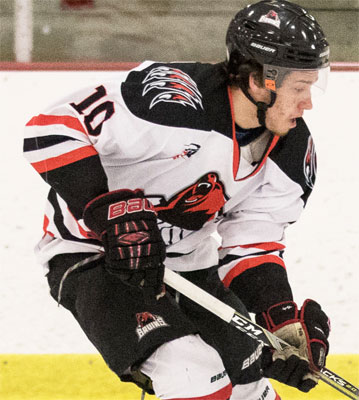 Granite City Lumberjacks 1 @ New Ulm Steel 2-A pair of goals from Trevor Woytcke helped the New Ulm Steel to a 2-1 win over the Granite City Lumberjacks. Brandon Bissett scored for the Lumberjacks. IN net, New Ulm's Ryan Kenny made 30 saves, and Ridge Gerads stopped 18 shots for Granite City.
Great Falls Americans 8 @ Bozeman Icedogs 2-The Great Falls Americans grabbed an early on their way to defeat the Bozeman Icedogs, 8-2. Michael Houlihan, Adam Vandenbos, Trent Cowden, Payton McSharry, Jens Juliussen (2), Michael Fary, and Garrett Peters scored for the Americans, while Jacob Boje and Gage Blatter notched goals for the Icedogs. Great Falls goaltender Mack Willy made 20 saves, while Parker Orchard stopped 46 shots for Bozeman.
Willmar WarHawks 3 @ Alexandria Blizzard 5-A late game goal surge helped the Alexandria Blizzard to a 5-3 win over the Willmar WarHawks. Brenden Payne, Josiah Roen, Ryan Worley, Austyn Renn, and Connor Beltz found the back of the net for the Blizzard, while Cameron Pries and Jacob Berkowitz (2) scored for the WarHawks. Alexandria's Brady Meyers made 18 saves, and Drake Voell stopped 35 shots for Willmar.
Rochester Ice Hawks 0 @ North Iowa Bulls 16-North Iowa Bull Colin Cain made 30 saves for a 16-0 shutout win over the Rochester Ice Hawks. Jarod Blackowiak (3), Mitch Dolter, Isaac Baron, Jake Joyaux, Josh Arnold, Tyler Bump, Connor Clemons, Cameron Fagerlee, Matt Dahlseide, Shane Bernhardson (3), and Dayton Honkanen scored for the Bulls. Jake Levinski stopped 39 shots for Rochester.
Peoria Mustangs 6 @ Wausau RiverWolves 3-The Peoria Mustangs scored five consecutive goals early to defeat the Wausau RiverWolves, 6-3. Braden Stewart, Brandon Hay, Jack Radley (2), Cody Layne, and Jack Healy scored for the Mustangs, while Matt Irwin, Jacob Rudloff, and Michael Alfonso scored for the RiverWolves. Peoria's Dakota Meyer made 36 saves, while Christian Sanzottera and Henry Baribeau made 58 and 14 saves, respectively, for Wausau.
Missoula Junior Bruins 4 @ Helena Bighorns 3-The Missoula Junior Bruins scored four consecutive goals to come back from a two goal deficit and defeat the Helena Bighorns, 4-3. Cameron Cunningham, Vladimis Chinikaylo, Austin Dennison, and Misha Akatnov scored for the Junior Bruins, and Dylan Goulet, Luc Cross, and Ben Kottmeier scored for the Bighorns. Missoula's Duncan Wiest made 57 saves, while Cody Brewer stopped 26 shots for Helena.
Gillette Wild 2 @ Yellowstone Quake 8-The Yellowstone Quake sforedfive consecutive goals on their way to an 8-2 win over the Gillette Wild. Jack Moore, Riley Buller (2), Cole Stewart, Timo Pelto (2), and Iniaz Steyaert scored for the Quake, while Derek Scoggins and Gage Thompson notched goals for the Wild. Yellowstone's Reid Waszczenko made 17 saves, while Rasmus Pilely stopped 45 shots for Gillette.